Indoor Miniature Golf in New Jersey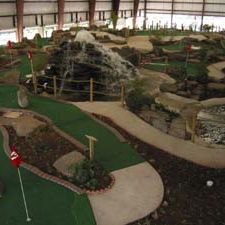 Is any summer vacation complete without a round of miniature golf? If that thought gets you revved up, how about getting started now? NJ has a few indoor mini golf courses, ranging from quiet putting practice to standard windmills and waterfalls, to full-on glow-in-the-dark monsters and music, so brush up on your stroke and prepare yourself for the great outdoors! And for more indoor fun, check out our Indoor Play Spaces, Sports Centers and Fun Zones Guide.
Monster Mini Golf (Various Locations)        
Monster Mini Golf is a unique 18-hole mini golf course…it glows in the dark! Each hole has a monster theme and DJ music entertains as players navigate the course. The hours of operation for each franchise vary depending on location. New franchises are opening soon in Princeton and Ocean; existing franchises are currently open in Edison, Fairfield, Marlboro, Paramus and Union. 401-454-8100.
Laser One (Wantage, NJ)
Laser One is primarily a laser tag operation; however, they have incorporated an 18-hole miniature golf course within their facility. Laser One is open Thursday through Sunday and Mondays. Their holiday calendar follows the Vernon Township Schools, so there are occasional school holiday events; check their website for details. 973-702-0500.
Bogota Golf Center (Bogota, NJ)
Bogota Golf Center has a full 18-hole indoor course complete with challenging hills, water hazards, and windmills; a traditional course, with the nontraditional benefit of being open rain or shine. Bogota is open every day from 7am to 11pm. 201-489-2400.
Hoboken Golf Center (Hoboken, NJ)
Hoboken Golf has a 9-hole indoor course, best for practicing your putting skills and strategy. They are open 7 days a week, 11am to 10pm. 201-876-9666.
Originally published February 2012