Best Miniature Golf Courses in New Jersey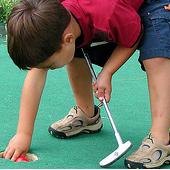 It's summer and that means daytrips, swimming, waterparks, random adventures with the small people, and yes, putt-putt. Apparently New Jersey is the land of windmills and teeny-weeny pencils, because our fair state has 53, that's right, fifty-three courses, but we're highlighting 15 that we love--and if that's just not enough, check out our Ten More Great Miniature Golf Courses in NJ.
Editor's note for NYers: While there is some miniature golf in NYC, we've noted some NJ courses that are about an hour or less drive from New York City, making them good options for a fun day trip.
First, we recently discovered (almost by accident) that New Jersey is home to the United States Golf Association Museum. Located in Bernards Township, NJ, the USGA Museum boasts 15,000 square feet of golf's greatest moments and memorabilia. The Hall of Champions is a must see exhibit and they have a collection of over 2,000 golf artifacts. This place is definitely on our next "rainy adventures list." If we can't play mini-golf, at least we can learn more about the wonderful world of golf. Adults are $7 and kids 12 and under are FREE! The museum hours  are Tuesday to Sunday 10 a.m. – 5 p.m. Visit their website or call 908-234-2300
Paramus Mini Golf, Paramus, NJ
Paramus Mini golf is a golfing and social studies course in one. Its holes are "New Jersey themed" with such holes as "Statue of Liberty", "Parkway" and "Boardwalk." It is open Friday's from 4:00 pm to 9:00 pm and weekend days from 10 am to 6 pm.   Birthday parties are also available. Call 201-447-6079 for more information.
Tara Greens Golf Center, Somerset, NJ
Tara Greens is the perfect place for beginner golfers and families on a budget. Located on over 100 acres in Somerset County, Tara Greens offers a 9-Hole Regulation course, a 9-Hole Pitch and Putt, Mini Golf, and a driving range. Mini Golf is open until 9pm daily and you can play under the lights. For driving range and course prices see their website for more information. 732-247-8284
Mount Freedom Golf, Randolph, NJ
Mount Freedom Golf is another great golf zone for beginners. My daughters loved the safari themed mini-golf and two waterfalls. Every Friday night they offer Laser Mini-Golf (weather permitting.) Besides miniature golf, a par 3 course, and a driving range, Mt. Freedom also offers a 9-hole Frisbee Disc Golf course. Check their website for information about summer camps and lessons. While you are there, stop by the Golfer's Grill for burgers, salads and ice cream.  They are open seven days a week from 9am-9pm (weather permitting). (973) 895-9898 
Farmview Golf Center, Hackettstown, NJ
Farmview is our local go-to mini-golf and driving range. You really can see beautiful Warren County farms from the mini-golf course. It is very clean and well maintained. It never gets too busy and the friendly owners even know our ball color preferences. The driving range is also great for beginning golfers and little learners. The best part is the prized plastic trophies the winner can take home- I am definitely not the champion as evidenced by the collection on our kitchen window sill. For more information call (908) 852-8322. Open until 7pm.
The Golf Zone, Flanders, NJ
Make a day of it at the Golf Zone. Besides a driving range and 36 of the best landscaped mini-golf holes in Morris County, they also offer paintball and batting cages. Their driving range has 65 stalls, 20 of which are heated. Plus, it is ½ mile from our favorite weekend lunch spot, The After. The After is a retro, kid friendly char-broil grill and ice cream favorite of many local families. Check the Golf Zone's website for pricing on their driving range, junior summer golf camps, and other activities. 973-252-1266
The Clubhouse Golf Center, Randolph, NJ
Located right on Route 10, The Clubhouse has recently renovated their 18 hole mini-golf course. They are open from 8:30 am-10 pm during the summer.  They also have 55 stall range/training center and offer programs for junior golfers. Check their website for details. 973-584-1504
Pirate Island Adventure Golf  Ocean City, Sea Isle City, Avalon, NJ
Spending time at the Jersey Shore this summer? Then check out one of the three Pirate Island Miniature Golf locations named "Best of the Shore" by Atlantic City Magazine. With hanging rope bridges and waterfalls, animated pirates and a nearly life-size wooden ship, Pirate Island is designed to please the whole family from toddler to Grandma. Daily from 9am to 11pm. Call (609) 398-9938 for more information and current prices.
 
Pleasant Valley Mini Golf  Voorhees, NJ
Don't be thrown off by the odd website. "The place for family fun" has been around since 1972 for a reason. A good, old-fashioned mini-golf course with good, old-fashioned prices. Open weekdays 12pm to 10pm, weekends 10am to 10pm. Call 856-767-2167 for more info.
 
Swing Time Howell, NJ
About an hour from NYC, Swing Time is a family fun center with all kinds of activities but they take their greatest pride in their two mini-golf courses, ranked #1 on the Jersey Shore by Night and Day magazine. There is a huge waterfall in the center of one of the courses where you can climb to the top and view all 36 holes. Monday thru Thursday 1pm to 10pm, Friday 1pm to 11pm, Saturday 10am to 11pm and Sunday 10am to 10pm. For more information call 732-845-0093.
 
Congo Falls Ocean City, NJ
Feel like golfing with a humongous King Kong staring down at you? Then Congo Falls is the place for you. With three courses, Congo Queen, Solomon's Mine and the Lost City (indoors for rainy days), it's DisneyWorld meets mini-golf. Open 8am to 12 midnight. Call 609-398-1211 for info and current prices.
 
The Funplex Mount Laurel, NJ
The Funplex has two courses, the family-friendly Adventure Cave and the more challenging Lost Lagoon and their big selling point: SHADE. Both courses are covered in a lush shaded landscape so you can golf and not bake in the sun. Also, if you make it up the ramp on the final hole, you win a FREE game. Nice. For operating hours and current pricing, call 856-273-9666.
 
Twin Brook Golf Tinton Falls, NJ
Twin Brook is a full-fledged golf center with putting green and driving range, but their big attraction is the 18-hole championship miniature golf course, complete with caverns and waterfalls. Hours are 7am to 10pm. For more info, call 732-922-1600.
 
Monster Mini Golf Fairfield, Marlboro, Paramus, Union, NJ
And now for something completely different… how about 18 holes of indoor glow-in-the-dark monster-themed golf?Yep, you read me right. Tuesday thru Thursday 2pm to 9pm, Friday 2pm to 10pm, Saturday 12pm to 10pm, and Sunday 12pm to 8pm. Visit the website for individual location information.
 
Dynamite Falls Adventure Golf Fairfield, NJ
Miniature golf at Dynamite Falls is packed with 18 holes of great fun.  With a Western theme, you can putt into an ore car or hit your ball over fountain explosions. Yee haw!  Mondays 3pm to 8pm, Tuesday thru Friday 3pm to 10pm, Saturday 11am to 9pm and Sunday 11am to 8pm. Call 973-808-0300 for more info.
Cape May Miniature Golf Cape May, NJ
The only thing better than mini-golf is mini-golf plus ice cream. After playing through fun water hazards, real sand traps, and an 18 foot-tall waterfall cave, head over to Cocomoe's for their famous tropically-themed ice cream oasis.  Daily 10:30am to 10:30pm. Call 609-884-2222 for more info and current prices.