Best Easter Egg Hunts for NJ Kids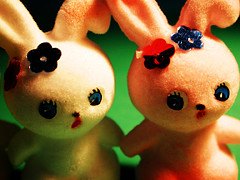 Easter is a few weeks away, but we're still excited for the festivities and the warm weather. From train rides to photo shoots, the Bunny is making his way through the Garden State. And just as there are a million stories in the big city, there are a million Easter Egg Hunts in NJ. But we're here to bring you the best of the best, so Happy Easter and Happy Hunting!
Easter Egg Hunt & Bonnet Contest at Heaven Hill Farm (Vernon, NJ)
On Saturday, April 4th, Heaven Hill Farm will host egg hunts, a bonnet contest (1:30pm), a visit from the Easter Bunny, hayrides and more. Egg hunts will be held on the hour (12:00pm, 1:00pm, 2:00pm and 3:00pm). All events are free to public. Please call (973) 764-5144 for more information.
Johnson's Corner Farm (Burlington County)
Hop into Spring with an egg hunt hayride at Johnson's Corner Farm. Beginning March 20 and continuing through April 4, these hayride adventures drops everyone off at a field for the thrill of playing hopping games and hunting for five colorful eggs each. Upon return from the field, your little ones will be greeted by the Easter bunny and be given the opportunity to meet with the bunny, take pictures, and receive a candy bag after all of the hard work they have done. Please call (609) 654-8643 for more details.
Hoboken Grace Community Church's Annual Easter Egg Hunt (Hoboken, NJ)
The fourth annual Hoboken Grace Easter egg hunt will be held on Saturday, March 28, from 10:00am to 12:00pm. Mama Johnson Field will be filled with more than 15,000 candy-stuffed eggs. Activities will also include face painting, arts and crafts, and pictures with the Easter Bunny. This event is free and open to the public. Please call (201) 795-5485 for additional details.
Woolwich Township Annual Easter Egg Hunt (Woolwich Township, NJ)
With more than 10,000 candy, sticker and trinket filled eggs, Swedesboro Woolwich Parks and Recreation Committee and the Crossbridge Community Church will host its annual free Easter Egg Hunt on Saturday, March 28 at Lock Ave Park. There will be three designated times based on children's ages.  There will also be free face painting, balloon artists, tattoos, games, and even free cookies and juice for all attendees. The event will be held at the General Harker Elementary School in the event of rain. For additional details, please call (856) 467-2666.
Easter in the Park (Ridgewood, NJ)
On Saturday, April 4th, Ridgewood will host its Easter in the Park celebration. Activities will include an Easter egg hunt, pictures with the Easter Bunny, as well as activities throughout town at participating stores. This event will be held at Memorial Park from 11:00am to 2:00pm. For more details, please call (201) 445-2600.
Liberty Hall Annual Easter Egg Hunt (Union, NJ)
Liberty Hall Museum, located on Kean University's campus, will host its annual Easter egg hunt on Saturday, April 4th at 10:00am and 1:30pm. The event will feature a "surprise" visit from the Easter Bunny. Reservations required by March 28. Please call (908) 527-0400 with questions.
Easter Egg Hunt at Oasis Family Farm (Robbinsville, NJ)
A Hunt will take place on March 28 & 29 and April 3 & 4; Bring your favorite basket, win prizes, and take pictures with the Easter Bunny. Spots can be reserved in advance by calling 609-259-7300.
Fanwood Easter Egg Hunt (Fanwood, NJ)
Fanwood hosts its annual Easter Egg Hunt in Forest Road Park on March 28. All children 10 and under are invited to meet the Easter Bunny and join the hunt. Over a thousand eggs will be hidden in the park. Other activities include a chocolate egg-guessing contest, a jelly bean-guessing contest, and egg decorating contest and a bunny drawing contest.
Easter Egg Hunt and Picnic at Fernbrook Farms (Chesterfield, NJ)
Little kids can enjoy a Great Lawn egg hunt, while older kids search the forest for hidden treasures. Lay back and relax on the picturesque property for an elegantly simple outdoor lunch. Saturday March 28 from 11am to 3pm.
Easter Egg Hunt at Allaire (Farmingdale, NJ)
All are invited to Allaire Village for an Easter Egg Hunt. A handmade Easter Bonnet Parade with prizes will be held at 3pm. The historic buildings will be open for the season. Saturday, April 4 at 12pm.
Originally published 2012