15 June Festivals for New Jersey Families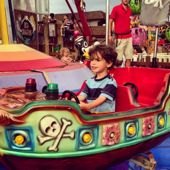 Summer is here; let the festivals begin! There's something on the calendar to please everyone this month, whether your family loves music, food, nature or a good old-fashioned carnival. Highlights include the Privateers & Pirates Festival at Tuckerton Seaport, Chatham's Fishawack Festival and the Annual Blueberry Festival in Whitesbog Village. You can't go wrong with any of these awesome activities. So grab the family, slap on some sunscreen and kick off summer at one of these 15 fab events. Visit our Events Calendar to find even more wonderful happenings this month.
New Jersey Renaissance Faire (Bordentown)
May 31-June 1 & June 7-8, 10am-6pm
  
Calling all lords and ladies! Step back in time for a day of music, dance, juggling, jousting, comedy, wine and food at the magical village of Crossford. Special children's shows including magic, archery and falconry are presented daily. Tickets cost $20 per adult, $12 per child ages 5-12, free for kids 4 & under. Tickets are discounted if purchased online. Season passes are also available.
Junebug ArtFest (Metuchen)
June 6, 13, 20 & 27, 6-10pm
Every Friday night in June, downtown Metuchen comes to life with an arts celebration featuring exhibits, window galleries, live performances and special events. Kids can create special arts and crafts with the Metuchen Branch YMCA. And don't miss a special performance by Preschool of Rock on June 13th! FREE Admission.
Privateers & Pirates Festival (Tuckerton)
June 7, 11am-5pm
Ahoy, matey! Bring your pirate-obsessed kid to this fabulous fest at the Tuckerton Seaport, offering nautical activities such as a scavenger hunt, costume contest, cannon demo and pirate crafts. The Pirates for Sail Band will provide live entertainment, and delicious food is also available. Admission is $8 for adults, $5 for children 6-12, free for kids 5 & under.
Asbury Park Blues & Brews Festival (Asbury Park)
June 7, 12-8pm
All ages are invited to Bradley Park for this fun and family-friendly celebration featuring live music, craft vendors, children's activities and fabulous food. Alex and Ani will host a hospitality tent with arts & crafts projects and refreshments for the kids. The festival is only one block from the beach and easily accessible via NJ Transit trains. FREE Admission.
New Jersey Irish Festival (Oceanport)
June 8, 12-7pm
Visit Monmouth Park for this lively and unique festival celebrating Irish heritage. Entertainment includes live music, Irish step dancing and a bagpipe competition. Food stands, craft vendors and children's activities, as well as a "human horse race," add up to a wonderful day of family fun! Admission to Monmouth Park is $3 per person.
New Jersey Seafood Festival (Belmar)
June 13-15 (Fri 4-8pm, Sat 11am-8pm, Sun 11am-6pm)
Head to sunny Belmar for one of the largest seafood festivals in the country. Sample yummy dishes from area restaurants, enjoy live music and visit the Children's Activity Tent for special games and entertainment. FREE Admission and FREE shuttle from downtown, marina and train station.
Atlantic Highlands Car Show (Atlantic Highlands)
June 14, 10am-4pm
Both kids and adults will love checking out the classic, exotic and fun cars on display along First Avenue from Highland Avenue to Bay Avenue. Live music, kids' games, craft vendors and local eateries add to the fun! FREE Admission. (Rain date: June 21)
Fishawack Festival (Chatham)
June 14, 10am-4pm
Commemorate the 100th anniversary of the Chatham Train Station during this annual festival featuring live entertainment, children's activities, food vendors and a craft show. Visit the gazebo at Reasoner Park for special performances from Dance Innovations, School of Rock and more. At 11:15am, the Chatham Historical Society will host a Guinness World Record attempt with more than 400 people simultaneously blowing wooden train whistles. Bring your own whistle or purchase one on-site to join in the fun! FREE Admission.
Harbor Fest (Cape May)
June 14, 10am-5pm
Cape May Harbor provides a beautiful setting for this wonderful celebration of the sea and its culture. Scheduled events include kayaking, nature programs, live music, tons of kids' activities and the popular "Scallop Challenge." FREE Admission.
National Marbles Tournament (Wildwood)
June 16-19, Hours vary
This unique event celebrates its 91st anniversary this year. Watch "mibsters" (marble shooters) compete for prizes and awards at various games over the four-day tournament. FREE for spectators; advance registration required for participants.
St. Gregory the Great Family Carnival (Hamilton Square)
June 16-21, 6-11pm
Looking for some old-school carnival action? Look no further! This one has it all: rides, games, yummy food and even fireworks displays. There are plenty of rides for younger kids so it's the perfect event for all ages. FREE Admission, ticket prices vary for rides and games. Discounted tickets can be purchased in advance.
State Fair Meadowlands (East Rutherford)
June 20-July 6, Hours vary
Over 150 rides and attractions will provide hours of non-stop family fun! Try out classic carnival games, indulge in "fair food" (funnel cake anyone?) and enjoy live circus shows daily. Admission is $9-10 per adult, $7-8 for children, free for kids under 34 inches. Ride tickets are additional. Visit website for information on special Bargain Nights, including Kids Go Free Night on June 25.
Terhune Orchards Firefly Festival (Princeton)
June 22, 4-9pm
Fireflies are one of the surest signs that summer has arrived. Celebrate these magnificent creatures with an evening of outdoor fun, games, live music and firefly hunting. Pony rides and wagon rides through the farm and orchards will also be available. Wear your wings or make them at the festival. FREE Admission, $5 charge for craft activities.
Italian-American Festival (North Wildwood)
June 27-29 (Fri 4-10pm, Sat 10am-10pm, Sun 12-6pm)
A Jersey Shore favorite, this annual celebration features vendors, doo-wop bands, kids' games, meatball relay races and an abundance of food. You'll probably want to come on an empty stomach. Buon Appetito! FREE Admission.
Whitesbog Blueberry Festival (Browns Mills)
June 28, 10am-4pm
Celebrate everything blueberry at this old-fashioned event in historic Whitesbog Village. Enjoy blueberry picking, live music, children's activities, wagon tours and even a blueberry pie-eating contest. Parking fee is $10 per car.
Tags: