NJ Pick-Your-Own Strawberry Farms & Strawberry Festivals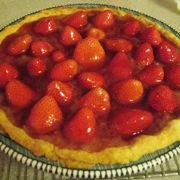 If locally-grown food and warm-weather day trips are things your family enjoys, grab the little ones and take them strawberry picking! It's an outdoor adventure with a sweet reward—what kid doesn't love red, ripe strawberries? New Jersey may be known for its tomatoes and blueberries, but we've also got some great places to pick your own strawberries once the season starts in late May. Looking for more outdoor fun in NJ? Check out our roundups of May festivals and 25 things to do this spring with kids.
After your family's strawberry picking journey, get the kids into the kitchen and try out some delicious recipes like strawberry summer cake, strawberry ice cream, strawberry, lime and black pepper Popsicles and, my personal favorite, double open-faced strawberry pie.
Strawberry-Picking Tips:
Always call ahead! Sometimes farms get "picked out' or the fruit isn't quite ripe or the open hours change. It's better to know before you go so you don't trek out there for nothing.
Have a plan B. Look at the farm's website so you know what other activities are offered. It's also good to research the local area in case you want to grab dinner afterward.
Don't overbuy. Plan ahead and figure out how much of each fruit you will use. Remember, some fresh fruits and vegetables can be frozen to use later.
Terhune Orchards, Princeton
Terhune is a family favorite in my house. We go out there several times a year for activities like apple picking, pumpkin picking, various festivals and of course strawberry picking! Late-May to early-June is the perfect time to pick the little red rubies. Terhune's strawberry patches span two acres and the beds are raised, which makes picking easy. Terhune's farm store is wonderful – brimming over with fresh local fruits and veggies, not to mention pies and delicious cider donuts. There is also a winery featuring wine made with farm-fresh ingredients and a barnyard full of animals for the kids! They also offer tons of activities and events throughout the summer. (609) 924-2310
Alstede Farms, Chester
This NJ farm has a lot to offer – including honey from hives on the farm, farm animals, activities for the kids, a farm stand and tons of pick-your-own options. From late-May through June you can pick strawberries. Free pull wagons are available to assist you in transporting your harvest. (908) 879-7189
Demarest Farms, Hillsdale
Bergen County's Demarest Farms offers a wide-variety of fruits, vegetables, flowers and plants, the Country Bakery, an ice cream shoppe and more. They even offer a tantalizing "made from scratch salad bar." Strawberry picking begins in June, but remember to call ahead for information. (201) 666-0472
Sussex County Strawberry Farm, North Andover
This family-owned NJ farm has been at it for more than 30 years. The farm also offers a garden center offering a wide variety of plants, flowers and anything you need for your garden. Plus, they sell outdoor wooden furniture. They recommend coming early in the day or late in the afternoon to pick strawberries, as the berries are at their coolest temperatures at those times. Sparta Glen Park is nearby, so pack a picnic or take the kids to run off some steam before the car ride home! Click here for some delectable strawberry-themed recipes from their website including Freezer Strawberry Jam and Fabulous Strawberry Muffins. (973) 579-5055
Johnson's Corner Farm, Medford
Strawberry harvesting season kicks in the end of May this year and runs through mid-June or their supply runs out. Also available during this timeframe are cherries and sugar snap peas, yum. Join Johnson's on weekends during the strawberry harvest for family fun! Click here for event dates and schedules. There is also a Discovery Barnyard play area (best for toddlers to 8 years) and an Animal Farm with sheep, pigs and chickens. (609) 654-8643
Lee Turkey Farm, East Windsor
This 54-acre family-owned and run farm dates back to 1802. Let the kids play on the playground while you shop at the farm stand and produce mart. Strawberry season begins in June, but remember to call for exact dates to pick. While you're there pick up an oven ready whole turkey or turkey parts (available year round) – after all, they are named for it! Plus, don't forget their yummy fruit and cream pies. (609) 448-0629
Stults Farm, Cranbury
Stults Farm sits on 200 beautiful acres, and has been family-owned and operated since 1915, and the family sells only what they grow. Strawberry picking begins in June, but call ahead to confirm exact dates. The 2014 for pick-your-own strawberries are $3/lb under 12 lbs and $2.75/lb over 12 lbs. There is a $4 minimum charge. Try other pick-your-own fruit and veggies like raspberries, blueberries, summer squash and more. Click here for pick-your-own information and pricing. Their large farm stand offers endless options from asparagus to watermelon to fresh flowers and much more! Click here for family recipes from Stults, just in case you need help deciding what to do with all the fresh fruit and veg you pick! (609) 799-2523
NJ Strawberry Festivals
Alstede Farms Strawberry Harvest Festival, Chester
Saturdays and Sundays, May 30 thru June 21, 2015
Alstede Farms celebrates the glory of the red ripe berry annually with its Strawberry Harvest Festival. Pick-your-own strawberries all day from 10am - 5pm, munch on homemade strawberry treats and take part in lots of family activities. Call ahead in case of rain. (908) 879-7189
Annual West Cape May Strawberry Festival, West Cape May
June 6, 2015 from 9am - 5pm
This fun-filled festival is held in Wilbraham Park in West Cape May and features Jersey fresh strawberries (of course), strawberry shortcake, craft vendors, food and more! Come pay homage to the strawberry! Parking and admission is free. Rain date is June 8, 2014. (609) 884-9325
Original article published 2013