NJ Strawberry Fields Forever: Pick-Your-Own Strawberry Picking Farms and Festivals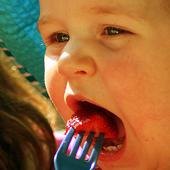 When it comes to strawberry season, bypass the frozen foods aisle and head to New Jersey, where pick-your-own farms reign, as do the West Cape May Strawberry King and Queen (really)!  Whether you're looking for an afternoon photo-op in the field and a few pints of berries to bring home; or a full-on Strawberry Festival complete with strawberry shortcake, kettle corn, bands, craft fairs and a royal crowning, the Garden State has got it covered--no defrosting required!
TIPS: 
Contact the farms or check the websites before heading out to be sure you'll have plenty to pick--strawberry season in New Jersey typically starts around the end of May and lasts 3-4 weeks into mid-June (we need two hot, dry days back-to-back to kick it off).

Plan to spend a couple of hours at any field–and of course, weekends will be busy,

New Jersey will not allow your pets to enter the farms, so leave the furry friends at home.
Sussex County Strawberry Farm
565 Route 206
North Andover, NJ 07821
973-579-5055
Approx. 1 hr drive from NYC.
An extremely good-at-being-green friend brings her family to this farm yearly and highly recommends it. In addition to the buckets of strawberries you'll collect, grab some fresh rhubarb, too–great for pies and tarts. No plastic in the kids' play area–wooden climbers and play-on vehicles create more natural fun. The great shop here boasts Adirondack furniture and picnic tables, too. Furniture shopping and berry-picking? Hey, it's Jersey–shopping's big here! Pack a picnic lunch and head to nearby Sparta Glen Park for lunch next to a burbling creek, with nice mountain hiking trails and plenty of opportunity for bear and deer sightings.
Johnson's Corner Farm
133 Church Road
Medford, NJ 08055
609-654-8643
Approx. 2 hr drive from NYC
Not only can you pick the mighty berry daily from 10 to 4, Johnson's likes to party during strawberry season. On Saturdays and Sundays (May 28, 29, June 4, 5) from 3 to 8pm, there's live music, burgers on the grill, strawberry shakes and extended hayride and picking hours. There is also a Discovery Barnyard play area (best for toddlers to 8 yr. olds) and an Animal Farm with sheep, pigs and chickens. Who will want to eat your strawberries, guaranteed.
Lee Turkey Farm
Hickory Corner Rd.
Hightstown, NJ 08520
609-448-0629
Approx. 1 hr drive from NYC.
The history buff in the family will enjoy this one! The Lee family farmhouse dates back to 1802 and all the original barns are beautifully painted and still in use. In fact, the Lee Family has farmed the same land for six generations, since 1868. More recent additions to the 54 acres are the playground, a farm gift stand, and a produce market (in case you don't pick enough strawberries on your own.) The name, Lee Turkey Farm, derives from their raising of 5,000 turkeys annually. And you thought three kids and a hamster were tough.
Terhune Orchards
330 Cold Soil Road
Princeton, NJ 08540
609-924-2310
Approx. 1 hr drive from NYC (Terhune recommends calling for directions as opposed to using Mapquest.)
Want to pick strawberries but hate the thought of tramping through muddy fields? Terhune Orchards offers special planting that allows your family to frolic through the fields without getting dirt on your shoes! Additionally, Terhune's café features tasty food and mouth-watering desserts. Farm animal visits with domestic beasties complete your visit to this family-friendly, family-run farm.
Stults Farm
Cranbury Neck Rd.
Cranbury, NJ 08512
609-799-2523
Approx. 1 hr. from NYC.
If you're seeking a true-to-life farm experience without the extras, this farm is your answer. The Stults Farm occupies 200 beautiful acres, and has been family-owned and operated since 1915, and the family only sells fruits and vegetables that they grow themselves. In addition to strawberries, they grow raspberries, peas, lima beans, cucumbers, peppers, green beans, sweet corn, tomatoes, zucchini, melons, okra, eggplant, pumpkins, and specialty vegetables. Whew!
West Cape May Strawberry Festival
(Approx. 3 hr drive from NYC, without traffic)
Can't get enough of those strawberries? Then head "down the shore" to Wilbraham Park in West Cape May for the annual Strawberry Festival; a day of entertainment, strawberry shortcake, and shopping (90 vendors offering clothing, art, crafts, jewelry, antiques and fresh produce.) The festival ends with the crowning of the 2011 West Cape May Strawberry King and Queen. Call 609-884-9325 for more information. Saturday, June 4, 9 am-5 pm.  Rain date June 5.  FREE parking and admission.

For full coverage of apple picking, pumpkin picking, strawberry picking and farm fun info in the tri state area, check out our Pick Your Own Guide.