The Best Indoor Shopping Malls for Families in New Jersey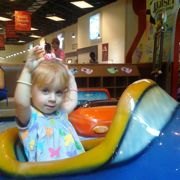 I don't know about you, but our family pretty much steers clear of New Jersey shopping malls from Novemberthrough early January. We treat any holiday excursions like military missions, get in, get the job done and get out! But once the holiday shopping is over, I visit the malls with my husband and daughter again, where we enjoy leisurely browsing, relaxing late lunches, and even hop on a carousel or two. So load up the SUV, get out of the cold and gear up for an outing at these family-friendly New Jersey malls.
Westfield Garden State Plaza Mall (Paramus)
This granddaddy of New Jersey shopping malls really does have it all from high end stores such as Louis Vuitton and Gucci to mid-priced fashion favorites Banana Republic, Gymboree and GAP. Children's boutiques are plentiful and include Abercrombie Kids, Little Mismatched, Stride Rite and even a Lego store. Besides a bustling food court, you'll be able to grab an early dinner after shopping at Grand Luxe Café, Chili's or On the Border. And when little ones are tired of being dragged from store to store, visit The Carousel (2nd floor, outside of Macy's) and ride the fantastic double decker merry-go-round. Sounds like a perfect mall, but as you'd expect, it gets crowded on Saturdays (the mall is closed on Sundays) and it's almost impossible to find a parking spot during the holidays. Make this one a weekday outing if you can! For more information call (201) 843 2121.
Marketfair Mall (Princeton)
This quiet little mall is near the beautiful Princeton University campus and its many suburbs. Inside you'll find a well-edited selection of higher end stores including Williams Sonoma, Pottery Barn Design Studios and Soma Intimates. Children's stores include Janie & Jack, Baby Gap (with a nice maternity section towards the back) and Pottery Barn Kids. At first glance it might not seem like a place to bring the whole gang for a weekend outing but you'll find plenty to keep everyone occupied. Take the younger ones to explore the hands-on toys at Pottery Barn Kids, let Dad take older kids to the cozy Barnes & Noble to browse books & magazines with a cup of coffee, then catch a movie together at the United Artists Theater. Marketfair Mall is a great choice when you want a less hectic shopping experience and just aren't up to braving the crowds. For more information call (609) 452-7777
The Mall at Short Hills (Short Hills)
New Jersey-ites consider The Mall at Short Hills to be the nicest shopping destination in the state and it's easy to see why. Centrally located and recently renovated, it has no shortage of high-fashion boutiques such as Tory Burch, Hermes, Chanel, Prada & Tiffany & Co. Rounding out the selection are standby favorites Ann Taylor, Brighton and Express. Childs Play Spot is a wonderful store where you can find unique gifts for all ages from soft rattles and puzzles for babies to quirky science kits for older kids. Parents will feel comfortable here as this mall is super kid-friendly – you'll feel left out if you DON'T have a huge stroller and diaper bag to lug around! Plenty of indoor seating areas and clean, updated bathrooms ensure that moms have a place to feed their little one a bottle or just regroup and relax. The only downside is that there's no food court to be found, making the wait time at the mall's restaurants such as Cheesecake Factory and California Pizza Kitchen lengthy. On weekends, you may be better off grabbing a quick bite at the counter service chain Au Bon Pain. For more information call (973) 376-7350
Newport Centre (Jersey City)
Newport Center is nestled in bustling downtown Jersey City among the towering office buildings and gives Hudson County residents a shopping destination in their own backyard without having to trek into Manhattan. A decent selection of stores includes Bath and Body Works, Armani Exchange, H&M and anchor favorites Macy's and Kohl's. Moms will find all the usual standbys such as Kids Foot Locker, The Children's Place and Baby Gap, and there's an eleven screen AMC Loews Movie on the top floor as well as a robust food court with choices such as Indian, pizza and even fresh sushi. Parking is at a premium in this urban part of Jersey so be prepared to pay an hourly rate in the garage or take the Light Rail or PATH, both stations are just steps from the mall. For more information call (201) 626-2078
Bridgewater Commons (Bridgewater)
Bridgewater Commons offers a convenient mix of stores ranging from Williams Sonoma, Coach and Apple to Lucky Brand Jeans, The Body Shop, Coldwater Creek and J Crew. Kid-friendly retailers include Build-A-Bear Workshop, Justice and Hanna Andersson. Forget the food court and dig into a family-style dinner at Maggiano's Little Italy or Cheesecake Factory. In nice weather, take a stroll to the adjacent Village at Bridgewater Commons to explore another set of stores such as Banana Republic, Crate & Barrel and Brooks Brothers. Like other suburban mall giants Garden State and The Mall at Short Hills, you'll be in good company among other stroller pushers and parents. Weekdays are your best bet, as Saturdays and Sundays are crowded. For more information call (908) 218-0001.
Jersey Gardens (Elizabeth)
Jersey Gardens brags that it's the "largest outlet shopping destination" in the state and it doesn't disappoint. Two meandering floors of indoor space house outlet stores for retail giants like Banana Republic, Old Navy, Kenneth Cole, Burlington Coat Factory, Forever 21 and even a Bed Bath & Beyond. At the popular (and huge) store Kidstown, prepare to be overwhelmed with infant clothes and nursery furniture, a wide variety of older boys and girls clothes, footwear and toys. Jersey Gardens also has a great little play area for kids 6 and under with a mini taxi cab, car and a few slides with benches surrounding it for weary parents to take a rest. The food court is standard stuff or you can grab lunch at the Chili's or nearby Ruby Tuesdays. Jersey Garden's proximity to Newark Airport make this a fitting place to take out of towners either before or after a long flight to stretch a bit, walk and have lunch. For more information call 908-354-5900