Restaurants Open for Thanksgiving Dinner in New Jersey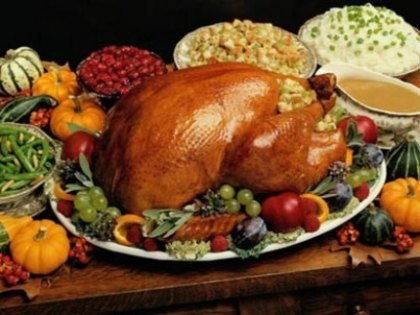 Thanksgiving dinner is a big undertaking. There's the turkey, the stuffing and all that dessert! And let's not forget about the massive after-dinner cleanup. It's hard enough to be a mom, work and take care of the kids -- let alone get a complex and time-consuming holiday dinner on the table. Luckily, you don't have to! Be thankful, because there are lots of restaurants open in NJ on Turkey Day. So, sit back and enjoy the party… don't worry, they won't make you do the dishes. Of course, if you'd rather be home, but don't want the hassle of cooking, try out some of these Thanksgiving crafts with the family and order up some turkey takeout. And to always be "in the know" about great family-friendly activities in NJ, subscribe to our free weekly newsletter.
Moonshine Modern Supper Club, Millburn
This contemporary American restaurant not only offers a Thanksgiving Day menu, they will even cater your day at home. So, whether you are in the mood for a night out or a memorable Thanksgiving Day at home – they've got you covered! Moonshine offers a full bar including more than 50 wines by the glass and 20 beer selections. For reservations click here or call the restaurant at (973) 218-6042.
Bahrs Landing, Highlands 
This Jersey Shore restaurant isn't just seafood. They serve up a traditional turkey dinner with reservations from 11:30am - 4pm only. The dinner includes all the favorites including stuffing, carrots, cranberry sauce and pumpkin pie. You can also order off the regular full menu. Don't forget to try their hot spiked cider or a caramel apple martini! For reservations click here or call the restaurant at (732) 872-1245.
Whispers, Spring Lake 
This popular Spring Lake restaurant offers a traditional Thanksgiving dinner starting at 1pm, with the last reservation at 6pm. A four-course dinner is offered and the he main event, of course, is turkey with all the fixings. Desserts include pumpkin pie, apple cobbler, chocolate ganache cake and more! Reservations can be made online or by calling the restaurant at (732) 974-9755.
Peter Shields Inn and Restaurant, Cape May
This quaint inn offers a three-course prix fixe Thanksgiving dinner with a special menu including butternut squash bisque, bacon wrapped monkfish, organic free-range turkey, spiced pumpkin mousse and much more! Dinner is served from 3pm through 7pm. For reservations, call the restaurant at (609) 884-9090.
Salt Creek Grille, Rumson
This old favorite will serve up an all-you-can-eat traditional roast turkey dinner and other select holiday dining options for the big day. The Dinner will be served from noon through 7pm. Make reservations online or call the restaurant at (732) 933-9272.
Olde Mill Inn and Grain House Restaurant, Basking Ridge
Enjoy a classic Thanksgiving sit-down dinner at the Grain House restaurant, or if buffet is your style, try the historic Olde Mill Inn's Thanksgiving Buffet including all your holiday favorites. For reservations call 908-696-2335.
The Frog and the Peach, New Brunswick 
The lovely mix of traditional and elegant will satisfy the whole family. The three-course menu is served from 1pm – 7pm and includes a traditional turkey dinner, plus selections from their autumn menu. For reservations, click here or call 732-846-3216.
Amanda's, Hoboken 
This Hoboken stand-by is offering a three-course prix fixe menu from 1pm – 7pm with a traditional turkey dinner and other yummy choices. For reservations call 201-798-0101.
The Sergeantsville Inn, Sergeantsville
This charming restaurant is serving up a three-course meal with a range of holiday favorites from noon – 6pm. For reservations call 609-397-3700.
Madeleine's Petit Paris, Northvale
Put a little ooh, la, la in your gobble gobble with this French twist on traditional Thanksgiving. Try the buffet, or a la carte with special holiday items. For reservations call 201-767-0063.
Crystal Springs Resort, Sussex County 
Crystal Springs Resort will be offering a festive Thanksgiving getaway weekend. Choose from one of their six locations offering everything from traditional dinners, room service, golf and so much more! Visit their website to view all of their offerings and make this Thanksgiving a relaxing holiday away from home! For more information, call (973) 827-5996, ext. 3.