Historic Holidays in NJ: a Revolutionary Christmas, a 1920s Farmhouse Holiday, and More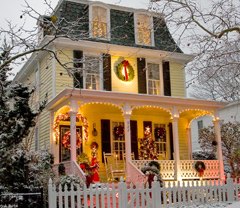 The Christmas holiday season is already in full swing. The shopping, music, decorating, parties, potlucks…your list of "to-dos" and "must-attends" is building exponentially!
Before you bust at the seams, visit one of the historic holiday events in New Jersey. It will transport you to a more simple, yet festive time. Many of New Jersey's local museums, homes, venues and towns are celebrating the holidays in the spirit of yesteryear. Whether you are a history buff or a holiday fiend, we're sure you will find many ways to go back in time to experience the Historic Holidays here in the Garden State.
Definitely Dickens' Holiday Carolers (Chester, NJ)
For those of who cannot get enough of Christmas Music, head over to historic downtown Chester on Saturdays to see the Definitely Dickens Holiday Carolers. Dressed in Victorian-clad costumes, this group will impress you with an extensive repertoire of seasonal tunes. The festive troubadours are performing on the following Saturdays: November 30, December 7, 14 and 21, 2013.
Historic Holidays at Fosterfields (Morris Township, NJ)
Yearning for the simple life? Fosterfields Living Historical Farm, a hidden Morris County gem, brings the sights, sounds, and smells of 1920s rural living back to life. Christmas festivities and preparations at Fosterfields include a horse-drawn wagon to the Farmhouse, farm chores, time with all of the farm animals, wood stove cooking, creating English Christmas "crackers" that pop, learning about knitting and darning, listening to seasonal music played on the piano,  and perhaps tasting warm, roasted chestnuts.
Activities are held Saturday, December 7 and Sunday, December 8, 2013. Admission is $6 per adult, $4 per child (ages 4-16), $2 for toddlers (ages 2-3) and children under two years old are free.
The Annual Christmas Delaware River Crossing Re-enactment (Washington Crossing, PA)
If you are looking for something unique to do on Christmas Day, make your way out to Washington Crossing State Park in Pennsylvania, to the 61st annual Delaware River Crossing Reenactment. During the event re-enactors in Continental military attire are addressed by Washington and then row across the river in three replica Durham boats. The annual free event commemorates the Christmas Day crossing made by Gen. George Washington and his troops in 1776 - an historic undertaking that resulted in the defeat of the Hessian troops at the Battle of Trenton. The crossing begins at the Pennsylvania side of Washington Crossing State Park.
Those who cannot attend on Christmas day can watch a full dress rehearsal on Sunday, December 8. Admission fees are $8 per adult, $4 for children (ages 5-11), and children under five are admitted free.
Christmas at Allaire Village (Farmingdale, NJ)
Christmas at Allaire Village offers visitors the opportunity to wander the streets of the historic village and enjoy the atmosphere of a 19th century community decked out in holiday splendor. Families can enjoy carolers wandering the streets, special period music programs at the historic Christ Church, and a display of Christmas trees through the ages.
Fridays, December 6 and 13, festivities include a performance of A Christmas Carol in the Allaire Chapel at 7:30pm ($15).
Saturdays, December 7,  14, and 21, Christmas Lantern Tours ($12.50) run from 5pm – 8pm.
Sundays, December 8 and 15, guests can see Christmas at Allaire for $7/adult and $5/child under 12.
Classic Christmas at Macculloch Hall (Morristown, NJ)
Another great historic location to see traditional holiday decorations is at Macculoch Hall on Saturday, December 7 and Sunday, December 8. This year's classic Christmas event includes a historically-inspired tree, Thomas Nast holiday-themed original artwork throughout the museum, and an expanded museum shop. Special curators' tours of the Christmas exhibit are offered on Saturday (MHHM Curator Ryan Hyman) and Sunday (Co-curator Barbara Silverstein). General admission for the classic Christmas event is $8 for adult, $6 for seniors and students (over 12), and $4 for children ages 6-12. Museum members, as well as children under five, are admitted free.
Colonial Christmas (Bedminister, NJ)
The colonial good time here includes period rooms with festive trimmings, caroling, boutique shopping, and colonial style musicians throughout the historic Jacobus Vanderveer House on Saturday, November 30th and Sunday, December 1st, as well as Thursday, December 5 through Sunday, December 8th. Santa pays a visit, too, from 1pm-3pm. 
Other historic events include
The Antique Toy Train Show at the South Jersey Museum of American History (Glassboro, NJ), which includes a display of 1940s and 1950s train sets. This exhibit runs through February 2014.
Enjoy the 30th Annual Christmas in Island Heights (Island Heights, NJ) on Saturday, December 7, 2013. This event includes a tour of six historic homes decorated for the holidays and two craft shows.
The Holiday House Tour of Historic Somerset Hills is held on Sunday, December 15, 2013 throughout Basking Ridge and Bernards.
The Hackettstown Historical Society (Hackettstown, NJ) hosts its annual display of Civil War Santas in conjunction with other local Christmas celebrations. This event is held on Friday, December 6, 2013.
The Ocean County College Arts and Community Center  hosts A Christmas Carol, the classic Charles Dickens holiday story, on Saturday, December 7, 2013.
Originally published on November 27, 2012