Halloween Weekend in New Jersey October 28-31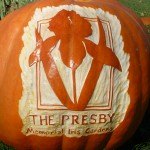 We've haled the haunted houses, prattled on about the parades and listed Halloween events until we're Wicked-Witch-green in the face. But guess what? The main event is Monday so there's more; more screams, more squeals, more spooky happenings, all weekend long. Creative Jack-o-lanterns on display, haunted hayrides, pet parades, and a freaky funeral reenactment celebrate this weekend's tricks and treats. Have fun and don't eat too much candy!
10/28 Update: It's supposed to rain and SNOW this weekend in NJ, so make sure to double-check that your weekend event is still happening!
The Haunted Park (Jersey City)
Liberty State Park and Liberty Landing Marina are partnering for a hauntingly good time.  The Haunted Terminal is a walking tour and hayride, which may be scary for the young ones. Head out to Liberty State Park for a scary good time and learn a little haunted history along the way.  Thursday, October 27. Tours every half hour starting at 7pm. $5 per adult, $3 per child. To purchase tickets or for more information, contact the Liberty Landing Marina Store 201-95-8000 x113.
Gardens Aglow (Montclair)
The Presby Iris Gardens will light things up when hundreds of botanic, floral, nature and Halloween-themed pumpkins illuminate the Gardens.  Jack-o-lanterns carved by students and local artists will shine in more ways than one; prizes will be awarded in two categories: best Halloween-Themed Pumpkin and Best Botanical-Themed Pumpkin.  Attendees are invited to bring their own carved creations to add to the display.  Friday, October 28 6:00-9:00 pm.  FREE. 973-783-5974 
The Sugarloaf Craft Festival (Somerset)
More than 275 artisans will convene at the Sugarloaf Crafts Festival in Somerset, NJ this weekend where they'll sell and display contemporary crafts and fine art at the Garden State Exhibit Center. Unique crafts, pottery, sculpture, glass, jewelry, fashion, wood, metal, furniture, home accessories, photography, and fine art.  And of course there's fun for the kids: puppet theater and treats will be on hand for all to enjoy.  Friday, October 28 to Sunday, October 30, 2011 10:00 a.m.-6:00 pm on Friday and Saturday, 10 a.m.-5 p.m. on Sunday.  Adults $7 online; $9 at the door; children under 12 are free. For more information call 800-210-9900.
Strut Your Mutt (Montclair)
Get the pups all gussied up for this one:  Strut Your Mutt, which will be held at Essex County Brookdale Park, will give dogs the chance to parade around in their Halloween best. What's even better than dogs all dressed up? The prizes they could win.  October 29th 9:15 AM - 11:00 AM.  FREE. For more information call 973-268-3500.
Canis Minor Halloween Pet Parade (Jersey City)
Jersey City pet boutique, Canis Minor, is hosting its sixth annual Halloween Pet Parade.  Pups and kitties are invited to parade around the neighborhood for prizes, including the grand prize, a $50 gift card to Canis Minor.  Games, snacks, freebies and goodie bags for pets will round out this pet party.  Saturday, October 29, 2 pm.  Free. Call 201-626-5545.
Spooky Stories at the Mansion (Montclair)
Head to the Charles Shultz House this weekend to tour the Victorian on the hill and listen to spooky stories. The historic home, which stayed the same for generations, has its own stories to share, just in time for Halloween.  Sunday, October 30 Tours at 1 PM, 2 PM and 3 PM - $8/adult, $5/child Call 973-744-1796 for information or email mail@montclairhistorical.org.
Death and Mourning at Historic Speedwell (Morristown)
History buffs and the thrillseekers alike can experience death and mourning at Historic Speedwell, which becomes the setting for a traditional 19th century funeral.  Learn about death and mourning, as well as different customs and traditions, through the wake of Stephen Vail, circa 1864. To complete the spooky scenario, you can follow a horse-drawn hearse as it brings the casket to Stephen Vail's parlor.  Friday October 28 and Saturday October 29, 6-9pm.. $10 adults, $8 seniors, $6 for children (4-16).   For more information call: 973-285-6550.
Haunted Seaport (Tuckerton)
Tuckerton Seaport will continue its Four Scary Nights this weekend as pirates and sea captains and other haunted souls stroll the boardwalk for screams. Ghoulish gems for these scary nights include: a "Haunted Forest", hayrides, phragmites maze, food, refreshments, entertainment and a non-scary pumpkin patch for the little ones. Admission $8, Seaport members $5. Hayrides $2 with paid admission, hayrides free for members. Friday October 28 and Saturday 29, 6-9pm.  For more information 609-296-8868. 
Brite Nites (Warren)
Creatively carved pumpkins will be on display as part of Brite Nites at Wagner Farm Arboretum. Aside from the highlight of a haunted house showcase, a winding path of pumpkins wanders through the fields and gardens of the Arboretum. Tours available on October 28 - 30, 7pm, 7:30pm, 8pm, 8:30pm.  Tickets: $10 for adults; $7 for children. Call for more information 908-350-7383.
Trick or Treat at Macculloch Hall (Morristown)
Looking for a unique trick or treating spot?  Head to Macculloch Hall Historical Museum in Morristown for candy and prime photo ops in the gardens before heading to South Street's store fronts.  Monday, October 31. FREE. For more information call 973-538-2404.