Kids' Knitting, Sewing, Ceramics and More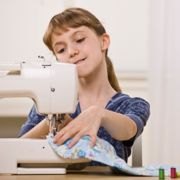 Now that the kids are back in school, it's time to start driving them all over the place for swimming, soccer, and pogo-stick practice, or if your kid is artsy, ceramics, beading and sewing. A recent rise in the popularity of crafting — knitting, it's not just for Great Aunt Bertha anymore — means many kids are a part of the trend and NJ has no shortage of captivating shops. Some are drop-ins, some are multi-week courses, and they aren't cheap, but then neither are Junior's sword-swallowing lessons.
Knitting
Knitknack (Maplewood)
The Knitknack Kids Club is for kids who want to work on their knitting projects, and get tips and techniques. Ages 9+. $60 for 6 weeks. Every Thursday from 4-5:15pm. Begins October 6th. For further information call 973-763-6066.
Modern Yarn (Montclair)
Mommy and Me classes offered for kids who want to make a scarf and bond with mama at the same time. One class will teach you casting on, the knit stitch, and binding off, but there are multi-class packages as well. Ages 7+. $45 per class or $140 for 4 classes. Every Saturday at 10 am. For further information call 973-509-9276.
Sewing
M Avery Designs (Hoboken)
This charming sewing shop offers sewing and crafting classes for kids of all ages, through their Fashion Lab. Depending on the age of your little Betsy Ross, they will learn various levels of hand sewing, basic design and construction skills, and a 'how to' on the sewing machine. Ages 4-14. A 6-pack of classes ranges from $99-$125, with drop-ins from $20-$25. Classes are held after school. For further information call 201-876-1198.
Beading
Jubili Beads & Yarns (Collingswood)
If it's accessories your kids love (and small motor skills), than these classes will have the whole family in fancy ponytails before you know it. The classes for children 6-9 will involve making 'Art to Wear,' while the 10-13 year olds will learn the skill of bead netting. $20 per class or $110 for 6 classes, materials included. Classes are held on the first and last Thursday of the month. For further information call 856-858-7844.
Ceramics
The Ceramic Barn (Mount Laurel)
These are pottery classes with the wheel that will take your little potters through the entire process. $100 (includes 25 lbs of clay), for four weeks of 90-minute classes. The Ceramic Barn also offers paint your own pottery. For times and dates of classes and further information call 856-234-0455.
Glass
Hot Sand (Asbury Park)
At this beachside hot glass studio, customers can blow a glass bubble (with assistance from Hot Sand's experienced glassblowers), a snowman, a heart, a pumpkin or even a drinking glass. Glassblowing is quite special to watch, and being part of the process might just bring out someone's inner Chihuly. Younger children can make glass mosaics from pre-cut squares that will be melted into tiles, or they can make molds that the helpful staff will fill with molten glass. Prices for the pieces vary. Shipping is available. Hot Sand will be switching to off-season hours beginning September 20th, but will still be open weekends. For further information call 732-927-5475.
WheatonArts Glass Studio (Millville)
This isn't a class; it's just a cool thing to do. The WheatonArts Glass Studio, which is a part of the also cool Wheaton Arts and Cultural Center, is having a design challenge in which kids draw an adoptable pet, explaining why it's special, and vie for the chance to have their design chosen to be made into glass while they watch. Last year's winners are excellent, and it's a great way to get kids involved with creating. Even if they don't win, the event is open to the public. The deadline for entries is October 2nd, and the actual glassblowing is October 15th. For forms and details go to www.wheatonarts.org/topnav/education/designfolder.