Best Birthday Party Place Ideas for Boys in New Jersey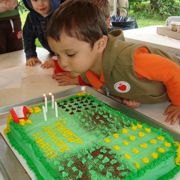 We already told you how to have a birthday bash for your little princess, and now we move on to the male-child and all the requisite snips and snails and puppy dog tails. Boys have a world of options when it comes time for themed birthday parties in NJ. From dinosaurs to pirates; superheroes to trains, the Garden State offers endless birthday party places for the little chap in your life.
Dinosaurs
If your little guy wishes his birthday could be at Jurassic Park, why not create a dinosaur themed party? Opening in May 2012, Field Station: Dinosaurs (Secaucus) will be home to more than 30 life-sized dinosaurs. A tour of this Hudson county park will be the perfect destination for your paleontologist's next celebration! For group sales and pricing details, please call (973) 748-4317.
The Rutgers University Geology Museum (New Brunswick) offers dinosaur lovers two party packages, both include two-hour use of the museum. Your little man will be in awe of the dinosaur trackway, along with the museum's other exhibits. Call (848) 932-4243 for further details.
Time2Party (Montclair) hosts several themed parties, including a Dinosaur Dig! Partygoers will personalize a pail, then head over to the sand table to dig and dig until they uncover dinosaurs. Prices begin at $375 for 12 children.
Not ready for a field trip? Dinosaurs Rock will bring the museum right to your home!  Featuring artifacts, a dinosaur egg hunt and a T-Rex foot ring toss, this party will be a sure hit for your little raptors! Pricing starts at $395 for 12 children. For further information, please call (845) 368-3466.
Pirates
Ahoy maties! Jersey Shore Pirates (Brick) will create a lasting memory for your little Captain Sparrow. Hosting parties up to 43 passengers, your private boat tour will transform into a real treasure hunting experience for your little mates. Packages, starting at $795, include face painting, pirate tattoos, and a lesson in pirate lingo. Please call (732) 899-6100 for reservation details.
Not ready for an adventure at sea? NJ Magicians will serve up a pirate magician adventure show for your little gang. Covering Northern and Central NJ, E\each show includes pirate music, comedy, pirate puppets, themed balloons, juggling, along with the grand magic show. Please call (908) 236-7353 for additional details.
Super Heroes
No time to plan out a super hero party? Pack up your brood of capes crusaders and bring them to an unforgettable super hero breakfast on April 14 at Imagine That! (Florham Park). After breakfast, the party will move into the museum for a day of indoor play. Reservations are required and costs run $13.99 per child and $10.99 per adult. Can't make it on the 14th? Imagine That! also hosts themed parties, ranging from firefighters to NASCAR, with several pricing packages. Click here for more details. Please call (973) 966-800 for event details.
It's a bird, it's a plane, nope – it's Cookies and Juice! This North Plainfield event team will deliver their Super Hero Blast package to your front door. A party to be remembered, this dress-up event includes arts and crafts, face painting and maybe even a little kung foo! Pricing, for 17 children, starts at $399. Please call (908) 757-8885 for further information.
Eliot the Super Magic Man will fly into your backyard ready to entertain your party with magic and mystery. Deluxe packages start at $225. Please call (732) 679-2100 for reservations and pricing details.
Time2Party (Montclair) will teach your guest how to be honorary super heroes and search for loot left behind by the bad guys! Party packages start at $450 for 12 caped crusaders. Please call (973) 783-0505 for more information.
Trains
All aboard! Beginning April 14, The New Jersey Museum of Transportation (Wall Township) will now host birthday parties for your little conductors. Party options include train rides and use of an authentic train station. Please contact Idella LuBrant for details.
Choo! Choo! The New Jersey's Children's Museum (Paramus) hosts a myriad of themed parties, including trains. Home to a giant train set, your son's party will be full of bells and whistles. Pricing starts at $249 for 14 guests. For reservations, please call (201) 262-5151.
Want to make your party authentic? The Black River Railroad System (Ringoes) has rental options for club cars, caboose or even the entire train! For prices and reservations, please call (908) 797-7300.
More than 100 trains traveling eight miles of tracks, Northlandz (Flemington) is home to the world's largest model railway. Take your little guy and his gang to see this world of wonder. For special group rates, please call (908) 782-4022.