Spring Break Getaways and Resorts in New Jersey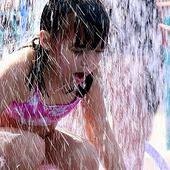 Spring break looms and your family's ready for a get-away–but the Bahamas isn't in your budget. Hanging around home won't fly with the kids (and God knows that's no break for you!)  So try something new: a semi-staycation! Options abound for spending two-to-three days traveling to a family-friendly New Jersey destination for mini-vacations that won't break the bank.  Waterparks, whales, hiking, museums, skiing–take your pick, pack your bags and take off!
Cape May (Cape May, NJ)
While most New Jersey dwellers associate Cape May with summertime on the beach, this historic area offers a wonderful winter escape, too.  Beautiful, unique hotels abound, but for a truly special stay, check into the Carroll Villa Bed and Breakfast.  Unlike many B&B's, the Carroll Villa happily welcomes families (in fact, three generations of the owners' family grew up in this rambling Victorian mansion and many still work there!)  Their Mad Batter restaurant serves meals to please everyone at the table–so fill up and head out on a whale and dolphin watching cruise.  The Cape May Whale Watcher offers 3-hr cruises during which you can spot humpback and finback whales, dolphins, porpoise and sea turtles along with ocean sunfish, manta rays, sting rays, a variety of fish and many pelagic birds. There's an on-board snack bar, complete with wine and beer for adult watchers. (Kids 6-and-under sail FREE!)  Cape May also offers lighthouse tours, ghost tours, family treasure hunts, tea parties and loads of historical tours.  It's a great time to get to know the town before the summer crowds hit.
Crystal Springs Resort (Hamburg, NJ)
If you're the type who'd rather check skip the exploring and check into a resort, Crystal Springs is the place for you. At Mountain Creek, you can ski, go to the Minerals Sports Club, and (this is where the kids scream with excitement) explore the Biosphere Pool Complex. This tropical indoor pool complex boasts freeform pools surrounded by lush foliage, an underground aquarium, a 140-foot water slide, a grotto-like Jacuzzi, a cave-themed steam room and sauna, and a café. If you're longing for a golf game, book an hour at the indoor golf simulator which lets you play top courses ranging from Pebble Beach to Myrtle Beach.  When you're ready for a little break from the kids, drop them off at the nursery (open daily), and head to the Minerals Spa or grab an early-night romantic dinner at the 4-star rated Restaurant Latour.   With a wine cellar that holds 100,000+ bottles of wine, you'll certainly find something to wipe away thoughts of PTA meetings, lunch boxes and homework.
Co-Co Key Water Resort (Mount Laurel, NJ)
Seeking a semi-staycation that's both fun AND educational? Check out the overnight packages at Co-Co Key Water Resort. Rated one of Nick Jr. Family Magazine's top seven trips of 2007, Co-Co Key's 55,000 sq. ft. indoor water park offers looping slides, high speed body flumes, an adventure river, an interactive play area/arcade, a "dip-in" theater and more.  Once you're water-logged, dry off and head to nearby Philadelphia for a visit to the famed Franklin Institute. There's an Imax show, a Planetarium, and amazing exhibits including "The Giant Heart," "Space Command," "Airshow," "Electricity," "Sports Challenge," and much more to explore.  Your kids'll be begging to return before you've pulled out of the parking lot!
High Point Cross Country Ski Center (Sussex, NJ)
If your family's more the outdoorsy type, you'll want to head to Sussex for a few days enjoying New Jersey nature.  High Point is the snowiest spot in the metropolitan area, and its alpine hollow of lakes, trees and wildlife offers the perfect setting for cross-country skiing, snow-shoeing and ice-skating.  Up for a hike through the woods?  The area also boasts a bunch of beautiful waterfalls. After a day in the chilly outdoors, settle in to the High Point Country Inn. Situated between the rolling hills of the Kittatinny Mountains on 7 acres of beautiful grounds, this comfy country inn even offers guests portable aesthetic fireplaces!  On the weekend, make a stop at the Franklin Mineral Museum  to view 4,000 mineral specimens including a fluorescent display of the world's most brilliant and colorful fluorescent minerals.  There's a life-size mine replica, a Native American Indian room and a fossil room, too. Your kids can even dig through the museum's mine "dumps" to collect their own minerals. Now that's a 'rockin' break!
Sahara Sam's Oasis Indoor Water Park (West Berlin, NJ)
Your kids' jaws will drop when they enter this massive indoor water park! 58,000 sq. ft of water attractions include an indoor surfing simulator, a family raft ride, tube slides, a lazy river, a water tree fort, a toddler lagoon, water basketball and an cargo obstacle course. There's a 3000 sq. ft. arcade, a café, restaurant and bar for when you're out of the water. Although not connected to a hotel, Sahara Sam's partners with 15 different area hotels for their Stay and Play Packages, which vary by hotel but generally include 2 days at the waterpark, one night at the hotel, and breakfast.  Since West Berlin is a mere 20 miles from Philadelphia, you can always extend your break and take in some of the amazing family offerings  of the city of brotherly love. There's the Insectarium,  American Helicopter Museum, The Academy of Natural Sciences,  the University of Pennsylvania Museum of Archaeology and Anthropology, to name a few. Hey, bugs, helicopters and wedgie-inducing water slides...what's not to love?
Originally published spring 2011