Apple Picking Farms in New Jersey and New York: Where to Pick Your Own Apples Near NYC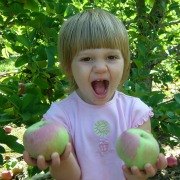 There's a chill in the air, the kids are back in school, and you know what all that means... That's right, it's finally apple-picking time! Here are some of the best apple picking farms in New York and New Jersey that are fun for the whole family. And check back here at Mommy Poppins NJ often over the next few weeks for more Apple Info, such as organic apple picking farms, where to find the best apple pie in NJ, and apple recipes. Mmmmmm.
September is apple season at Terhune Orchards in Princeton, which offers 'pickers' 29 varieties of apples. Fall activities include "Read and Pick" and a fall festival. The apple farm, located on Van Kirk Road, has apple varieties planted in blocks, making them easy to find. "Picking at Terhune Orchards is family friendly," says owner Tannwen Mount. "The dwarf trees make it easy for everyone to reach, young and young at heart." The farm's 37th annual 'Apple Day' will be held on Saturday, September 13, and Sunday, September 14—a day of fun, activities, harvest, and music.  Note: please check website for additional costs. 609-924-2310.
With the tag line "more than a business, it's a way of life," Alstede Farms in Chester offers families free farm fun, such as a free hayride shuttle to the apple orchards and free use of pull wagons to transport one's harvest from the orchards. Weather permitting, 'pick your own' admission is available every day from 9 a.m. to 6 p.m., PYO closes at 7 p.m. Note:  please check website for activity pricing. Apple varieties include Gala, Jonagold, Macintosh and more. 908-879-7189.
For an old-fashioned apple-picking experience starting on September 12, Sun High Orchard in Randolph is your place. "We provide the bags, you have the fun," they say! There are hay rides and pony rides for the whole family, and apples are kid-reachable on smaller trees. Some of the more popular varieties harvested at Sun Orchard include Cortland, Macintosh, Galas, Macouns, Honeycrisp, Empire, Delicious, Fugi and Winesap.  Sun High wants picking families to know: Once picked, don't throw the apples into the baskets, place them in gently, or they will bruise and spoil quicker than ones placed gently and non-bruised. Also, keep apples refrigerated to preserve crispness. After apple picking, be sure to stop by the farm's market kitchen for some hot spiced apple cider—yum! 973-584-4734.
Mackey's Orchard in Belvidere offers apple pickers a 15 minute hayride with scenic views to the apple picking area, located behind the farm. There's also a playground and a full apple bakery that offers apple cider donuts, dumplings and more, and a mile-high apple pie! (Fun fact: Mackey's mile-high pie has between 5 and 6 pounds of apples in it!) Mackey's grows over 100 varieties of apples that ripen between August and November. Pick-your-own is offered on weekends in September and October. Owner Holly Mackey advises people to always call in advance before coming, because we Garden State residents know how wonky the Jersey weather can be!  908-475-1507.
For those seeking something more low-key, Abma's Farm Market in Wyckoff doesn't offer apple picking from trees, but has crates filled with apples which a-peel (!) to children who come by, says employee Cailin, who adds, "people bring their children here all the time; they especially love our petting zoo." You can find fresh apple pies in the bakery, too! Abma's is one of the few farms left in Bergen County and also offers pony rides, hay rides, and farm tours. Note: Petting zoo animals include pigs, chicks, rabbits, sheep, cows, and more. 201-891-0278.
It's apple season at Riamede Farm in Chester, which offers 34 varieties of apples, ranging from traditional classics to heirloom specialties to modern favorites. The early apple varieties are just ripening now and the other varieties ripen over the course of the next six to seven apple harvest weeks. For you tried-and-true apple lovers, a weekly trip to Riamede is necessary to catch each variety at its apple-tree ripened best. The best thing to do is call the farm early every day— Riamede's telephone message will always tell you what is ripe and being picked on any day. 908-879-5353.
The winner of the very first "I Love New York" tourism award, Applewood Orchards in upstate New York kicks off apple season with crisp Macintosh apples. Plan to visit in September if you want to grab the best apples in their prime time. In addition to apple picking, Applewood Orchards also offers rose gardens, petting animals, and a country store. Families can also check out hayrides, puppet shows, live music and more. And for those with a (big!) sweet tooth, don't forget to visit the farm's donut window! 845-986-1684.
According to its owner, Michelle, Pochuck Valley of Glenwood is offering 'pick your own' apples from now until the end of October. The trees for picking are low to the ground for easy reach and the farm also offers apple cider donuts, homemade peanut butter, homemade crafts and jewelry, and more. Ready to pick apples include Courtland, Macintosh, Mutsu and more. On the premises, families can find picnic areas and sandboxes, too. Note: Kick off apple cider season with a free glass of apple cider. Just come in anytime from September 12 to February and just ask for a free sample. Double yum!
NOTE: Please contact orchards before heading out to confirm hours and amenities–many orchards are small, family-run establishments. All are open weekends, with varying hours. Weekday hours are limited and vary greatly. Also, please leave animals at home or you may be asked to leave apple-free.
Image credit: Susan Kleinschmidt
Originally published September 2009