One Great Day in NJ: Campgaw Mountain Reservation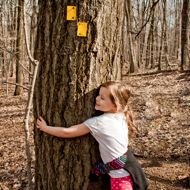 When I was a kid I loved being outside. My mom lived on a farm and my brothers and I spent many a summer getting lost in the cornfields, and locked in the chicken coop. (That last one was just me.) But  upon the discovery of gossip magazines and teen angst, I decided that hot, sweaty, buggy, cold, windy, mild, sunny, rainy, snowy, overcast, undercast, sideways weather was just not for me, and I broke up with the outdoors. Inside and I had a good time, but eventually Central Park and picnics called me back outside, and then I camped. I slept outside. I even had fun, despite the torrential rain. And then I had children, who should really come with a warning: MUST NOT BE KEPT INSIDE ALL WEEKEND. PRONE TO SELF DESTRUCTION. So, we hike. (And camp, but that's another story. Stay tuned.)
My eldest is a bit of an outside freak. I think her blood pressure drops she likes it so much. (My youngest has more solidarity with her mother, who still thinks a day spent watching TV, is a day well spent.) This past weekend, we took the brood to Campgaw Mountain Reservation, which in the winter is a very family-friendly destination for skiing, snowboarding and tubing, but during the other three seasons offers over 7 miles of trails, most of which are easy enough for kids and possibly even my lazy dog.
The longest trail is 3 miles, and the one we did was a little under that. We followed the blue blazes up to the top of the ski slope, which offered lovely views of the mountains, and along the way included a nice spot for a tunafish sandwich and some cookies. There was a steep switchback up to a highpoint of the trail but it was very doable, and despite some complaining I heard, there was no need to turn back and go home and watch a movie.
The girls loved looking for the blazes and running ahead for sticks and rocks and climbing. We even found the machinery used to operate an old bobsled track. Hiking is great for random discoveries like that. We've seen cars on trails that were at least 50 years old. How did they get there? And why? It's fun to wonder and I love the kids' chatter on the trail.
We took the yellow blazes back down, and ran into a couple teams playing DISC golf, this involves throwing a frisbee into baskets, while climbing up and down the trails. Campgaw also has an archery field, camping and fishing.
Adjacent to Campgaw, is Ramapo Valley County Reservation, which has more difficult trails, camping, and fishing in the lakes and river. Both parks are canine nirvana.
I'm glad outside and I kissed and made up, my family loves it out there in the woods with the crunch, crunch, crunch of the leaves and the little observations that aren't about bodily expulsions (usually). Go for it, city brethren. You have a DVR after all.
For further information about Campgaw, call (201) 327-3500 and for Ramapo call (201) 327-3500.