NJ Summer Camp Fairs and Open Houses 2015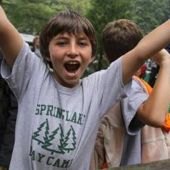 Don't faint--the dead of winter is when parents start thinking and planning for (gulp) summer camp. Lanyards, hand games, swimming, s'mores... if you're wondering where your kids are going to be doing these things in the hot, school-less weather, check out an upcoming Summer Camp Fair or Open House. Whether you want to stay in NJ, venture into NY or try a sleep-away camp out of state, a camp fair or open house will allow you to meet camp directors, chat, tour the facilities and make an educated decision. Considering that New Jersey has about a billion (only a slight exaggeration) camp options, hopefully this  list will help you narrow it down. We will be updating our NJ Summer Camp Guide throughout the winter, so stay tuned!
Camp Fairs ACA-NJ Camp Fairs
American Camp Association-accredited® camps meet up to 300 standards for health, safety, and program quality. Their camp fairs run every weekend for the next few weeks in various locations throughout New Jersey, including Hackensack and East Hanover. Check our Events Calendar for Camp Fairs every weekend. The fairs are FREE with extra freebies of snacks, door prizes, giveaways and DVDs of camps.
Open Houses and Tour Days
Deerkill Day Camp (Suffern)
The very popular Suffern, New York camp that Jersey kids love. Open houses on Sundays, March 22, April 12 & 26. Email office@deerkilldaycamp.com or call 845-354-1466 to reserve a spot.
Steve & Kate's Camp (Montclair, Westfield)
Flexible and fun; you can buy a whole summer membership or as many day passes as you like and use them whenever. Information session Monday April 13 from 7:30 to 8:30pm. RSVP here: http://steveandkatescamp.com/locations/montclair/
Trail Blazers Day Camp (Montague)
At 129 years old, the second oldest American Camping Association-accredited program and the first to provide environmental education. Open houses May 17 and June 6, from 10am - 4pm (Approximately; hours to be confirmed closer to the date)
Deer Mountain Day Camp (Pomona)
Check out this uber-fun camp on Saturday, March 14, Sunday, March 22, and Saturday, March 28. You can also schedule a personal tour by emailing info@deermountaindaycamp.com or calling 845-354-2727.
JCC Camps at Medford
A day camp in Southern New Jersey for children ages 3 - 14, located on a 120-acre shaded site in Medford, NJ. Open houses on Sunday, March 29, from 11am-2pm and Sunday, April 19 from 11am-2pm. No reservations required, but if you would like to RSVP, please email ssideman@jfedsnj.org.
Harbor Haven (West Orange)
Harbor Haven provides an opportunity for children ages 3-15 with mild special needs to experience summer camp activities such as athletics, swim, nature, performing arts, cooking, photography, computers, arts and crafts, yoga, trips, special events, entertainment and more. Open houses on March 22 from 10am-11:30am and 12pm-1:30pm; April 26 from 10am-11:30am and 12pm-1:30pm. Please rsvp by calling 908-964-5411 or emailing info@harborhaven.com
Ramaquois Day Camp (Pomona)
Located just north of Bergen County in New York State, Ramaquois serves Northern New Jersey campers from Tenafly, Closter, Demarest, Englewood, Englewood Cliffs, Woodcliff, Upper Saddle River and more. For a tour on any weekday between 10 a.m. and 4pm and select weekends, call 845-354-1600.
Gate Hill Day Camp (Stony Point, NY) This very parent-friendly camp will have its Winter Open House on March 14th, April 4th, 11th, 19th, 25th, May 2nd, 9th, and 31st with games, refreshments and sports. 845-947-3223.
Blue Rill Day Camp (Rockland County)
Just 25 minutes north of the GW Bridge, open houses on the following Saturdays from 10am to 2pm: March 14, March 21, March 28, April 11, April 18 April 25, May 2, May 9, May 16, May 23, and May 30. Please call 845-352-3521 or email info@bluerilldaycamp.com to RSVP.
Oasis Camps (Madison)
Oasis will have an information session on  March 12. Click here for more details. (Scroll down to ''Upcoming Events.'') The NJ Oasis camp is located on the campus of Drew University.  For more info, call 800-317-1392.
Riverbend (Warren Township)
Get a chance to sample Camp Riverbend in Winter Open Houses with tours, counselor meet-and-greets, crafts and games for all ages (3-14): March 21 (10 am -12 noon), April 18 (10 am -12 noon), May 3 (11 am - 2 pm) Just for young children (ages 3-6, currently in preschool or kindergarten): March 14 (9:30-11:00 am) and April 25 (9:30 - 11:00 am) Also, check out their Saturday Clubs on March 14 and April 25. RSVP is required to miriam@campriverbend.com or 908-580-CAMP
Spring Lake Day Camp (Ringwood)
A day camp with a lake and five pools. For more info, call 973-831-9000.
Campus Kids (Blairstown)
Popular with the parents as well as the kids, the "Weekday Sleepaway" camp on Blair Academy campus will take appointments. If interested, you must call 973-845-9260 to schedule a tour.
Rambling Pines (Hopewell)
The 225-acre camp in the Sourland Mountains will have an Open House on February 8 from 1 p.m. to 3 p.m. Reserve your space at 609-466-1212 or enroll online.
Woodmont Day Camp (New City, NY)
Only a fifteen-minute drive from northern NJ, Woodmont's lovely 50-acre camp will give your child a healthy, fun and personal experience. Tour dates are February 8, 14 and 22.  For more information, call 845-638-0700.
The Nature Place Day Camp & Farm (Chestnut Ridge)
The Nature Place Open Houses are the best way to learn about The Nature Place Day Camp & Farm and Garden Days. The staffers take you on a tour of camp grounds, you'll watch a slide show of images from summers past, and then the staffers will answer any and all questions about enrollment, programming, safety, transportation, staff, etc. All open houses run from 1-4 p.m., and take place at Green Meadow Waldorf School.Sunday, March 15th, 1-4 pm, Saturday, March 28th, 1-4 pm, Sunday, April 12th, 1-4 pm Sunday, April 26th, 1-4 pm, Saturday, May 9th, 1-4 pm, Sunday, May 24th, 1-4 pm.  Call 845-356-6477 for more info.
Dwight-Englewood School Summer Connections (Englewood)
Open houses will be held on April 11 and May 16, 1:00 -3:00 pm; email summer@d-e.org.
If you would like to list your Open House or Camp Fair in our Events Calendar, click here. Originally published 2012