NJ Kids Birthday Party Entertainers and Services that Come to You!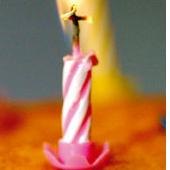 There's nothing like the comfort of your own home for a kids birthday party. That's why so many parents choose to host their child's birthday parties themselves. Think about it – you are in control, you aren't sharing a space with a multitude of other parties and costs tend to be lower. Still, a little help can go a long way. Take a look at our list of kids birthday party services in New Jersey that will come to you. From full-service companies that handle every aspect of your birthday party to birthday party entertainers who make house calls – New Jersey, we've got you covered!
Full-Service Party Providers: 
Kids Party to Go
This is a do-it-all service that offers an array of pre-set party packages as well as custom themes. They will even set your princess tea party with linen and fine china! Some other party themes include Mermaid Under the Sea Adventure, Hollywood Movie Star Dress Up, Kids Spa Party, High School Musical Dress Up and more! Another fun option is the mail order party. Choose from packages of varying costs. 848-459-0550
Kids' Princess Parties (Monmouth County, NJ)
This company brings the full-package theme and entertainment offerings as well–princess parties, tea parties, knight parties, fairy parties, pirate parties, diva parties, dress-up parties, "Under-the-Sea Mermaid" parties, spa parties, and on, and on---but also offers theatrical photo props, (life-size cutouts) of a variety of hot children's characters that really bring the theme to life!  732-792-3254
Lili's Parties (Hoboken, NJ)
Lili's offers custom birthday party services and great party options like illustrate your own book, puppet show party, fashion show, little artist party, pizza making and more! They also offer "Parties-In-A-Box" if you would rather run the show yourself. All parties include a welcome game, theme, dancing, ice cream, all paper goods, a cupcake for the birthday child and custom goody bags for all guests. Extras are available for an additional charge. 201-213-2617  
Party Entertainers:   
So, you have the whole party planned down to the last goody bag, but not so fast! Add some entertainment to your party. Try one of these services that will come to your home or venue.
Preschool of Rock
Throwing a Rock Star party? Members of the Preschool of Rock will come to your home with instruments, drums, shakers, scarves and tons of energy to enchant your 6 month old to 5 year old birthday star. With two levels, Jam Session and Rock Extravaganza, for up to 15 kids, outrageous interactive fun will be had by all! 732-690-2220
Travelin' Tumblers (Hoboken, Warren, NJ)
This company brings the equipment, instructors, insurance, moon-bounce houses (if desired) and excitement with them. Great for kids from one to seven years of age, they can accommodate up to 50 kids! Incorporating parachutes, songs, obstacle courses, tumbling equipment and props they ensure everyone's engaged. Plus, imagine the wear-and-tear you will save on the furniture! 732-302-5850
Theatrical Birthday Parties (Hoboken/Jersey City, NJ)
This company offers birthday parties for kids four to ten years. Parties are led by a professional actress and include theater games, interactive story-telling, dancing, music and more. The company also offers yoga birthday parties, call for more information. 917-843-4143
B. Happie Entertainment
Imagine it and they can deliver it. Magicians, stilt-walkers, caricature artists, clowns, jugglers and more. Be open about your child's desires and your budget, and they'll work with you to deliver a party-perfect performer. 888-867-4282
Twist-N-Shout (Manalapan, NJ)
Offering mobile party entertainment, Twist-N-Shout will bring everything you need to have a blast. The basic package includes 1.5 hours of entertainment, small DJ system, face paint or tattoos, dance games of your choice and candy/prizes. The largest packages include 3-4 hours of music, a full DJ system, face paint, games, candy and prizes and can also include a candy cart, lights and extra staff for crowd control! 732-761-9555
Party Maniacs
Party Maniacs has been providing entertainment for all ages in Northern and Central NJ since 1996. They will come to you with fast-paced musical games, face painting, balloon sculpting, group dances and much more. 973-376-2211
Uncle John's Puppets
Using up to 40 different recognizable TV and movie character muppet-style puppets, this company performs the show in a stand-up comedy format. The show begins with the birthday child performing easy, classic magic tricks with the performer, then the puppet show runs, followed by a dance party. 908-508-9292
Acting-A-Part (Sparta, Ridgewood, NJ)
For children three years and up, party leaders work with you and your little one to choose a theme, then involve all of the children with creating and performing a full-on show complete with costumes and music. In fact, they'll even video the event and give each guest a copy of the show. Packages include pizza, cupcakes, performances and more for up to ten guests, including the birthday child. 973-879-3651
Rizzo's Wildlife Discovery (Budd Lake, NJ)
If you'd rather the "wild" in your party derive from the entertainment than the guests, book this wildlife and animal presentation company. The hour-long show involves education, humor and handling (for the more brave souls) of snakes, lizards, frogs, turtles, alligators, arachnids, insects and mammals. 973-586-0444 or 201-230-2415
Wings of Magic (Scotch Plains, NJ)
A one-man, one-stop shop that truly delivers, Mark Dolson utilizes his strong theatre and special effects background to bring your party to life. Options include magic shows, puppet-storytelling, clowns, balloon art, slime labs, sand art, dinosaur digs and more. 908-803-5179
Great Scott, It's Magic!
Scott Drucker has appeared on every top night-time talk show out there – if he can't keep your crowd entertained, you're in trouble! His 45-minute show caters to kids ages three to 15 and features live animals (Thurston, the macaw, nearly steals the show) and loads of audience participation. The comedy and magic keep the kids rolling, and the subtle innuendos get the adults into the action, too! 973-857-4004
Marco the Magician
Another highly-recommended magician, Marco, runs the gamut from strolling through your event performing smaller, one-off tricks, to performing a full-on high-end magic show sure to amaze your audience.  973-989-0255
Party Planning Tips:
Make a budget and stick to it. There are so many tempting little things that can really add up. Stick to the basics and remember – the kids will probably have fun no matter what!
Consider a website like Birthday in a Box for additional décor, balloons or personalized/themed items. They also guarantee their delivery dates.
Instead of buying tons of cheap favors, try a cupcake-making station. You can buy small to-go boxes and kids can decorate their own cupcakes and take them home.
If you are having an outdoor party – have a Plan B! List a rain date on the invitation or be ready to bring everyone into the house. Look into pop-up tent rentals in advance, so you know who to call if the skies cloud over on your child's big day.
RELAX and enjoy. It is, in the end, a children's party!
Originally published 2012