Best Music Classes for NJ Babies, Toddlers and Preschoolers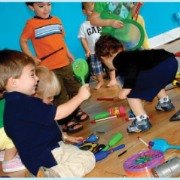 From Ol' Blue Eyes to Bob Marley, babies respond to music immediately and with beneficial results. Then, it's on to the toddler stage; Old MacDonald this and Itsy Bitsy Spider that, and if the wheels on the bus keep going 'round and 'round, maybe it's time for Mommy & Me music classes. And by the time they're preschoolers--rock and roll! These NJ classes will not only inspire your little Beethovens, but are great bonding experiences between parent and child. Play on! And don't forget to check out our Enrichment Programs, Classes and Activities for NJ Kids Guide.
Supporting the idea that all children are musical, Music Together of Bergen County has a motto of Bringing Harmony Home. These inspirational music classes combine singing, chanting and movement for infants, toddlers, preschoolers and the adults who love them. Class locations include Tenafly, Rutherford, Englewood Cliffs, Teaneck and Englewood. Please call (201) 670-9993. Additional Music Together NJ locations include Montclair,  Edison, and Galloway.
The Little Rockers Music hosts an array of Cool Kids Music Classes for children ages three months to four years old. Each class combines original kindie rock songs with classic hits to get kids ready for rockin'! Led by two teaching artists, the 45 minute mommy and me classes introduce kids to rhythm and melody in a relaxed, but entertaining atmosphere. Garden state locations include Colts Neck, Howell, Manalapan, Marlboro, Middletown, Montclair, Ocean, Princeton and Red Bank. Services also include Rockstar Party packages for birthdays, educational events and local concerts. For questions regarding classes in Princeton or Montclair, please call (732) 737-4257; for all other locations, please call (732) 872-4354.
Preschool of Rock classes are located in Jersey City, Hoboken, Montclair, Livingston, Hoboken, Westfield and Metuchen. With several parent-child classes, Preschool of Rock offers engaging music education and performance classes for babies through kindergarteners. With a motto of "every class is an educational, roof-raising celebration," your tike is sure to have some fun! Click here to view the current class schedule.
Gymboree offers four music classes starting at six months and running up to five years old. These weekly programs focus on developing a love of music through song, dance, movement games and instruments. New Jersey locations include Jersey City, Paramus, Chatham, Westfield, Waldwick, Metuchen, Basking Ridge, Howell, Red Bank, Ocean and Princeton.
Little Notes Music School (Randolph, NJ) is now offering Kindermusik classes. The Kindermusik philosophy is that every child is musical, and that the parent is the child's first and most important teacher. To learn more about Little Notes Music School, please call (973) 479-8905.
FasTracKids host 45 minute signing classes, FasTrack Signing, once a week for infants (starting at six months) to toddlers (two years old). FasTrack Music, for children ages two to four years old, utilized the ABC Music & Me curriculum. Garden state locations include Jersey City, Edgewater, Fort Lee, Wayne, Towaco, Oakland, Kinnelon, Mahway, Randolph and Edison. 
Kids Music Round offers mommy & me style music and movement classes that are specifically designed to meet the developmental needs of infants, toddlers and young children. New Jersey locations include Branchburg, Bridgewater, Cherry Hill, Collingswood, Crosswicks, Jackson, Kendall Park, Lakewood, Skillman, Moorestown, Mt. Laurel, Pennington, Plainsboro, Princeton, Robbinville, Westfield, Springfield, Stirling and West Windsor. Parents can select from a variety of classes: BabyRound (newborn to eight months), mixed ages (newborn to five years old), Preschooler Music Class (three to four years old), The Next Step (five to seven years old, without an adult), Moving Around (ages four to six years old) and Special Needs (all ages). Please call Kids Music Round headquarters at (609) 333-0100 with any questions.
Music for Aardvarks incorporates a wide variety of musical activities, including singing, dancing, musical story-telling, instrumental jam sessions and musical puppet play. Created for children ages six months to five years, Music for Aardvarks has several New Jersey locations. The primary goal at Harmonize (Montclair and Springfield, NJ), Miss Melissa's Aardvarks (Red Bank, Fair Haven and Lincroft, NJ) and A Hum Music (Waldwick, Ridgewood, Park Ridge and Washington Township) is not to teach music, but for children to experience music. These weekly interactive music classes focus on celebrating childhood by rockin' and groovin'!
Musical Munchkins (Paramus and Ridgewood, NJ) introduces toddlers to music through instrument play, song and movement. Classes are broken out by age groups: six to 13 months (Babies), 14 to 23 months (Ones), 24 to 35 months (Twos) and three and four year olds (Young Musicians). For questions, please call 201-891-1807.