Mommy and Me Classes (Oh, and Daddy too) in New Jersey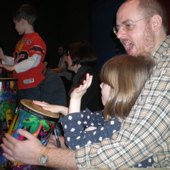 When I had my first child in the middle of winter, I was dying to get out of the house and meet other moms with babies the same age. Solution? A Mommy and Me class. Suddenly I was meeting moms who provided me with some adult conversation after weeks of being home alone with a screaming infant. Back then there weren't too many options, but now the choices are endless: music, art, yoga, foreign languages, nature, swimming... You are sure to find something that will interest both you and your baby! And check out our Enrichment Programs, Classes and Activities Guide for NJ Kids.
Music
These are among the most popular Mommy and Me classes. I assumed when I took a Mommy and Me music class for the first time that it would be about listening to classical music with my child. Be prepared. You will be expected to sing Wheels on the Bus with everyone else and do all the goofy movements. And your child will love it. There are tons of different music classes, but the two most popular are Kindermusik and Music Together.  They are very similar, but many people say that Kindermusik is more structured and repetitive than Music Together, although a lot depends on the individual teacher (get recommendations if you can).  If you are one of those parents who cannot stand made-for-kids music, you may want to consider the more contemporary Music for Aardvarks.
Swimming
When it comes to baby swim classes, this is the best Daddy and Me class you can find. Most of us could use a break and would rather not put on a bathing suit. This is a great way for dad to bond with the baby.  A good place to start looking for a Daddy and Me swim class is the YMCA.  If there are several places in town that offer swim classes, you may want to find out which pool is the most comfortable temperature for your little one.
Art
There is one excellent reason to take a toddler to an art class. THE MESS IS NOT IN YOUR HOUSE. At this age, it never is really about the end result, but about the process. The process is always better when a professional has figured out a way for it not to end up on your living room rug.  Some great toddler art classes include Crafty Toddlers at Express Yourself Studios in Maplewood and The Spiral Art Studio in Cream Ridge and East Brunswick.
Gymnastics
Why take a child who can barely walk to a gym class? Sometimes a gym class is exactly what a toddler needs to gain a bit more coordination and improve their gross motor skills.  Also, a nap after a class like this is pretty much guaranteed.  You can find a Mommy and Me gym class for most age groups at The Little Gym.
Foreign languages
Maybe you speak a foreign language at home or maybe you just want to expose your child to another language as early as possible.  For a great listing of foreign language Mommy and Me Classes in Spanish, French, German, Hebrew, Italian, Japanese, and Chinese, go here.  Some Mommy and Me classes, like Let's Play in Italian, start for kids as young as 6 months old.
The Public Library
If you are looking for a FREE Mommy and Me class, your best bet is the public library.  Some libraries only offer story time, but many even have their own music classes and other Mommy and Me classes.  To find a library near you go here.
General Mommy and Me
Too many chioces? Gymboree has a wide offering of classes for babies and toddlers including art, music and "play and learn." It also has plenty of locations across the state.