Archery Classes for New Jersey Kids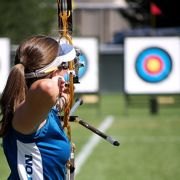 Until recently, the sport of archery was relegated to the arena of nerdy gym-class alternative. These days, however, one of the world's oldest sports is suddenly popular and downright hip, thanks to some pop culture heroes and heroines. With characters such as Merida in Disney's Brave, Katniss in The Hunger Games, and Hawkeye in The Avengers wielding a bow and arrow, more New Jersey kids are looking to give archery a try. Here are four school in NJ that parents can "target".  For even more great classes for kids, check out our Enrichment Programs, Classes and Activities Guide.
X-Ring Archers School of Archery, Lambertville, NJ
X-Ring Archers is the only true school of archery in New Jersey. It is owned and operated by Jon C. Bach, a national champion archer. X-Ring Archers offers archery classes for beginners through advanced for kids as young as 7 years old.  Beginner classes are limited to 14 students and consist of 9 week sessions.   Equipment is provided for all beginners.
The New Jersey School of Archery, Florham Park
New Jersey School of Archery offers classes to all levels and age groups. Classes are taught by Olympic-level coaches, and the school is affiliated with the national JOAD (Junior Olympic Archery Development) program. Equipment is offered to all beginners and there are both indoor and outdoor ranges in which lessons are held. Enrollment is running, so new students can sign up at any time. Competitions are  also offered.
Wa-Xo-Be, Monmouth Junction
Wa-Xo-Be is the largest private archery club in New Jersey. Archers of all skill levels are members. Wa-Xo-Be  offer s "Friday Night Introduction to Archery" for those interested in trying archery for the first time.  For a small fee, new archers will be under the supervision of a qualified instructor who will teach skills to make the archery experience a safe and enjoyable one. It's a great way to get a taste of the sport of archery! Wa-Xo-Be does offer classes and training programs for all levels.
Targeteers Academy, Saddle Brook
Targeteers Archery is the state's "premier" archery store. They have been in business for over 50 years, offering merchandise as well as adult/youth leagues and lessons.  Lessons are private and include equipment, range time and professional instruction. Call them at (201) 843-7788 for more information.
photo credit: IntelGuy via photo pin cc
Originally published 2012