25 Fun Things To Do in Hoboken, New Jersey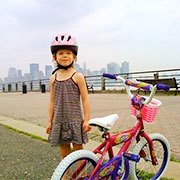 Home sweet Hoboken. You're very small, with wildly uneven sidewalks, but it's hard to beat your warmth, your people, or your mutz. Here's 25 fun, and mostly FREE things to do in my favorite small town urban area. 
1) Visit a park or playground where you and the kids can meet up with the great friends that make Hoboken such a pleasure to live in; run through a sprinkler, or just burn off some energy.
2) The Hoboken Public Library is still housed in its original building, built in 1897. They have loads of children's programs and their comprehensive website allows you to check out books from all over the state. We love this place.
3) Hoboken's only public pool is located at 123 Jefferson. It's clean, refreshing, FREE and nearly empty if you get there first thing.
4) Festivals. From the Italian Festival to St. Ann's Feast — it's where you get the zeppoles. An experience that is truly, deeply Hoboken.
5) Ride bikes along the river, from Hoboken to Lincoln Harbor.
6) The Ragamuffin parade on Halloween and subsequent trick or treating crush, is one of the best things about Hoboken life.
7) Movies Under the Stars all summer long at Pier A.
8) Run into a friend — everywhere! Kids eat free Tuesdays at Elysian restaurant is a good place to start.
9) Front row seats to the ultimate Fourth of July fireworks show. Just park your chair on the Hudson.
10) Castle Point Skate Park. A great spot for your budding X Gamer.
11) Free kayaking on the Hudson.
12) Family Fun Nights in Shipyard Park, during the summer months. Great for younger children.
13) Create parking havoc and loads of old school running-the-neighborhood fun at local block parties. 
14) Play tennis and/or basketball at the free courts in Columbus park. 
15) Visit the Hoboken Historical Museum.
16) Play town sports through the Hoboken Dept. of Recreation for a nominal fee and loads of fun. 
17) Enjoy weekly puppet shows from Puppetonia at Symposia Bookstore. Prices vary from $10-$15 per show with package deals available. 
18) Harvest Festival (Oct. 20th, 11am-3pm at Pier A Park) and the Fall Arts and Music Festival. Fall's answer to the summer festivals. 
19) Concerts, theater, yoga, art, and fitness in the park, all summer long. Check out the cultural affairs vertical on hobokennj.org for dates and locations.
20) Embarrass your child before they learn to roll their eyes at you, by dressing them up for the Hoboken Baby Parade, held on Pier A in May. 
21) Christmas tree lighting and concert at City Hall.  
22) Check out the City Hall Holiday Crafts Fair. 
23) Citywide spring gate sale and flea market, because, seriously, kids love junk. Have you looked in their rooms lately? 
24) Mitzvah Day, sponsored by the United Synagogue of Hoboken
25) Hoboken Farmer's Markets Eat local! And be sure to pair those fresh tomatoes with some of Hoboken's finest mutz. I'm partial to Vito's.