Spend a Day at the Turtle Back Zoo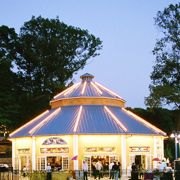 There is a gem nestled inside Essex County: Turtle Back Zoo. Part of the South Mountain Recreation Complex, TBZ is a lovely little zoo with a big commitment to wildlife education and conservation. With the added perk of being smack in the middle of a treetop obstacle course, an indoor skating rink and a mini golf course, the TBZ is an amazing day trip for anyone in Northern New Jersey and worth the trip for any family in the whole state. Read on for all the highlights!
Celebrating 50 years in operation, Turtle Back Zoo (part of the South Mountain Recreation Complex) has undergone extensive renovations during the last decade. No matter what the season, it's a great place to visit with lots of activity going on every day. From Big Cat Country, to Sea Lion Sound, visitors can tour this facility in just a few hours. Make sure to watch out for the peacocks sauntering through the park.
 
When my twin boys turned one, we wanted to mark this milestone with an extra special celebration. Naturally, we choose the Turtle Back Zoo as our location. The mix of wild animals in a serene atmosphere perfectly summed up our last year.
 
As you enter the zoo, you'll find a mix of old and new. First stop is the reptile center to see all things slither and slide. My fear of snakes always limits this stop, but in the winter months it's the perfect area to warm up and learn about turtles, snakes and lizards. Next up, the World of Water, which premiered earlier this month, hosts a shark and stingray touch tank and a Sea Lion pool. Being the newest exhibit, expect a lot of traffic in this area. Our journey takes us past other natural habitat exhibits featuring gibbon apes, alligators, a mixture of Australian animals and two area South East Asian mammals.
 
The barnyard animals at Essex Farm exhibit are always a family hit. From the 2,000 lbs. pig to the assortment of chicken and sheep, our family can spend hours by this area alone. The staff is extremely friendly and helps children learn about the animals, their diet, as well as their personalities. We then wonder up to Big Cat Country, which features a pair of jaguars and cougars (usually sleeping when we visit!), followed by Wild New Jersey. Set in a natural wooded habitat, these native NJ animals include a bob cat, porcupines and bald eagles. 
Next stop, Wolf Woods and then onto the black bears. This display resembles a kitchen window, how many garden state residents see black bears during the summer months. Before our departure, we make sure to see the bison, penguins and hang out in the prairie dog pop-up bubbles, putting us right in the exhibit with these furry creatures.
 
Within the zoo, you'll also find a carousel ($2 per ride), a miniature train (free) that travels through the woods, pony rides ($2 per ride), as well a walkthrough aviary exhibit ($2 per feeding stick). Added bonuses include face painting, live music, the zoo photo booth, TBZ's penny machine, along with zoo key (all extra fees).  
Mark your calendar! Check out the upcoming events at the Turtle Back Zoo. 
Bear Awareness Day on Saturday, May 18
Night Moves (Members Nights) on Thursday, May 23 and Friday, June 28 
Live Music by Tycoon Dog on Sunday, June 2 
50th Anniversary Celebration on Saturday, June 8 and Sunday, June 9 
Hours: Monday to Saturday from 10:00am to 4:30pm; Sunday from11:00am to 5:30pm.  The zoo remains open 30 minutes after the last admission. 
Admission: $11 for adults, $8 for children and seniors. Children until two years old are free. 
Address and Phone: 560 Northfield Avenue, West Orange. (973) 731-5800
Make it a day trip! The Turtle Back Zoo's South Mountain neighbors can make a trip to the zoo into a full day adventure. 
Richard J. Codey Arena provides indoor skating for children and adults year-round. From birthday parties to figure skating camp, this facility shares its parking area with the zoo. 
MiniGOLF Safari is now open for the season, weather pending. Admission for this 19 hold course is $8 for adults and $6 for children. Hours of operation are Friday 12:00pm to 8:00pm; Saturday 10:00am to 8:00pm and Sunday 10:00am to 7:00pm. 
Treetop Adventure Course with rope bridges, zip lines and other aerial obstacles open in Fall 2011 with rave reviews. The course is currently closed due to Hurricane Sandy storm damage. Stay tuned for updates. 
McLoone's Boathouse, offering Americans cuisine, is an easy three minute drive from the zoo. For more information, please call (862) 22-7108. 
Still want to know more? 
Visit the TBZ website: http://www.turtlebackzoo.org
Follow TBZ on Twitter: https://twitter.com/TurtleBackZoo
Like on Facebook: https://www.facebook.com/TurtleBackZoo