Snow Tubing for New Jersey Families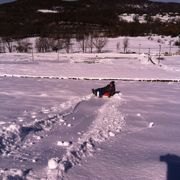 Of course we love ice skating and all manner of indoor and outdoor winter fun, but when it comes to frosty sports, snow tubing is a fantastic winter activity the whole family can enjoy. No experience is necessary and you can tube alone or in groups. In fact, tubing is a lot like sledding, but a whole bunch easier. Barrel down the snowy slope at thrilling speeds without having to hike back up the hill. It's done it for you! Now that's the kind of winter sport we can handle, right?
Many of the local ski areas offer snow tubing, but hours of operation and height/weight/age requirements vary. Check the resort's website for details and waiver forms that can be downloaded and filled out before you tube. Often, ticket sales are capped at maximum amounts. Many resorts sell tickets online, so buy ahead to avoid missing out, then pack up the family and hit the tube parks! Remember to wear warm, waterproof clothes and snow boots. All tubing parks prohibit the wearing of ski or snowboard boots. The following local ski resorts offer snow tubing close to central NJ, weather permitting.
Mountain Creek (Vernon, NJ)
Mountain Creek boasts one of the largest tubing parks in America, with 30 lanes. Kids from ages 5-13 can enjoy "The Drop Zone" tube park on Thursday and Friday from 5-9, and Saturdays, Sundays and holidays from 10am to 9pm. Check out the current pricing and don't miss the select Fridays when Mountain Creek offers Family Tubing Night.
Campgaw (Mahwah, NJ)
Campgaw offers a variety of different tubing runs in a smaller, more "intimate" setting. Tubers must be a minimum of 42". Not only can you ride your tube down the slopes, you can ride it up as well! Tubing runs are open every night. Check out the current pricing (rates depend on when you choose to tube) and the hours of operation. Only 140 tickets are sold per 2 hour session, so Campgaw recommends that tickets are purchased in advance.
Jack Frost/Big Boulder (Blakeslee, PA)
Jack Frost/Big Boulder is considered the Pocono's premier resort. In fact, it is two resorts in one and snow tubing is available at both resorts. At Jack Frost, there are 6 runs (or "chutes" as they call them) and 2 tows to pull tubers back up the hill. Big Boulder has 20 chutes and 2 tows.  Children must be 42" tall; only single tubes are available. Check out the current pricing and Sunday Night Specials.
Camelback Mountain Resort (Tannersville, PA)
Camelback's snow tubing park promises an adrenaline rush, as well it should, since it's the largest snow tubing park in America, with 38 lanes and 2 lifts. Children must be 44" to tube alone and 33" to tube with parent. Check out the current pricing and the midweek specials.
Ski Shawnee (Shawnee on Delaware, PA)
Shawnee's snow tubing park is family oriented and is the closest Pennsylvania resort to NJ. Monday-Thursday, tubing is available in the afternoons starting at 1pm; Fridays and weekends offer both afternoon and evening hours. Shawnee offers 2 and 4 hour sessions, with 7 chutes and 2 magic carpets to ease your trip up the hill. Children less than 46" must ride with a responsible adult on tandem tubes. Check out the current pricing, depending on length of session and day of week.
Blue Mountain (Palmerton, PA)
Blue Mountain promises to keep the good times rolling with 3 lifts and up to 21 tubing runs. Children must be 36" tall to participate. Sessions are afternoons during the week, with late nights offered on Fridays; on weekends the tube park is open all day. Check out the current pricing,  depending on day and time; discounts are available for groups over 15.