Quirky Christmas: Some NJ Holiday Events You May Not Have Heard Of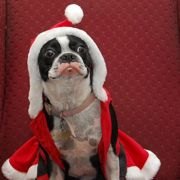 It's hard to believe we're two weeks away from the big day. Everything's rolling, from shopping to pictures, parties to decorating, annual light displays to Breakfast with Santa to  free holiday fun. All good stuff, to be sure. But if you're thinking you might like to mix up your holiday adventures a bit, check out some of these, shall we say, "off the beaten path" celebratory ideas. Some are out of state; some are at your local garden center. Because sometimes parents need to throw something new into the mix to keep these kids on their toes.
Christmas Ice Caverns and Christmas Store (Fairfield, NJ)
Located inside Jody's Silk Florist and Patio Center in Wayne, the Christmas Ice Caverns are New Jersey's largest walkthrough animated Christmas display. A steal at only $2.95 per person! Santa pictures with North Jersey's #1 Santa are available as well (hours vary). Spread out over 10,000 square feet, the caverns have been updated every year to include characters sleigh riding in the snow, Santa's candy factory, Santa's reindeer feeding barn, toy story figures and a life-size Nativity. The gift shop is full of thousands of ornaments and an excellent array of trees, wreaths, swags, and handcrafted centerpieces. Ice cavern hours are Monday thru Saturday from 10am to 8pm and Sunday from 11am to 5pm. Please note, Santa's last day for photos is December 24th, 11am - 2pm. Ice Caverns will remain open until Sunday, December 28, 2014.
Adventure Aquarium's Christmas Celebration (Camden, NJ)
Now through January 1, Adventure Aquarium transforms into an underwater winter wonderland featuring larger-than-life decorations, twinkling lights, glowing trees, and gently falling snow. Daily festivities include live shows and appearances by Scuba Santa, Bumble the Abominable Snow Monster and Rudolph the Red Nose Reindeer. The Christmas Celebration shows are held from 10am to 5pm.
Holiday Lights Trolley Ride (Cape May, NJ)
Ride through Cape May's Historic District to see festively decorated inns and homes as guides talk about Victorian Christmas traditions, lead sing-alongs, and play Christmas music.  Rides last about 30 minutes.
Casino Pier Holiday Party (Seaside Heights, NJ)
When you think of celebrating Christmas, Casino Pier is probably not the first place that comes to mind. If you are looking for some holiday fun, check out this Saturday's (December 13) holiday party from 12pm to 3pm. From the ugly sweater contest to candy cane limbo, this free event will surely get you in a festive mood! Fun, games, prizes and a visit from Santa will run throughout the event. Shore visitors can also enjoy Seaside's Christmas Parade, schedule for December 20th.
Twinkle Town & Little Houses at Willow Run Garden Center (Cresskill, NJ)
Similar to the Christmas Ice Caverns, this garden center is an animated walkthrough Christmas display, but they also have tiny houses you can explore, animals to pet and feed, and a huge assortment of Christmas decorations. This garden center will soon be out of business, so check out this NJ landmark. It's free and a great way to entertain little ones when it's too cold and windy to play outside. Twinkletown and the Little House are open extended hours from 9am to 9pm Monday to Friday and 9am to 6pm Saturday and Sunday till Christmas.
Sea of Lights at Jeninkson's Aquarium (Point Pleasant Beach, NJ)
Once again, Jenkinson's Aquarium transforms into a winter wonderland for the holidays! Stop by the Sea of Lights Holiday Festival on December 26, 27 and 28 from 6pm to 9pm to see this summertime destination turn into a festive Christmas celebration. Enjoy a fully decorated Jenkinson's Aquarium and see Scuba Santa between 7-8pm each night!
Koziar's Christmas Village (Bernville, PA)
Imagine your child's excitement as you drive into a valley aglow with over 500,000 Christmas lights! Koziar's Christmas Village is worthy of a December day trip. Located about an hour and a half west of New Jersey, Koziar's is a recipient of the best Christmas Display in the World with more than 50 buildings and structures lit with beautiful themed displays such as the Old Firehouse, Christmas in the Jungle, and Santa's Toy Shop, plus fresh baked goods and pictures with the big guy himself on Santa Claus Lane. Dress warmly (some attractions are outdoors) and bring your camera. Now open seven days a week until January 3rd. Monday to Friday from 6pm to 9pm, Saturday from 5pm to 9:30pm and Sunday 5pm to 9pm.
Ebenezer, A Musical Christmas Carol (Atlantic City, NJ )
Hosted at the Screening Room Theatre in the Resort Casino & Hotel, Charles Dickens' classic tale comes to life on the stage with music and dancing and holiday spirits. The story tells of bitter and miserly Ebenezer Scrooge's ideological, ethical, and emotional transformation resulting from supernatural visits from Jacob Marley and the Ghosts of Christmas Past, Present, and Yet to Come. Get into the spirit of the season. Bring the whole family to see this holiday favorite. Shows times are December 13-14 at 2pm, December 17-18 3:30pm, December 12, 13 and 20 at 7:30pm. For tickets or more information call Ocean Professional Theatre at 609-312-8306.
Rudolph the Red-Nosed Reindeer: The Musical (Newark, NJ)
Take a 'live' trip to the island of misfit toys with Rudolph, Hermey the Elf (aka The Dentist) and Yukon Cornelius.  This musical brings to life the classic TV special, celebrating its 50th anniversary. Show times include December 26 at 7pm, Dec. 27 2pm and 7 pm. 
photo credit: garlandcannon (on hiatus) via photopin cc