May GoList: Best Things To Do With NJ Kids This Month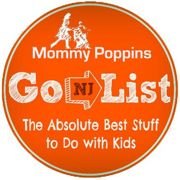 May is bursting with things to do with the family, be it Cinco de Mayo fun, Mother's Day events or the gazillion fairs and festivals around the state. But of course, we have our favorites, and this post highlights 10 of them, like Kite Day at Terhune Orchards, an arbor day celebration at the Cora Hartshorn Arboretum, a family fun day at the Lord Stirling Stable and an opportunity to watch an historic baseball game. Have a great May, NJ!
Kite Day at Terhune Orchards (Princeton, NJ)
May 2-3, 2015
Terhune Orchard is a very special place and to imagine it full of kites--well, that just sounds magical to us. Bring your own kite, purchase one in the shop, or make a "guaranteed to fly" version. There will be live music, tons of food to purchase and the sheep will be shorn on Sunday so children can take a piece of fleece home.
Jets Draft Family Fun Day (Florham Park, NJ)
May 2, 2015
The Jets welcome all fans to the Atlantic Health Jets Training Center for Jets Draft Family Fun Day. Jets fans and families can watch the remainder of the 2015 NFL Draft, meet Jets Flight Crew Cheerleaders and have the chance to get player autographs and tour the locker room. Kids can enjoy free face painting, Jets Fest and Kids Zone, an outdoor activity area.
Hoboken Spring Arts and Music Festival (Hoboken, NJ)
May 3, 2015
This family-friendly festival features over 300 artists, crafters, photographers, food vendors, local restaurants and businesses. Three stages will feature live music performances. A special children's section set up on 3rd Street includes rides, games, face painting, activities, balloons and more.
Ar-B-Que to Celebrate Arbor Day (Short Hills, NJ)
May 2, 2015
The charming Cora Hartshorn Arboretum is celebrating Arbor Day with its annual "Ar-B-Que". Many events are free, such as face painting, scavenger hunts, bee presentation by Hilltop Honey and cupcake decorating, but tickets are required for the Famous Dave's Barbeque, and the raptor presentation by Bill Streeter, director of the Delaware Valley Raptor Center for Close Encounters With Birds of Prey.
Annual Family Fun Day at Lord Stirling Park (Basking Ridge, NJ)
May 3, 2015
Games on horseback, free pony rides and hayrides make horses accessible to everyone; local vendors offer their specialties for sale; and child-friendly arcade games ensure that everyone is a winner. Food and beverages will be available for purchase, so bring the kids, bring your appetite, and enjoy a day on the farm. Free.
NJ State Science Festival (Trenton, NJ)
May 9, 2015
Super Science Saturday features lots of fun, science-based programs that are family-friendly, interactive, educational and entertaining. Visitors are encouraged to bring their archaeology or natural history "finds" for identification by the Museum's staff. This is also one of the last opportunities to see New Jersey's own dinosaur in the exhibit "Drawn To Dinosaurs: Hadrosaurus foulkii." Music, games and prizes. Free.
African Brazilian Carnival (Englewood, NJ)
May 16, 2015
This exciting program of Brazilian and African dances, music and song, features capoeira, a dance developed by Africans brought to Brazil as slaves over 400 years ago. Capoeira incorporates the speed and agility of martial arts, dance and acrobatics while teaching a philosophy of resolving conflict without using force.
Morey's Piers Wild Half Marathon (Wildwood, NJ)
May 16-17, 2015
This weekend of running and fun includes the Wild Half, a 13.1 mile half marathon and 8K race, and a new 5K race and Wild Child 1K beach run for kids. Activities include sunset beach yoga, Piers & Pasta Dinner at Joe's Fish Co. on Surfside Pier, finish line celebrations featuring live music and food, awards ceremonies, and more.
17th Annual Buffalo Watch (Flemington, NJ)
May 16, 2015
Come and support the Whitehouse Rescue Squad at the 17th annual Buffalo Watch event at the Readington River Buffalo Farm. This year's event will feature live music, quality vendors, food trucks, face painting, pony rides, local plant and flower sale, wagon tour of the farm, antique dealers and much more. Free.
Pitching the Past: Historic Baseball Game (Farmingdale, NJ)
May 23, 2015
Allaire Village is hosting a historic baseball reenactment. All are invited to watch the Bog Iron Boys take on Historic Baseball Clubs from around the area. Free.
Tags: