March GoList: The Best Things To Do With NJ Kids This Month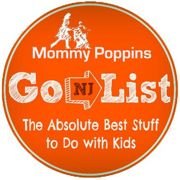 We've suffered through a winter of winters and there's an (unsubstantiated) rumor that spring starts this month so... let's GO: March! We carefully investigated and curated a list of family-fun stuff like the end of maple sugaring season, various "Frozen" events, an "Xtreme" circus experience, some animal theatrics, and so much more. And let's face it, we're all dying for some almost-spring activities, so enjoy our top picks for the month of March in NJ!
Frozen Sing-a-Long (New Brunswick, NJ)
The two most special "F"'s--"Frozen" and "Free". The State Theatre is hosting a special free Frozen Sing-A-Long event for families in honor of Customer Appreciation Day. Sunday, March 1.
Rubach Family Purim Carnival (Tenafly, NJ)
Kids can dress in costume and enjoy train rides, inflatables, crafts, games and prizes. There will be character visits, cotton candy and more. Sunday, March 1.
Maple Sugaring (various locations)
Maple sugaring season is drawing to a close so don't miss it! At Stony Brook Millstone Watershed Reserve, Great Swamp Outdoor Education Center, Tenafly Nature Center, Reeves-Reed Arboretum, Duke Farms.
Dr. Seuss Family Festival (Morris, NJ)
Families are invited to the Morris Museum for this fun festival celebrating all things Dr. Seuss! Activities include Dr. Seuss story times, ooblek experiments, craft activities, a Seuss LEGO challenge, and more. Saturday, March 7.
Be True To You (Englewood, NJ)
We have to highlight something with such a positive aim. "Be True to You" is a fun performance with an anti-bullying message. Kids can enjoy a mix of music and interactive scenes that teach how to help prevent bullying. Saturday, March 14.
Ringling Bros. and Barnum & Bailey Presents Circus Xtreme (East Rutherford, NJ)
It's not easy to compete with video games, but if anybody can do it, it's Circus Xtreme. At the Izod Center March 18-22.
'Frozen' Ball at Liberty Hall (Union, NJ)
It's always and forever going to be about Elsa and Anna. A Frozen-themed event that invites kids to make a craft, play games, and warm up at a delicious hot chocolate bar packed with sweet treats. Sunday, March 22.
2015 Children's Book Fair: Fire & Ice at Monmouth County Library (Monmouth, NJ)
Combine "reading", "fair" and "free", and you've got yourself a fun family event. Experience dragon's breath, ice bubbles, and a horn of fire during the Dragons & Dreams show, meet a live penguin from Jenkinson's Aquarium, and defeat an ice dragon with the "balls of fire" bean bag toss. Saturday, March 28.
Popovich Pet Theater (Englewood, NJ)
This wonderful family show features an amazing cast of cats, dogs, parrots, geese and even mice. We just can't resist a show featuring a bunch of rescued animal performers. Saturday, March 28.
NJ Ballet's Cinderella (Morristown, NJ)
One of New Jersey Ballet's most popular productions for children, Cinderella is a two-act romp through the well-known fairy tale in which a girl loses a dancing slipper and finds happily ever after with a prince. Sunday, March 29.
Tags: