Indoor Play Spaces in Essex County NJ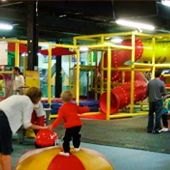 Although you may be gung-ho about taking your kids outside for most of the year, the frigid temperatures of late prove that sometimes you just have to stay inside. But don't worry – you don't need to stay home. Try taking the little ones to jump and bounce around, get the family on skates or feel inspired at a museum! Get those NJ kids out, but keep them indoors at one of these Essex County gems.
Indoor play and classes:
Funtime Junction, Fairfield
This large indoor play palace includes a jungle gym area with soft playground, arcades, Lazer Tag, sand art, a toddler area and more. Walk-ins are welcome daily. Click here for a coupon for a free helicopter ride or six free game tokens. They offer weekday specials such as Tuesdays all admission is just $6/person and on Wednesday and Thursday, Pay One Price of $9.99/Child (admission, 6 tokens, one slice of pizza, one small drink). Enter before 11am on Saturdays and take advantage of The Early Bird Special and pay only $6/child. Check out their Facebook page for more information and current specials and hours.General admission is $8.50/child (credit) and $7.50/child (cash). Adults are always free. 973-882-9777
JumpNasium, Fairfield
JumpNasium offers an indoor facility full of gigantic inflatables including giant slides, climbers, moon bounce, toddler activities and more! Best known for its birthday party rentals, the play zone also offers open jumps. Kids must be 34" or taller to jump on most inflatables, but don't worry, there are plenty of non-bouncy stuff for toddlers to play on. Open jumps for all ages and are usually 70 minutes long, unless otherwise noted. Click here for the open jump schedule. Tickets are $9.95/child and adults are free. 973-808-1700
My Gym, West Orange
This global chain offers classes, camps, birthday parties and more. Classes are offered for kids from six weeks to nine years of age. Plus, you can attend free play times. If you register online, you can take advantage of offers like $50 off a family lifetime membership and $25 off first four weeks of classes for non-members and $25 off first four weeks of classes for returning members. 973-731-2022
The Little Gym, Livingston and The Little Gym, Montclair
These locations both offer classes for kids from four months to 12 years of age. Classes include parent-child, gymnastics and dance. Birthday parties and camps are also available.
 
United Skates of America, Newark
Are the kids getting a bit of cabin fever? Take them out skating! This indoor roller skating rink even features "Skate Mates", so toddlers can even join in the fun! Click here for the skating schedule. The rink also features a pizza restaurant. Monday is affordable family fun night and admission is just $2/Person, other admission prices vary click here for details. Skate rentals are $4/Person extra, non-skating adults are $2/Adult extra. 973-482-8900
Museums:
Jersey Explorer Children's Museum, East Orange
This educational and kid-friendly museum displays interactive exhibits that are created by at-risk youth. Exhibits include puppet shows that encourage kids to conserve water and recycle, The Village which explores different cultures and parts of the world, Time Traveler takes kids on a journey to the Underground Railroad, arts and crafts, even a jukebox timeline and much more! You can book parties and field trips with the museum by calling ahead. Walk-ins can be accommodated on Saturdays from 10am – 3pm. There is no charge, but donations are suggested. 973-673-6900
Newark Museum, Newark
Go on an indoor adventure at Newark Museum. The museum offers many family programs and drop-in activities including Art & Science Activities, Curiosity Charts, discovery labs and more. All programs are free with suggested museum admission. While you are there, check out interactive galleries like "Dynamic Earth: Revealing Natures Secrets," the Planetarium Gallery or "Look/Touch/Learn: Nature and Art". The suggested museum admission is $10/Adult and $6/Child. 973-596-6550
Montclair Art Museum, Montclair
This museum offers a variety of family programs including an "Exploring O'Keeffe" learning lab (which is free with admission and ongoing), "Building Montclair in Lego" (March 10, 2013, $35/Family) and "Park Bench", an artistic social gathering (February 13, 2013, $18/One Adult and Child) and much more! General admission is $12/Adult and $10/Student and children under the age of 12 are free. Museum galleries are free of charge on the first Thursday of the month from 5pm – 9pm and the first Friday of the month from noon – 5pm. 973-746-5555
Essex County Public Libraries:
Public libraries are a fantastic way to get in out of the cold and into some educational fun! Libraries offer many programs for children of all ages. Plus, there's the added benefit of introducing your child to reading and the responsibility of taking a book home from the library. Check out our recent post on public libraries in NJ and the programs they offer.