February GoList: The Best Things To Do With NJ Kids This Month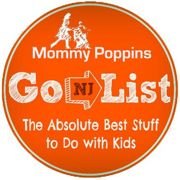 Somehow we made it to February, so yay for polar vortex-surviving us! Luckily, we live in a state where there are incredibly fun activities in every season, and this month is no exception. Whoop it up indoors at a Chocolate Festival or MP fave kids' band, The Fuzzy Lemons' 7th Birthday Bash, or brave the outdoors with maple sugaring or a summer camp (yes, you read that right) open house. Happy February, NJ!
Chocolate Festival at Morris Museum (Morristown, NJ)
Do we really need to explain why this is on our Top Ten list? Can't we just say "chocolate" and be done with it? Oh, okay. Movies, contests, crafts and a game of 'Name That Chocolate' sweeten up the fun. Saturday, February 7 from 11am to 4pm. Call 973-971-3706 for more information.
Imago Theatre's Frogz (Morristown, NJ)
A NY Times fave, Mayo Performing Arts Center presents "Frogz", which features penguins in musical chairs, a cat trapped in a giant paper bag, huge frogs doing calisthenics, and larger-than-life alligators taunting the audience. Full of illusion, puppetry, and acrobatics that are goofy and packed with giggles for both adults and children.
Valentine's Day Fun (various locations)
The kids are itching to do some V-day prep, so take them to a storytime, let them make cards, create a Valentine for nature, or bake up a pretty cookie. Of course, after they get all ready, then feel free to hand them over on the actual day to one of the fun Valentine's Day Drop-Off venues in our romantic state.
The Fuzzy Lemons' 7th Birthday Bash (Hoboken, NJ)
The February marks 7 years of Fuzziness! Come celebrate with everyone's favorite band. Old favorites, new tunes, and some surprises! A Mommy Poppins NJ favorite. Sunday, February 15 at 4pm.
Maple Sugaring (various locations in NJ)
'Tis the season for liquid sugar pouring out of trees and New Jersey has a ton of locations for maple sugaring, including Tenafly Nature Center, Reeves-Reed Arboretum and Great Swamp Outdoor Education Center. Sweeeet.
Family Day at the State Theater (New Brunswick, NJ)
It's President's Day, a day off from school, and a big ol' family day spread across five venues—the State Theatre, the Hub City Big Top (heated tent), Crossroads Theatre, United Methodist Church, and George Street Playhouse.  Monday, February 16 from 10am to 3pm. Mostly free, although some venues/workshops have fees. Call 732-246-7469 for more info.
Camp Riverbend Open House (Warren, NJ)
One of our favorite camps in our fair state, parents and children 3-14 can try their hands at lots of fun Riverbend activities, including games, crafts, cooking and more. February 21st at 10am.
Matilda's Tea Party (Morris Township, NJ)
Children are invited to Frelinghuysen Arboretum for this 12th annual tea party in honor of Matilda Frelinghuysen. Learn about the history of chocolate, enjoy some special snacks and make a chocolate treat to take home. Saturday, February 21 at 1pm.
Superhero Green Screen Filmmaking for Children (Montclair, NJ)
Kinda pricey, but with our videomaking-obsessed kids, it seems like a winner. Spend the day at Montclair Art Museum as a superhero while learning how to create Hollywood style visual effects. Students will perform exciting action scenes in front of a green screen and composite superhero motion graphics with Adobe Suite editing software. All students will take home a digital copy of their movie in stunning high-definition on a flashdrive. Sunday, February 22 from 12 to 4.