100 Things to Do in New Jersey with Kids Before They Grow Up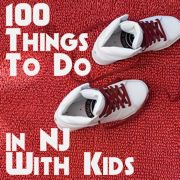 Now that my oldest child is a 'tween, I understand that phrase I heard often during those difficult baby/toddler times, "The days are long, but the years are short."  Thankfully, filling those short years with quality bonding time is even easier with our Top 100 not-to-be-missed family activities right here in the Garden State. From indoor play to awesome parks, and from quiet fun to thrill-seeking adventures, there's tons of incredible stuff to make memories that will last forever!
 
Attend a small town 4th of July or Memorial Day Parade
Become a pinball wizard at the Silverball museum in Asbury Park
Spend the day at Liberty Science Center
Feed the animals at Brookhollow's Barnyard
Brush up on your fairy tales in Storybook Land
Play in the giant playground in Liberty State Park and enjoy the spectacular view of Manhattan and the Statue of Liberty
Surround yourself with nature at Skylands New Jersey Botanical Gardens
Enjoy a summer day (or week) at one of the many Jersey Shore family beaches such as: Seven Presidents, Ocean City, Point Pleasant, Asbury Park, Wildwood, or Cape May
Get a behind the scenes tour at Jenkinson's Aquarium
Catch a fantastic kids show at Mayo Performing Arts Center, Bergen Performing Arts Center,  New Jersey Performing Arts Center, or South Orange Performing Arts Center
Search for eggs at Liberty Hall during their annual Easter Egg Hunt
Ride the train through the Bergen County Zoo in Van Saun Park and then take in the carousel and playground
Spend a Saturday at the Morris Museum during one of their Family Festivals or Super Science Saturdays
Learn all about decoys and surf boards at the Tuckerton Seaport
See three states from the top of the monument at High Point State Park
Bring your train lover to Northlandz to see the miles and miles of their model trains, as well as their doll collection
Have a day of fun and learning at Rutgers Day
Hike the New Jersey portion of the Appalachian Trail
Take a raft or tube on the Delaware
See the ascension at the Quick Chek New Jersey Festival of Ballooning
Watch the sheep sheering at Valley Shepherd Creamery
Visit the Great Falls in Paterson
Go maple sugaring in the late winter
Learn how to make your own mozzarella at Cherry Grove Farm
Celebrate St. Patrick's Day at the family-friendly Morris County St. Patrick's Day Parade
Check out one of the wonderful and walkable small towns in our state
Watch (or enter your little one in) the Ocean City Baby Parade
Go swim in a lake
See the Jets Training Camp at their center in Florham Park
Fly a kite on the beach
Marvel at the water show at Caesars Pier in Atlantic City
Stroll a New Jersey boardwalk and fill your bellies with amazing Jersey Shore food: Johnson's popcorn, Shriver's fudge and salt water taffy, Kohr Brother's frozen custard and, of course, french fries and fried oreos
Check out an outdoor Shakespeare performance.
Walk through Kidzone at Adventure Aquarium or enjoy their scuba Santa during the holiday season
Take a tour of the Sterling Hill Mining Museum and even get to mine for your own treasures
Brush up on your Revolutionary War history at Washington's Headquarters in Morristown
Bike through Allaire State Park
Eat in an old time train at Clinton Station Diner
View hawks, eagles, falcons and owls at close range at the Raptor Trust
Watch the annual re-enactment of Washington's Crossing of the Delaware
Go Mini Golfing on (or off) the boardwalk
Star watch at Batsto Village
Go on a wolf watch at Lakota Wolf Preserve
Explore the Grounds for Sculpture
Go to the world-famous Cherry Blossom Festival in Branch Brook Park
Hike Sunrise Mountain at Stokes State Forrest
Indulge in a delicious treat at Carlo's Bakery (The Cake Boss) in Hoboken
Horseback riding on the beach
Enjoy homemade ice cream on a hot summer day at Denville Dairy
Enjoy the view of New York as you hike at Palisades Interstate Park
Camping on the beach at Lewis Morris Park
Sledding at the Tourne County Park in Boonton
Eat Disco Fries at Tick Tock Diner
Ride the roller coasters at Six Flags Great Adventure
Ski Mountain Creek or enjoy some time at the water park in the summer
Visit the State Theater in New Brunswick for their Milk and Cookies Free Performance Theater for children
Catch a planetarium or laser show at Raritan Valley Community College
Stroll along Pier C in Hoboken and take in amazing views of Manhattan while your kids play in the park
Spend a perfect fall day at Alstede Farm
Enjoy the rides AND visit Santa at the Land of Make Believe
Hike, fish and learn all about trout at Pequest Hatchery
See black bears up close at Turtle Back Zoo
See thousands of irises in bloom from May through June at Presby Memorial Iris Gardens
Take a trip into the past with the car hop service or dine under the "big top" at the Circus Drive-in
Wassail the Apple Trees at Terhune Orchards in Princeton
Walk, run or bike over the George Washington Bridge
Visit Battleship New Jersey
Stop by the Discovery Center at Reeves-Reed Arboretum in Summit for their weekly Saturday nature program and borrow a backpack loaded with everything needed to explore
See a minor league baseball game
Celebrate New Jersey's cranberry harvest at the Annual Cranberry Festival in Chatsworth
Visit one of the many NJ lighthouses or participate in the Lighthouse Challenge
Celebrate fall with some pumpkin picking or slinging
Ride the NJ transit train to NYC or to a nearby town with a great downtown area to explore (Morristown, Summit, Hoboken, Westfield, Montclair, Princeton)
Touch a tarantula and hissing cockroach at Insectropolis
Take a pirate ride
Splash around at the water playground at the Newport Green in Jersey City
Bring the whole family to an outdoor music festival such as: Maplewoodstock or Hoboken Arts and Music Festival
Celebrate National Train Day at one of the many New Jersey locations
Get artsy at the Montclair Art Museum
Take an evening stroll and be delighted with tales about haunted Cape May at the Cape May Walking Ghost Tour
Climb inside Lucy the Elephant at Margate
Explore and laugh at the Garden State Discovery Museum
Get wild at the free Cape May County Zoo
Smell the flowers at the Camden Children's Garden
Pet the animals at Paws Farm Nature Center in Mount Laurel
Ride the train, carousel, and paddle boats at old time Smithville Village
Take the whole family to a Red Bulls soccer game in Harrison
Learn about the past at Howell Living History Farm
Eat some authentic Portuguese food at the Ironbound
Get your math fun on at Pi Day in Princeton
Make an amazing blown glass creation at Hot Sand in Asbury Park
Ride the Cape May-Lewes ferry
Get artsy at Princeton Communiversity Festival of the Arts
Go whale watching in Cape May
Try to avoid the Jersey Devil in the Pine Barrens
Experience Space Farms for yourself
Be a spectator (or participant) at the NJ Polar Bear Plunge
Become a fire safety expert at the Fire Museum at the Newark Museum
Your turn! What are your favorite family-friendly venues in New Jersey?
And don't forget to check out 100 Things To Do With Kids in NYC Before They Grow Up!
Like what you see? Make sure to subscribe to our free newsletter for even more!
photo credit: kikfoto via photopin cc
Originally published February 2013