15 Festivals for this Weekend with Kids in New York (Mostly Free)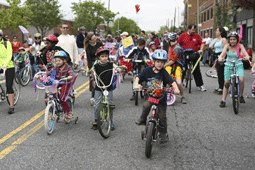 Summer in New York City means festivals and this summer the city isn't wasting any time jumping head-long right into the festivals. There are over 15 festivals for NYC families going on just this weekend. There are arts festivals, a fish parade, an Italian extravaganza, a pooch parade and bike parade and more than one Strawberry Festival. (So, if a big festival is a"palooza" does that make this weekend a "palooza-palooza"?) Of course, don't forget the summer music festival season has started too. So go get paloozapaloozing. 
Hudson River Day
Friday, June 5 at 6PM & Saturday, June 6 at 9AM
Liberty Island/Battery Park City
FREE
In 1609, Henry Hudson and his ship, the Half Moon, with a crew of Dutch and English sailors, ventured up the Hudson River from New York Harbor to present day Albany, the first European exploration of the river that now bears his name. To celebrate the 400th anniversary, a flotilla of ships: the Onrust, 17th century replica of the first ship built in New York, the Half Moon, a replica of Hudson's ship, and many other Historic Tall Ships. Friday night the ships will line up against the Manhattan Skyline in Battery Park City (what a photo-op) for a ceremonial blessing, and other festivities. Saturday the flotilla will start it's journey up the Hudson, with stops at various ports and cities along NYS. Visit ExploreNY400 for the tentative schedule.
Riverside Church Family Arts Festival
Aesop's Family Fable
91 Claremont Ave
Saturday, June 6, 3PM
FREE
These jazzed, popped, hip-hopped and beat-boxed version of Aesop's fables are performed by real families with only the creativity of their voices. The interactive show might even help get the fables' meanings across to the kids...

NYC Native American Heritage Celebration
Floyd Bennett Field
Saturday & Sunday, June 6 & 7, 10AM
Adults $12, Kids $6
OK this one isn't free, but it is creative, exciting and honestly, one helluva good time. Celebrate the culture and history of America's first people with more than 1,000 Native Artists, performers and educators from across the US, Canada, South America and the Caribbean. This festival features three days of Native American song, dance, crafts, jewelry and food.
LIC Bike Parade
Socrates Sculpture Park
Saturday, June 6, 11AM
FREE (rain or shine)
Explore the creative and functional potential of adaptive reuse, by using recycled materials to repair and decorate you and your kids' bikes (BYO bike, all decorating materials are supplied free). The day will kick-off with several hands-on workshops and activities at the Park including bike decorating, bike safety checks, and riding safety tips and helmet givaways. In addition to the parade, and in celebration of the 100th Birthday of the Queensboro Bridge, adults can take free historical bike tours to learn about the bridge and the borough. Advanced registration isn't required, but at the least, get there early--this event was packed last year. See website for registration inforation.
Red Hook Waterfront Arts Festival
Friday, June 5- Sunday, June 7
Various times
Louis J. Valentino, Jr. Park & Pier
FREE
This cool arts fesitval shows us what Red Hook has been known for: youth art and building community unity through art (instead of IKEA). This year's Main-stage program, running 11am-7pm, features fabulous local youth groups sharing the stage with the "gone global, still local" talent of Brooklyn's finest dance, music and spoken word artists.

Egg Rolls and Egg Creams
Sunday, June 7, Noon-4PM
The Museum at Eldridge Street
FREE
This a Mommy Poppins favorite because it really highlights all that is great about NYC: diversity and cultural richness, plus fun and great food. Celebrate the rich cultural traditions of the Jewish and Chinese communities. Klezmer music and Chinese opera, scribal art and calligraphy, Yiddish and Chinese lessons, folk arts and hands-on activities, tours of the Eldridge Street Synagogue and, of course, kosher egg rolls and egg creams!
Kew Gardens Community Day
Sunday, June 7 (Rain Date June 14)
Various locations and Times
FREE
The Pooch Parade (registration at 9:30am) kicks off this all-day event in front of the Kew Gardens TD Bank on 118th Street and Metropolitan Avenue. Dogs walk down the red carpet in costume and prizes will be awarded. TD Bank will also be sponsoring Kew Gardens' First Annual Cat Photo Contest. Following, enjoy the NYC Fire Department's big red fire truck and participate in activities. The New York Animal Care and Control van will also be on hand with loads of adorable pets looking to be adopted (at 2pm, the van will relocate to the LIRR parking lot on Austin Street off of Lefferts Boulevard). Kids can participate in a bike safety class, learn how to sew and more. Visit the website for more information.

Children's Festival of Russian Culture
Saturday, June 6, Noon-5PM
Fort Tryon Park
FREE
This celebration will feature a dozen children's folk groups, dancers, singers and musicians all sharing their art and love for traditional Russian culture. Guests will also enjoy Russian foods, souveniers, games, interactive arts & crafts, storytelling and more. Visit the website for more information.
Hunts Point Fish Parade & Summer Festival
Saturday, June 6, 10:30AM-5PM
Barretto Point Park
FREE
This year's theme is "Riding the Wave of Change." Activities so far will include a Children's Arts Corner, boat rides, bird watching, a day-long basketball tournament, face painting, print-making, tons of great food and activities, and live music and performances. The parade starts through the streets of Hunts Point at 11:30 (get there earlier) and the summer festival in Barretto Point Park starts at noon. Cool bonus: there will be a free shuttle taking people to both parks from the Longwood Stop and the Hunts Point Ave stop on the 6-train.
Cultural Mix
Saturday, June 6, 3PM-6PM
Prospect Park (at corner of Caton and Coney Island avenues)
FREE
Celebrate Brooklyn's diversity with this annual festival of food, music and dance. This event showcases the diversity that exists in New York City--especially in Brooklyn. Hear beautiful music, eat delicious food and watch multi-cultural performances.
Our Lady of Grace Fun Fest 2009
Sunday, June 7, 10AM-7PM
Church Square Park (Hoboken, and just a 15 min ferry ride away)
FREE

This day-long festival is worth the "trek" (a 15 minute ferry ride from lower manhattan), since it features food, games, face painting, pony rides, moonbounce, biergarten, performance by the Fuzzy Lemons and of course, it's all f-r-e-e.
Festa Italiana
Saturday, June 6, 10AM-9PM & Sunday , June 7, 10AM-7PM
Staten Island Zoo
FREE (with Zoo admission, $5 for kids, $8 for adults)
This Island favorite's objective is to raise money for the Zoo and charitable efforts, but it is really about the culture of the Italian-American experience and LOTS of eating. There's a new wine tasting tent this year, in addition to the usual mozzarella making and specialty food demonstrations, a pizza toss, eating contests of meatballs and hot peppers, and some non-food-related contests. Kids love the demonstrations and desserts like ices and freshly made zeppoles. It's a big family event--do expect a crowd, but it's worth it.
And don't forget the Strawberry Festivals: in New Jersey, Long Island and, if you're heading to the beach, the Cape May Strawberry Festival is this Saturday. 
For even more events this weekend, don't forget to check out our calendar!