Cut Your Own Christmas Tree Farms in New Jersey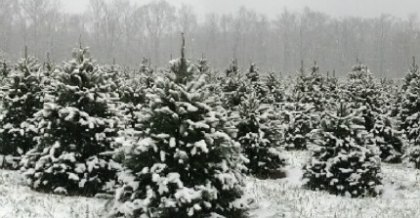 This post is being updated for the 2015 season, check back soon! While you're enjoying your Thanksgiving turkey, you might be dreaming of the next holiday on the horizon. So digest, and head out soon to find that perfect tree, because most of the farms open right after Turkey Day! Check out our list of Christmas tree farms and don't forget to check the Mommy Poppins Holiday Fun Guide for even more festive ideas to get you and your family into the holiday mood!
Tips:
Go early. All of these farms suggest you go as early as possible in the season for the best selection. Some farms have a limited amount of trees and close when they are all cut.
Call ahead! Always remember to call before you cram everyone into the station wagon. Some of these farms are pretty old school and don't update their website (if they have one) daily. Make sure there are trees to be had before you embark upon your Christmas tree journey.
Most farms provide saws, but some allow you to bring your own. None of these farms allow for chain or power saws.
If cutting your own tree, cut as close to the ground as possible (you can always trim excess stump later.)  Place your tree in warm water as soon as it arrives home.  Then, cut an additional 1/4" off the stump before placing the tree in a stand.  Be sure your tree stump is always submerged in water, or you'll have dried pine needles everywhere! If you have any questions about tree care, don't be afraid to ask. These guys/gals know their stuff, when it comes to fresh-cut trees.
Stonerow Tree Farm, Branchville
This little tree farm offers cut-your-own trees on weekends from November 28 to December 19, 2015. Be sure to take a look at the Merry Moose Gift Shoppe and enjoy some marshmallow roasting, hot chocolate, and other refreshments. The family can visit Santa between noon and 3pm on Saturdays. Tree-cutting hours are 9am – 4pm. Visa, Mastercard, and Discover are accepted. Keep up with Stonerow on Facebook. 973-875-7968
Carriage House Tree Farm, Branchville
All Carriage House's trees are cut-your-own and the farm provides saws. Check out the carriage room display with antique carriages and sleighs. Indulge in candy canes, cookies, and coffee. Don't forget to pick up wreaths and other holiday decorations. Hours are 9am – 4pm, but only on certain days; be sure to call ahead. Cash or check only. 973-948-5102
Holiday Tree Farms, Augusta
Cut your own, or have the farm do it for you. Holiday Tree Farms offers a variety of tree types, and saws are available. Hot chocolate, cider, and donuts are available in the barn. Pets are welcome if on a leash. The farm is open 9am - 5pm, Friday - Sunday, 11/27 through 12/19, 2015. No debit or credit cards are accepted. 973-948-7488
Evergreen Farms, Lebanon
This family-run farm offers many types of trees, including a limited amount of cut-your-own and fresh pre-cut trees from Pennsylvania. Grab a wreath, table top tree, and many other accessories while you are there. Enjoy hot apple cider and cookies. Helpers can cut, bale, and tie your tree to your car for you. Evergreen Farms is open 10am until dark on November 21, 22, 27, 28, 29 and weekends in December until 12/20, 2015 . 908-236-9550
Woodsedge Tree Farm, Belvidere, NJ
In the scenic Skylands of Warren County, this small farm offers a nice selection of firs, spruces and pines for you to choose and cut. They offer free tree drilling and baling. Saws are available and help can be provided. They sell their own honey and homemade beeswax soap as well as products from their woodlot – handmade wooden bowls, birdhouses and ornaments. Refreshments provided. Visa/Mastercard/American Express accepted. Hours 9-4:30 on Friday-Sunday beginning the Friday after Thanksgiving. For more information call 908-763-9920.
Edward's Christmas Tree Farm, Wrightstown
Edward's Christmas Tree Farm offers choose-and-cut and balled-and-burlapped trees. Choose-and-cut trees vary in price according to size and the farm does provide saws. Balled-and-burlapped trees range in size from 3 – 6.5 feet; be sure to call ahead for availability of B&B trees. The farm also offers crafts, which can be found year-round on its Etsy site or on its Crafts Page. The farm is open seven days a week, 9am - 4:30pm, from 11/28 through 12/24. 609-758-7729
Wyckoff's Tree Farm, Belvidere
This farm offers more than 5,000 cut-your-own trees, plus fresh-cut trees, wreaths, and more. On weekends, check out the Country Gift Shop, where you can find ornaments and a large selection of decorations and gift items. Hayrides are available on weekends, weather permitting. The farm is open daily (beginning the Friday after Thanksgiving) from 8am - 4:30pm through 12/24. Cash and personal checks are accepted. Visa and Mastercard are accepted weekends only. 908-475-4508
Shale Hills Farm, Sussex
All trees are hand-sheared, which means that no two look alike. Cut your own award winning firs and spruces, or buy a fresh-cut Fraser fir. The farm will wrap your tree and provide free twine for you to tie the tree onto your vehicle. While you are visiting, check out the farm animals residing in a restored 19th-century heated barn, a wildlife sanctuary, and more! Refreshments include hot dogs, muffins, hot chocolate, etc. Santa stops by several times daily. The farm is open weekends, beginning Thanksgiving, from 9:30am until dark. Cash and checks are accepted, no credit cards. 973-875-4231
Anne-Ellen Christmas Tree Farm & Shop, Manalapan
This 100-acre Christmas tree farm offers several varieties of cut-your-own trees – do it yourself or cut for you. The farm also has a wide variety of pre-cut Douglas fir, Fraser fir and balsams. Visit the Anne-Ellen Ornament Shop to adorn your fresh-cut tree (Anne-Ellen offers on-site ornament personalization). Have the kiddies check out the farm animals, or grab some hot chocolate and cookies. The farm is open from 9am to 8pm daily through 12/23. Cash, Mastercard, and Visa are accepted. 732-786-9277
Simonson Farms, Cranbury
Simonson offers thousands of cut-your-own trees, with two fields spanning more than 50 acres. Plus, fresh-cut and live trees are available. Two locations at 260 Dey Road, Cranbury, NJ and 120 Cranbury Neck Road, Cranbury, NJ. 609-799-0140
Barclay's Tree Farm, Cranbury
Barclay's offers a selection of choose-and-cut trees up to 10 feet tall. Don't forget to pick up a fresh plain or decorated wreath, tree stand, or watering elf! The farm provides saws, rope, and netting for free. Barclay's also offers free assistance for cutting, carrying, loading, and tying down. Pets on leashes are allowed. The farm is open weekends Thanksgiving through Christmas from 9am – 5pm (also open Friday after Thanksgiving). 609-799-1855
Cherryville Farms, Pittstown
This family-run farm offers a variety of hand-sheared or wild cut-your-own trees. The farm can also cut your tree down for you.  Saws are available, along with tree baling, twine services, and tree carts. Also, choose a fresh wreath, buy a craft, or enjoy a refreshment. The farm is open weekends 11/28 through Christmas from 9am until dark. Cash or personal checks only. 908-806-4580
Looking for more locations? Visit the NJ Christmas Tree Growers' Association for additional locations!
Photo courtesy of Woodsedge Tree Farm