See Baby Farm Animals and More at New Jersey Farms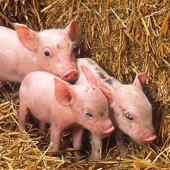 Spring is almost here! Hard to believe, right? But yes, it's time to get out of the house and breathe in some fresh air. What better way to kick off spring than visiting a farm with real live baby animals. Your children can crack corn, collect eggs, see baby pigs, goats and sheep and even see how cheese and bread are made. Here some of our favorite farms with baby animals in NJ. If you are looking for more fun for your kids, check out our March GO List.
Green Meadows Farm (Hazlet, NJ)
This petting farm is open seasonally and opens this year on May 2 and they expect lots of newborn farm animals! Children can milk a cow, feed the animals or go on a tractor-drawn hayride. And over the summer, they even go mobile and are available for kiddie birthday parties. Call 732-335-5589 for more information.
Alstede Farms (Chester, NJ)
Alstede is a great place to bring the family year round, with their fresh produce and Christmas trees. They also offer a baby animal tour for children. A scenic hay wagon ride brings everyone to their heated barn where you will visit all the babies. Children can pet ducklings and visit baby goats, pigs, cows, lambs and more. Call 908-879-7189 for more information.
Sparta Mountain Farm (Oak Ridge, NJ)
Bunnies, pot-bellied pigs, pygmy goats and a llama hike? Sounds like farm animal heaven. Sparta Mountain is a small family farm with great Mommy and Me programs and a couple of interesting summer camp options (need a camp that is only one day a week? Sparta's got it.) Get some fresh eggs from free-range hens or get a guided tour of the farm animals. Call 973-409-4515 for more information.
Fosterfields Living Historical Farm (Morris, NJ)
Fosterfields Living Historical Farm functions exactly as it did at the turn of the 20th Century. This is no petting zoo, but kids can see exactly how the animals were raised in the olden days. They can watch pigs, sheep, horses, and donkeys in the fields and pens. Kids can crack corn and feed the chickens, and even go into the henhouse and collect eggs at the end of the day. Bear in mind that the animals are just a small part of the farm and kids are expected to help out with other chores such as pumping water, doing laundry and hanging it to dry, churning butter, and much more.  Call 973-326-7645 for more information. 
Valley Shepherd Creamery (Long Valley, NJ)
This is the place to see everything sheep. The farm has weekend sheep shearing tours, beginning April 6 and weekend lambing tours in May and June where kids can see hundreds of baby lambs. They also offer milk and cheese tours where you can learn how cheeses are made, see the milking and cheese making process and taste the cheese. Call 908-876-3200 for more information.
Bobolink Dairy (Milford, NJ)
Bobolink Dairy has moved from their old location in Vernon to Milford, but still raises grass fed cows and produces outstanding cheeses and wood-fired breads. You can sign up for Farm Tours and show your kids where the cows pasture, where the bread is made and taste the different cheeses. For older kids and parents who want to learn the cheese and bread making process, there are also the very popular cheese and bread making classes. You can now buy their famous bread online here. Email them with any and all of your questions and they will call you back.
Brookhollow Farms (Boonton, NJ)
Brookhollow's Barnyard is a small petting farm where kids can pet farm animals such as alpaca, llama, sheep, goats, ponies, donkeys, chickens, peafowl, ducks and miniature horses. Other activities include riding pedal tractors, or kids can take a "cow train" ride. Many baby animals arrive throughout the spring and early summer. Families can purchase a family membership for repeat visits. Check the website for information on summer camps and birthday parties. Call 973-335-3393 for more information.