Top Five Family Friendly Burgers in Northern NJ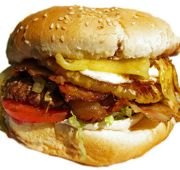 The hot weather is approaching, which means endless days of potato salad, hot dogs and of course, the perennial favorite, hamburgers. Before you gas up your own grill, check out some of New Jersey's best family-friendly burger joints, all with an added bonus factor, such as a great kids' meal deal or the ability to get your burger wrapped in lettuce for a few saved calories. You'll be inspired all summer long!
Elevation Burger (Montclair, NJ)
Located directly on Montclair's Bloomfield Avenue, Elevation Burger offers casual dining with 100% organic burgers, French Fries cooked in olive oil and hand-scooped shakes and malts. This burger establishment is win – win. Not only will your kids gobble down their burgers in record time, but you feel better about giving them a healthier option. With a location also in Moorestown, the country's first certified organic hamburger chain will be expanding in Northern NJ shortly.
Bonus Factor: Elevation Burger also offers the option to wrap your burger in lettuce, so you won't feel so bad about ordering the large shake!
Address: 367 Bloomfield Avenue Montclair, NJ
Phone: (973) 783-8000
Hours of operation: Monday to Thursday 11am-9pm; Friday and Saturday 11am-10:00pm and Sunday: 11am-8pm.
Smashburger (nine locations)
Smash. Sizzle. Savor. The tagline says it all. With delicious burgers and to-die-for Haagen-Dazs milkshakes, Smashburger's growing presence in New Jersey is brings a fresh approach to the casual dining experience. The Smashfries, tossed with rosemary, garlic and olive oil, was an instant family hit.
Bonus Factor: The New Jersey Smashburger -- applewood smoked bacon, crumbled blue cheese, grilled onions, haystack onions with lettuce, tomato, mayo on an onion roll.
Newest location:  984 Route 17 North Ramsey, NJ
Phone: (201) 327-8173
Hours of operation: Sunday to Thursday 11am-10pm; Friday and Saturday: 11am - 11pm.
Other NJ locations include Clifton, Montclair, Florham Park, East Hanover, Newark, Paramus, Hackensack, Morris Plains and New Providence.
Bobby's Burger Palace (Paramus, NJ; Eatontown, NJ; and Cherry Hill, NJ)
Ready for a new kind of burger? Sink your teeth into one of Bobby's burgers of month – a typical burger with an unusual combination of toppings. This month's featured burger, the Caesar, is topped off with is a mixture of Caesar mayo, romaine hearts, parmesan and black pepper. With a sleek, modern décor and offering of adventurous burger toppings, Bobby's Burger Palace will please your tough little critics. From the Miami Burger to the Philadelphia Burger, these combinations can all be "crunichified," a sure way to win over your little ones.
Bonus Factor: The Kid's BBP Deal, including cheeseburger, fries and drink, will run you just $6.50!
Address: 610 Bergen Town Center Paramus, NJ
Phone: (201) 368-7001
Hours of operation: Monday through Saturday 11am -10pm and Sunday 11am-9pm.
Address: 188 Route 35 South, Eatontown, NJ
Phone: (732) 544-0200
Hours of operation: Monday to Thursday 11am-10pm; Friday and Saturday 11am -11pm and Sunday 11am-9pm.
Address: 2000 Route 38, Cherry Hill, NJ
Phone: (856) 382-7462
Hours of operation: Monday to Thursday 11am -10pm; Friday and Saturday 11am-11pm and Sunday 11am-9pm.
White Manna (Hackensack, NJ)
Be prepared. Be very prepared. White Manna, with only a dozen or so seats, is a small little burger establishment known for its cult following. I once waited 45 minutes just to get in the door! Once inside, your kids will get a kick out of the classic diner façade. Belly up to the counter and watch the line cook serve up your sliders front and center.
Bonus Factor: Not only does the Hackensack location date back to the 1940's, it's a Food Network favorite!
Address: 368 River Road Hackensack, NJ
Phone: (201) 342-0914
Hours of operations: Monday to Wednesdays 8am-9pm; Thursday through Saturday 8am-11:30pm and Sunday 10am-5:30pm.
Five Guys Burgers and Fries (multiple locations)
With multiple locations located around the garden state, you're sure pick a winner with a stop at any Five Guys Burgers and Fries. With a simplistic menu of hamburgers, hot dogs, grilled cheese and fries, there are more than 250,000 possible ways to order a burger with free toppings. Also enjoy the complimentary peanuts while you wait for your burgers and fries!
Bonus Factor: Pre-order online – so those temper tantrums waiting to order become a thing of the past!
Address: Click here to find your local Five Guys. 
Hours of operation for all locations: Monday-Sunday 11am-10pm.
Also consider: Johnny Rockets (14 locations), Zinburger (Clifton, NJ) and Cheeburger Cheeburger (eight NJ locations). 
photo credit: Vanessa Pike-Russell via photo pin cc