Things To Do With NJ Kids This Weekend March 31-April 1: Bunny Hop, Poopendous! Book Signing, Kids Jazz Concert & more!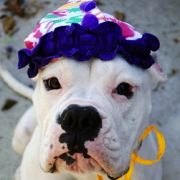 Are we all ready to say goodbye to March this weekend and hello to April?! Although I may not be quite ready to get into full blown spring mode (which includes multiple spring sports for my three kids, ACK!), I AM totally ready to get in the springtime groove with such fun activities as a Bunny Hop, Spring Festival, Jazz Concert Series, Paws for Art and more. Read on for our picks and remember, you can always find a list of all NJ weekend activities for kids in our Event Calendar. Have fun and don't get fooled, NJ!
Saturday March 31st
Bunny Hop (Englewood, NJ)
Have a hoppy day at Cutie Patooties Playspace from 10am - 1pm to celebrate the season with Open Play with the Easter bunny, egg dyeing station, food, crafts and much more. If you haven't yet been to this fantastic Mommy Poppins NJ - approved kid play zone this is the perfect occasion! $15 per child. Adults are free. Call (201)503.1300 to reserve a Space.
Paper Making (Basking Ridge, NJ) 
Start your Earth Day early by getting the recycling buzz. Join the staff at the Somerset Environmental Center for this fun and educational class from 10:30am - 12:00pm. You will learn how to make your own paper and paper creations. $12 per person, includes all supplies. Call (908)766-2489 for pre-registration.
Spring Family Festival (Princeton, NJ)
Celebrate Spring and the one year anniversary of the opening of the Updike Farmstead from 12-4pm. The whole family will enjoy music, games, crafts and a scavenger hunt! There will also be a Lego Windmill Building Workshop at 1:30pm and 2:30pm. $4 per person for the festival. $1 per person for the Lego workshop (space limited). (609)921-6748

Learn to Step with Step Afrika! (Branchburg, NJ)
Bring your dancin' kids eight and older out to the Theater at Raritan Valley Community College for this FREE beginner dance workshop with Step Afrika!, the first professional company dedicated to the tradition of stepping. In stepping, the body is used as an instrument to create intricate rhythms and sounds through a combination of footsteps, claps and spoken word. Pre-registration required. Call Cindy at (908)231-8801
WBGO KIDS JAZZ Concert The Brandee Younger Quartet (Montclair, NJ)
First stop in this FREE kids concert series is the Montclair Art Museum from 12:30-1:30pm. This interactive, hour long concert gives kids the opportunity to learn about the distinct qualities of jazz and why it's a reflection of our community, our nation, and our world. A Q&A session with the artists will follow the concert. Arrive early, as space is limited. (973)746-5555.
Easter Funday (Jersey City, NJ)
Drop in at Made with Love Organic Bakery and Cafe from 10am - 12pm for their Easter Funday event.  Besides the usual healthy and tasty goodies, there will be free pictures with the Easter Bunny, candy, and face painting.  Sounds like a perfect morning to me (and my kids)! (201) 451-5199.
Dance for Life Family Arts Festival (New Brunswick, NJ)
Bring the whole family to this FREE and fabulous event at the Henry Schwartzman Courtyard at Robert Wood Johnson University Hospital from 1-4pm. There's fun for everyone including performances by professional and student dance groups, free Brazilian, West African, Latin & Ballroom dance lessons, arts & crafts for the kids, and a free health expo. (866) 500-9265 ext. 210.
Sunday April 1st 
Paws For Art (Millville, NJ)
Bring your canine AND human kids out to the Wheaton Arts and Cultural Center from 10am - 5pm for this FREE community event that celebrates dogs and the joy and enrichment they bring to our lives. Enjoy a pet parade, story times throughout the day, children's animal art exhibition, pet-themed kid activities, animal themed  glass making demons and working dog programs. Bring your (doggie) rain boots because this event is rain or shine! (856) 825-6800.
Free First Sundays (New Brunswick, NJ)
Enjoy some time at the Zimmerli Art Museum from 12:00 - 5:00pm for their monthly event which includes free admission, activities, tours and fun for the whole family. Make sure to check out the Rachel Perry Welty exhibit and the unique Fluxus exhibit, ending today. (732)932-7237.
Poopendous! Book Signing with Author Artie Bennett (Maplewood, NJ)
The author of "The Butt Book" has written another chuckle-worthy (or loud guffaw in my case, I will admit) book about all things #2 for kids (and perhaps some adults that would like a laugh as well). Stop by [words] Bookstore at 1pm to grab your very own copy of "Poopendous", meet the author and get the full scoop on poop. (973)763-9500.
April Frogs Day Walk  (Montville, NJ)
Oh, those clever folks at Pyramid Mountain aren't trying to fool you, just get you out exploring, hiking and up to speed on those amazing frogs. This program at 1pm will teach you how to identify Morris County's amphibious friends by their lovelorn calls, and perhaps teach your kids how to make their own frog calls, too (BONUS!). $1 per person. Pre-registration is required. Call 973-334-3130.
Don't forget: We have additional activity listings in our Event Calendar. And if you are heading into NYC for the weekend make sure you visit the New York City Mommy Poppins events calendar to get the latest scoop on all the fun to be had, NYC-style.
Planning an event? Submit it to our calendar.
Did someone forward you this email? Subscribe to our free newsletters.