Things To Do With NJ Kids This Weekend March 24-25: Astro Day, Pajama Jam, Kite Making & more!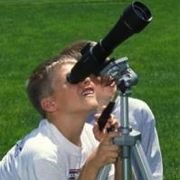 Spring has most certainly sprung in NJ, with the high temps (and my kids begging to wear shorts and bathing suits!) This is the perfect weekend to embrace spring fever and get out there with your family. There's something for everyone including kite making, a frog watch, spring beach walk and the popular Family Fun Day at a biergarten. Read on for our picks and remember, you can always find a list of all NJ weekend activities for kids in our Event Calendar. Happy Spring, NJ!
Saturday March 24th
Astro Day (Morristown, NJ) 
For a day of family fun that is out of this world, come on out to the Morris Museum from 10am-4pm for their exciting AND educational Astro Day event. This is a jam packed day of astronomy programs, children's activities and crafts such as making a space travel poster and creating an alien. In addition there will solar observing and planetarium shows throughout the day with night sky observing of the moon, planets and other celestial objects (weather permitting) from 7 to 9 PM. Free for members Non-members: $7/child, $10/adult. (973) 971-3700.
Metro Moms Parenting and Career Expo (Hoboken, NJ)
If you been dying to meet some of the fun and fabulous faces behind the Mommy Poppins NJ site, here's your chance as we will be be among the wonderful vendors at this event from 10am – 2pm. You'll also have the opportunity to learn more about services to help you survive parenting during the morning session (includes arts & crafts, mini gym session and child workshops) then learn how to manage your career during the afternoon Career Boot Camp. There will be lots of cool new products, companies and giveaways to check out in the Product Bazaar too. $10 per family. Click here for more info.
Family Frog Watch (Paramus, NJ)
Your kids will have a jumping good time over at the Bergen County Zoo from 11am - 12pm for their Family Frog Watch program. Kids will learn all about frogs and be able to identify all the local frog and toad calls in our area. After the event, enjoy a beautiful day at the Zoo or Van Saun Park with the family. $10 per child; adults attend free. Advanced registration required so call the zoo at 201-262-3771 ext. 187 if you are interested in attending.
Kite Making (Holmdel, NJ)
Stop by Historic Longstreet Farm from 12:30 - 2:30pm for this FREE kite making program. Your kids (and kids at heart) will have a blast making their own kite the old fashioned way and then taking it for a test flight at the Farm. (732) 946-3758.
National Geographic Little Explorers (Short Hills, NJ)
Pottery Barn Kids in the Short Hills mall is bringing the science museum experience to their store through its FREE National Geographic Little Explorers event at 10am. Kids will learn all about maps through hands-on activities, songs and more. Check their website for additional store locations for this event. (973) 564-5801.
Spring Beach Walk (Long Branch, NJ)
If this gorgeous weather has you craving the shore, this is the perfect event to take your family to this weekend. You'll have a ball exploring the beautiful beaches and dunes of Seven Presidents Oceanfront Park with a park naturalist as your guide. 2pm. $3.25 per person. Pre-register online here.
Sunday March 25th  
NJ Camp Fair (Mount Laurel, NJ)
It's your last chance to check out Sensational Summers' camp fairs this season, so if you are still looking for that perfect summer camp stop by the Hotel ML in Mt. Laurel from 12-3pm for this FREE event. You and your kids will have the opportunity to meet and talk with camp directors and their staff, see videos and DVDs of the camp and get an instant feel for the camp. There are also lots of give-aways for the kids, so bring them along! (732) 469-8910.

Family Open House (Bedminster, NJ)
For an afternoon of FREE art-filled family fun, stop by the Center for Contemporary Art from 1-3:30pm. Activities include art projects and art demos led by The Center's faculty, ceramic studio tours and demos. You will also have the opportunity to learn about and register for The Center's classes, summer camps, birthday parties, bus trips, special events, and volunteer opportunities. (908) 234-2345.
Pilsener Haus Family Fun Day (Hoboken, NJ)
Back by popular demand at this Hoboken Biergarten, "Big Jeff" and the Bouncy People will jam out with your whole family from 12:30 - 3:30pm. This show will include a whole bunch of country-rockin' original tunes, well-known children's favorites and family-friendly rock and roll. Grab a pint, some brunch and have a great afternoon of family fun! FREE. (201) 683-5465.
Mr. Ray in Concert (Branchburg, NJ)
The popular kids musician Mr. Ray will be at the Raritan Valley Planetarium performing his upbeat and fun music at 2pm and 3pm.  $8 per person (ages 1+). Call 908-231-8805 for reservations.
Pajama Jam (Washington Township, NJ)
This musical show at the Bergen County YJCC at 3:30pm is perfect for kids ages 5 months to 6 years and their families. Kids get to wear their PJs, bring along a teddy bear and rock along with A Hum Music! They'll present favorites from Music for Aardvarks and some of their own original tunes. $10/person; $40/family max.(201) 666-6610, ext. 205.

Don't forget: We have additional activity listings in our Event Calendar. And if you are heading into NYC for the weekend make sure you visit the New York City Mommy Poppins events calendar to get the latest scoop on all the fun to be had, NYC-style.
Planning an event? Submit it to our calendar.
Did someone forward you this email? Subscribe to our free newsletters.