Mostly Free & Fun Things To Do With NJ Kids This Weekend Feb 16-18: Presidents' Day, Curious George, LEGO Workshop & More!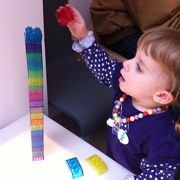 Come mid-February, we're all ready to add a little fun to our everyday routines. NJ has some great events, whether you're up for learning, exercise or entertainment. Check out the new Curious George exhibit at Liberty Science Center, a puppet performance of The Tortoise and The Hare or get your dose of American history by celebrating George's birthday at Washington Crossing State Park. Read on for our top picks and find a listing of all NJ activities in our Event Calendar.
All Weekend
Curious George at Liberty Science Center (Jersey City, NJ)
Letting curiosity be their guides, children explore familiar buildings and locales from the 'Curious George' books and television series on PBS KIDS in the LSC's newest exhibition, Curious George: Let's Get Curious! The exhibit presents key concepts in science, math and engineering, which are woven throughout the exhibit. Activities invite children to learn like Curious George – through direct experience and problem solving. Also be sure and check out the rest of the Liberty Science Center, from their reptile wing to the I Explore room for wee ones ages 2-5. Saturday & Sunday 9am-5pm, Monday 9am-6pm. FREE with general admission. 201-200-1000
Maple Sugaring Demo (Basking Ridge, NJ)
Maple sugaring is a tradition in the Northeast that began centuries ago with the Native Americans and colonists. People of all ages are invited to see this tradition brought to life at the Basking Ridge Environmental Education Center. You'll see how trees are tapped, view sap-collecting methods past and present and see the boiling process that produces delicious New Jersey maple syrup. The 90-minute program is conducted at the Sugar Shack, a ½-mile hike from the EEC. Saturday at 10am, 12 & 2pm and Sundays at 12 & 2pm. FREE. 908-766-2489
Saturday, February 16th
The Ugly Duckling & The Tortoise And The Hare (Newark, NJ)
Head to the NJ Performing Arts Center this Saturday to see cutting-edge stagecraft put a contemporary spin on Hans Christian Andersen's Ugly Duckling and Aesop's fable of The Tortoise and the Hare. Lively puppets radiate through the darkness, outlined in electro-luminescent wire. The musical tales are also choreographed to classical, jazz and pop music, making this a unique and engaging theater experience for little ones. Recommended for ages 3 & up. Show times at 11am & 2pm. Ticket prices vary ($20-22/Person) depending on seat location. 888-466-5722
LEGO Art Workshops (Morristown, NJ)
In conjunction with the Toying with Art exhibition, the Morris Museum will be offering art workshops that will introduce young artists to different artistic techniques and their history. Projects will be made with every kid's favorite building block, LEGOS. The February 16th project will be all about printmaking. And be sure and stick around after your art session to explore the rest of the museum, including the Dinosaur Den and Trains & Railroads exhibit. Recommended for ages 7 & up. Pre-registration required. 10am. $10/Child for Members, $15/Child for Non-Members. 973-971-3706
If You Give a Mouse a Cookie (Hackettstown, NJ)
Based on the beloved book by Laura Numeroff Joffee, If You Give a Mouse a Cookie is adapted for the stage by Jody Davidson. When a rather demanding mouse in coveralls wearing a backpack shows up in a curious boy's kitchen one day, the boy soon finds himself figure skating on scrub brushes, wrestling a boa constrictor and climbing mountains, as an innocent milk and cookie snack time turns to catastrophe faster than the twitch of a whisker!  An adventurous, fun-filled performance appropriate for kids in pre-k through 5th grade. 11am. $12.50/Adult, $10/Children under 12. 908-979-0900
Sunday, February 17th
George Washington's Birthday Celebration (Titusville, NJ)
Celebrate George Washington's Birthday with the General himself! General Washington will be on hand at Washington Crossing State Park to greet visitors and accept your well-wishes, while demonstrations ranging from Blacksmithing to Open Hearth Cooking take place around the site. The Marbleheaders will be on hand to discuss piloting the Durham Boats across the Delaware on Christmas night in 1776. Children will enjoy games, crafts, storytelling and colonial musket drills. Finally, General Washington will cut his cake to share with all of the guests. All ages welcome. 1-4pm. $1/Person. 609-737-2515
Family Winter Hike (Ringwood, NJ)
Longing for a bit of fresh air and maybe even some outdoor exercise too? Get on coats, hats and mittens and head to Skylands New Jersey Botanical Garden this weekend for a family winter hike. Your group will depart from the Carriage House and take off into the winter wilderness. An experienced nature guide will teach all about the plants, animals and geology around you, shaping the discussion based on the ages and interests of everyone along for the hike. Snow cancels. All ages welcome. 1pm. FREE.
The Great Backyard Bird Count (Middletown, NJ)
Check out the 2013 Great Backyard Bird Count at Poricy Park this weekend. Bird watchers from across the continent will tally birds and their movements. Participants may also send in photos for fun or as part of the GBBC Photo Contest! Why do this? Scientists need people's help to document the distribution and movements. Plus, bird watching is one of the fastest growing hobbies, anyone can participate, and it's fun! Appropriate for all ages. (Children must be accompanied & supervised by an adult). 2-4pm. FREE.
Open Arms: Family Evening at Garden State Discovery Museum (Cherry Hill, NJ)
Spend a fun Sunday night at the Garden State Discovery Museum's special evening for families with children on the autism spectrum. Your entire family is welcome for an after hours event featuring open play and discovery. Meet other children on the spectrum, their caregivers and siblings too. No pre-registration required. 6-8pm. FREE. 856-424-1233
Monday, February 18th
President's Day Family Program - Mammals of Duke Farms (Hillsborough, NJ)
The kids are off from school so why not spend the day outdoors? Bring the family to Duke Farms for a unique nature experience. See groundhogs, foxes, squirrels, rabbits, raccoons, otters and many other mammals that call Duke Farms home.  A Naturalist from the New Jersey Audubon will answer questions and teach fun facts about animals and their habitats on this day of exploration. Program is designed for families with children 5 & older – pre-registration is required. Please dress for the weather including appropriate footwear for snow and/or mud. 9:30-11:30am. $10/Person, $7/Person NJA Members. 908-722-3700
Family Day at the State Theatre (New Brunswick, NJ)
Enjoy a fun-filled day of family-friendly entertainment spread across five venues—the State Theatre, the Hub City Big Top, Crossroads Theatre, United Methodist Church and George Street Playhouse. All are centrally located right next to the State Theatre. Younger kids will love the free balloon animals, face painting and costumed characters. And everyone will enjoy a mini exhibit from the Philadelphia Zoo and demos from the New Brunswick Fire Department. Still looking for more to do? There will also be sand art, sweets & snacks for sale and even a kids DJ spinning tunes. Festivities begin at 10am. FREE (Some activities require a small fee & pre-registration). 732-246-7469
Check out our brand-new GO NJ List, with our top ten picks of fun things to do for kids in the upcoming month! GO February is hot off the presses!
And don't forget: We have additional activity listings in our Event Calendar. And if you are heading into NYC for the weekend make sure you visit the New York City Mommy Poppins events calendar to get the latest on all the fun to be had NYC-style.
Planning an event? Submit it to our calendar.
Did someone forward you this email? Subscribe to our free newsletter.
Tags: