Spring Walks, Hikes, and Programs for NJ Kids and Families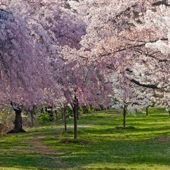 Spring has sprung! I won't belabor the fact that it's barely been winter, since lately I seem fixated on the weather in my Mommy Poppins NJ missives, but, seriously, I hope you've left your house these last few months, because it's actually been quite nice out. Moving on. Spring! We're big fans. It's always a pleasure to step out the front door into a perfect 70 degrees, and even after thirty-several years on the planet, there is much delight and surprise in the first pink blossoms fluttering in the wind.
I like to kick off my spring activities stories with a quote, so this one is for my NJ kid, my spring addict, who loves to be barefoot so much, she'll fight about it every day. 
If I had my life to live over, I would start barefoot earlier in the spring and stay that way later in the fall.  ~Nadine Stair
So go on, there's so much to do. Take deep breaths. Soak it in. Maybe take your shoes off. Here's a list of NJ spring happenings, including hikes, strolls, walks, gardening, and happy discovering.
 Reeves-Reed Arboretum (Summit) 
This gem is a hidden garden, back in the pretty neighborhoods of Summit. They suffered massive damage to the garden during the freak snowstorm in October, but are bouncing back. Every Saturday (9am-1pm), the Discovery Center hosts activities, stories, and crafts focused on a different theme, after which you can grab a backpack of binoculars, field guides, and a magnifying glass to begin your own discovery around the Arboretum. March 24: Robins, March 31: Earthworms, April 7: Coloring eggs with nature's colors, April 14: Nests. $5 per child for non-members. No pre-registration required. Call 908.273.8787 for information.
New Jersey Botanical Garden (Ringwood) 
What looks like a lush — or soon to be — garden, and gorgeous place to stroll for us grown-ups, is for kids a great place to run, capturing some of that elusive fresh air and maybe learning the names of some trees along the way. The New Jersey Botanical Garden is 96-acres of fun for the whole family. Join in the End-of-Winter Tree Walk (March 24), Early Spring Wildflower Walk (April 14), or Family Woodland Walk (April 15), where you'll learn about everything from tree varieties, to animals and geology in the area. Prices vary, but are rarely more than a $5 donation and are often FREE. Call 973-962-9534 for information.
Somerset County Park Commission (Basking Ridge)
My daughters, no matter how much pink they might have on, are always up for getting dirty. The Educational Park Programs offered by the Somerset County Park Commission this spring fully embrace this philosophy. The Swamp Tromp Hike (March 24, 10:30-11:30am, FREE), is a search for muddy footprints and animal activity through Lord Stirling Park. Wear your boots! Wake Up, Already! (March 27, 4-5:30pm, $9 per person) is an easy, naturalist-guided hike, good for children 4-6, to look for signs of life on the forest floor, as everything comes alive with the warm spring weather. Woodcock Watch (March 26, 7-8pm, FREE), is a stroll through Lord Stirling park to observe the adorable, amorous and elusive American Woodcock. Pre-registration is usually required for the SC Parks programs. Call 908 766-2489 for information.
Camden Children's Garden (Camden)
It's never too early to teach your children where their food comes from, how plants grow, and the sweet success of getting your hands into the earth and making something happen. Spouts and Seedlings, a parent-child workshop held at the Camden Children's Garden, is for children ages 2-4, with each month offering a different theme. March 7, 14, 21, and 28 — Silly Seeds, April 4, 11, 18, and 25 — Delicious & Nutritious and May 2, 9, 16, and 23 — Beautiful Butterflies. Advanced registration is required at least three days ahead of time, and children may enroll per class ($10) or per session ($40/$36 for members). Call 856-365-8733 for information.