Santa is Coming! To Storybook Land in New Jersey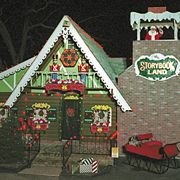 As a new Mom, I find myself living in moments of anticipation. I can't really find words to express what it was like the day my baby girl started crawling.  And now I'm awaiting her reaction to Christmas and the big event is still weeks away!   I can't think of a better place for my 1-year old daughter to first see Santa and be engulfed into "the most wonderful time of the year" than at what I consider to be South Jersey's little gem, Storybook Land in Egg Harbor Township.
Storybook Land is a magical place where families can literally walk through their all-time favorite nursery rhymes and children's stories in a theme park setting. I brought my child to Storybook Land for the Trick or Treat weekend before Halloween and we were welcomed with many happy faces throughout the day, as well as enjoying all the books and characters. It was a very positive experience for her first amusement park and even though she's too young to walk around, there were plenty of safe things for us to do, such as a train ride, ferris wheel, merry go round and electric cars.
On Saturday, November, 19th at 5pm, Mr. Claus himself will appear in the chimney of his adorable home in the village and wave his wand to light up a spectacular display of thousands and thousands of lights!  And at this very special time of year, Storybook Land offers photo ops with Santa as well as many other displays that make great backgrounds for your holiday pictures. There are many other perks to this magical little land such as unlimited amusement rides, live deer and goats that can be fed and plenty of food stands, picnic tables to BYOC (bring your own cooler) and family-friendly rest rooms. 
As a relatively new mom, I look forward to my little girl's reactions to all the different aspects of the Holidays, I'm sure we all have an old photo of ourselves as a child either with Santa, or at a family gathering with siblings and cousins and Aunts and Uncles and Grandparents.  There is a nostalgia to them and I want to document as much as possible for my daughter, and what better place to perfectly capture that nostalgia than at a land of make-believe?
Here is a list of Storybook Land's upcoming events:
The Christmas Fantasy with Lights Parade November 19. (Rain date November 20).
Welcome Santa and Mrs. Claus to Storybook Land. Take the parade route to see some of your favorite storybook characters on beautifully decorated floats. Parade begins at 4:30pm and concludes with the arrival of Santa Claus and his magical lighting of the park!
Christmas Fantasy with Lights November 19-December 30. (Closed Nov. 24, Dec. 24 & 25)
Santa appears in his chimney every day at 5pm to wave his magic wand and light the spectacular display of over one million lights for the holiday season! Mr. & Mrs. Claus are in their home until 12/23.
Super Saving Mondays! 50% Off Regular Admission! November 28, December 5, 12, 19,
Toy Drop Thursday, December 8 & Friday, December 9.
Donate an unwrapped toy and get 1 FREE admission per family.
General admission $21.95/person. Call 609-646-0103 ex. 5 for more information.

For great gift ideas this season check out our Holiday Gift Guide, and if you're headed into the city, take a look at our Holiday Fun Guide.