NJ Kids Read to Therapy Dogs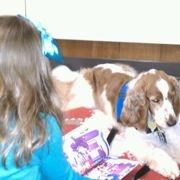 As the saying goes, "reading is fundamental". However, there are children who still struggle to develop reading skills. Reading to a "therapy dog" is a new program has been implemented in many New Jersey schools and libraries. Reading to therapy dogs has helped young students build confidence as readers in an environment free from judgment and criticism. Read on to find out about Therapy Dogs International, located in Flanders NJ, and their program "Tail Waggin' Tutors".
The objective of Therapy Dogs International's program is to provide emergent readers with a relaxing environment in which they can practice reading. Tail Waggin Tutors believes that students' reading improves with practice, and that reading in front of an attentive dog helps a student associate reading with something pleasant.
Jennifer Paley, a volunteer with TDI and a teacher, uses "Tail Waggin Tutors in her district. At her school, 1-2 students are paired with a dog and its handler. The students read for about 45 minutes each week to their dog. Students are chosen based on recommendations from their teachers or counselors. Most, she said, are chosen because of weaknesses in reading skills; others may be sad or may have behavior problems. Reading out loud to and spending time with a therapy dog has improved reading skills and behavior issues. Jennifer said that one of her students with selective mutism (she never spoke in school) read fluently and expressively to "her" dog. Another boy with behavioral issues improved his attendance and that the best day of his life is when he got to spend time with "his" dog. The program has clearly had many benefits for her students.
TDI has been implementing its "Tail Waggin' Tutors in my daughter's school this year. Each student has been given a chance to read out loud to one of three dogs that visit the school. Liz Giana is the Elementary Teaching Specialist who has coordinated the program for her school. She believes in its effectiveness and says the program is well supported by the students and teachers. "TDI is a dedicated group of people and a wonderful program to share with all children." My daughter, both a dog-lover and beginning reader enjoys it. She has even been practicing with our dog at home.
St. Hubert's Animal Welfare Center's "Paws for People" trains therapy dogs for service in hospitals, nursing homes, and schools. Some of these trained therapy dogs travel to local libraries as part of the "Paws for Reading" program. Last night, my daughter and I met therapy dogs from "Paws for Reading" at the Pepack-Gladstone Library (part of the Somerset County Library System). Three dogs were present and there were about 12 children who signed up to read. Each child was given about 7-10 minutes to read to one of the dogs. Jenna Galley, the Youth Services Librarian at the P-G library said they have dogs there about once per month. She said they usually get between 10 and 20 children to sign up for the opportunity to read to the dogs. My daughter brought a few of her favorite books and spent some time reading to Miley. She read an entire book and was very excited to meet the dogs. Her only worry was that her story was a "girl" story and she didn't think a boy dog would like it.
Parents interested in having their child participate in a program such as Tail Waggin' Tutors can contact TDI. Contact St. Hubert's to check if "Paws for Reading" is coming to your local library or check your the local library calendar.