Last-Minute Gift Ideas for New Jersey Procrastinators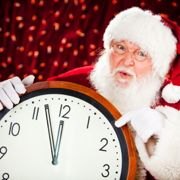 Um... still have a to-do list that's a mile long? We've all been there – too many things to get done and not enough time. So, while you were planning out your Christmas menu, we pulled together a list of last minute gift ideas, many of them New Jersey-specific. The best part – all you need is a printer to make most of these gift ideas come to life.
For the explorer: A year subscription to National Geographic Kids
$15 will give your future Christopher Columbus ten issues of National Geographic Kids. This subscription will give your child colorful learning adventures throughout all of 2013. Appropriate for children ages six to 12. Please call (888) 225-5647 to speak with a customer service representative.
For the princess: Tickets to the Sweetheart Princess Ball
If your little lady has been prepping for her moment at Westminster Abbey, then say no more. The New Jersey Children's Museum (Paramus) will host its popular Sweetheart Princess Ball on Friday, February 8 from 5:30 to 9:00 pm. Give your princess the chance to join Snow White, Belle, Cinderella, Sleeping Beauty and Ariel for an enchanted evening of royal festivities! Tickets are $19 .99 per person. Dinner sessions will be held at 5:30, 6:00, 6:30 and 7:00 pm. Call (201) 262-5151 with questions.
Also check out Image That!'s (Florham Park) most popular event, the Princess Breakfast. Scheduled for Saturday, January 26 at 9:30 am, tickets are $13.99 for children, $10.99 per adults. Please call (973) 966-8000 for reservations.
For the sports fan: Tickets to a local game
New Jersey sports may be on hold at the moment (we won't mention the Jets or Giants!), but the garden state is home to the New York Red Bulls (Harrison), New Jersey Devils (Newark) and variety of minor league baseball teams, including the New Jersey Jackals (Montclair), Somerset Patriots (Somerset) and the Newark Bears (Newark). Surprise your fan with tickets for a spring game! Ticket prices and dates will vary for each event.
For the actress: Acting classes at New Jersey School of Dramatic Arts (Bloomfield)
Romeo, Romeo, wherefore art thou, Romeo? The New Jersey School of Dramatic Arts offers musical theatre and acting classes to children, tweens and teens. This is the perfect gift idea for your little Denzel Washington. Prices vary, depending on class selection. Please call (973) 566-9700 with questions.
If role playing is your child's forte, then try out a membership to Kidz Village (Woodbridge and Kenilworth). An unlimited three month membership runs $99.99 with access to both facilities. Your little one will love to work in a nail salon, be a super hero or go grocery shopping! 
For the clown: Circus Place (Hillsborough) classes
If the Three Stooges and Charlie Chaplin inspire your little one, classes at the Circus Place will surely be a hit! Offering juggling, unicycle, stilt walking and tot classes, these programs will inspire creativity, athletics and artistry. Please call (908) 829-3784 for schedules and rates.
For the builder: Home Depot gift card (various cities)
No, your husband didn't pay us to write this piece. Home Depot hosts free monthly kids workshops, including January 2013's Diamond Birdhouse. These hand-on workshops are held the first Saturday of each month at all Home Depot stores between 9:00 am and 12:00 pm. Designed for children ages 5 to 12, each class teaches your child a new skill and practices tool safety. All participants get to keep their craft and receive a Kids Workshop Apron, commemorative pin and certificate of achievement. With a freshly filled gift card in hand, your little Ty Pennington can begin working on their next project as soon as class is dismissed! To find a store near you, visit the website.
For the reader: Countless e-Books
Between the Nook HD, Kindle Fire and the iPad mini, it's easier now more than ever to put a book in your child's hands. Whether they are two or 12, the endless selection of e-books awaits you!
Goodnight, Goodnight, Construction Site by Sherri Duskey Rinker
Llama Llama Time to Share by Anna Dewdney
I Funny: A Middle School Story by James Patterson
For the cook: Young Chefs Academy classes (Marlboro)
With a class schedule that includes Kindercooks, designed for children ages three through six, to Senior Chefs, targeted at teens, The Young Chefs Academy offers something for everyone. Classes focus on how to cook properly, essential kitchen safety and step-by-step guidance on how to make delicious and nutritious meals. A variety of membership options are available. Please call 732-536-7777 with questions or for further details.
Also, try Chef Central (Paramus) or Classic Thyme Cooking School (Westfield) for variety of children and teen culinary classes.
For the artist: Jerry's Artist Outlet (West Orange)
With an immense inventory of art supplies available, Jerry's Artist Outlet will be one-stop shopping for your future artist. The knowledge staff will point you in the right direction and help you organize any last minute gift. For more information, please call (973) 669-0995.  
Want to inspire your child? Try Yard School of Art classes at the Montclair Art Museum. Winter sessions begin January 7 with classes ranging from Beyond the Playground to Digital Painting. Please call (973) 259-5139 for reservations or questions.
And last but not least, don't forget the convenience of gift cards. From Stop N'Shop to Walgreens, last minute shoppers won't find a shortage of gift cards to choose from. Remember, just because you waited until the last minute, doesn't mean you are giving any less of a gift. Happy shopping, NJ!