July Fairs and Festivals for New Jersey Families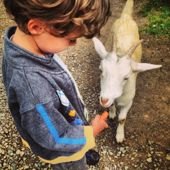 Fairs and festivals and feasts, oh my! It's non-stop action in NJ this month—read on for our recommendations and choose a favorite! With everything from county fairs to music and food festivals, there's an activity to entertain every member of the family. Some highlights include the New Jersey State Ice Cream Festival (yum!) and City of Water Day. Mark the calendar now and have a blast all month long. For more summer fun, visit our Summer Activities Guide.
Cumberland County Fair (Millville)
July 7-12 (Mon & Tues 4-11pm, Wed 1-11pm, Thurs & Fri 4-11pm, Sat 1-11pm)
This is NJ's oldest fair and it's truly the mother of all county fairs. Featuring live entertainment, 4-H exhibits, pie and watermelon eating contests, amusement rides, racing pigs, great food, games and much, much more…it's not to be missed! Wednesday, July 9 is Kids' Day with free admission for all kids under four feet tall; special activities and contests will take place throughout the day.
Freedom Fest State Fair (Allentown)
July 8-13 (Tues, Wed & Thurs 5-11pm, Fri & Sat Noon-11pm, Sun Noon-10pm)
The esteemed Horse Park of New Jersey is home to the Freedom Fest for six days this July. Come join in the fun with tons of attractions including a huge carnival midway, international food court, nightly horse shows and animal petting farm. There are live concerts and special events every night—visit on Friday to catch the spectacular fireworks display!
Ocean County Fair (Berkeley Township)
July 8-13 (Tues, Wed & Thurs 5-11pm, Fri & Sat 11am-11pm, Sun 11am-5pm)
Not to be outdone by the other counties, the Jersey Shore is offering up this six-day festival chock-full of family fun—rides galore, delicious food, 4-H shows and live entertainment are all on the schedule. Highlights include Circus Incredible and Cowboy Larry's Wild West Show. Visit Tuesday, Wednesday or Sunday and pay just $20 for unlimited amusement rides.
City of Water Day (Hoboken)
July 12, 10am-4pm
Celebrate the NY-NJ Harbor at this waterfront festival in Maxwell Place Park (or on Governors Island in NY). Highlights include free historic boat tours, live music, ferry rides and delicious food from local vendors. There is plenty of fun for the kids too—visit the children's tent for interactive and educational activities relating to the waterfront.
Festival of Butterflies (Warren)
July 12, 10am-4pm (Rain date: July 13)
Join Wagner Farm Arboretum in celebrating their 10th anniversary at the Festival of Butterflies. Featured activities include carnival games, face painting, sand art and a petting zoo. Butterfly dancers from "Gotta Dance" will perform and all visitors are invited to take part in butterfly releases at 12pm and 2pm.
Front Porch Bluegrass Festival (Chester)
July 12, 10am-8pm
Enjoy a relaxing day at Gazebo Park with great bluegrass music from 13 local and national bands. There's plenty of food, games and kids' activities too—the little ones can get their faces painted, visit the ball pit or play fun games such as digging for treasure and knocking down balls. All proceeds benefit Big Youth Group's upcoming service trip to repair homes in Central Appalachia.
Burlington County Farm Fair (Springfield Township)
July 15-20, Hours vary
Come on down for some good old-fashioned family entertainment! There's plenty to keep the gang busy at this fair, from 4-H animal exhibits and daily horse shows to amusement rides and live performances. Kids of all ages can join in the fun by entering the Scarecrow Recycling Contest, participating in the "Farmer for a Day" program or vying for the blue ribbon in Sunday's Open Pet Show.
New Jersey State Ice Cream Festival (Toms River)
July 19, 3-8:30pm
What's better than spending a hot summer day scarfing down ice cream? Sample all the flavors, and then cast a vote for your favorite scoop. Still haven't had enough? Sign up for the ice cream eating contest (there's one for kids too). Games, rides, live music from local bands and face-painting round out the day's activities.
St. Ann's Italian Festival (Hoboken)
July 23-27 (Wed, Thurs & Fri 6-11pm, Sat Noon-11pm, Sun 1-11pm)
A Hoboken favorite for over 100 years, St. Ann's Feast is the epitome of a summer festival. It includes all the ingredients for a perfect outing—rides, games, amazing food and live bands performing on the main stage every night. Don't miss out on their famous zeppole and other delicious treats!
NJ Peach Festival & Gloucester County 4-H Fair (Mullica Hill)
July 24-27 (Thurs, Fri & Sat 9am-10pm, Sun 10am-5pm)
Peaches are always a highlight of the summer season. This festival, which runs concurrently with the Gloucester County 4-H Fair, honors the peach in all its glory. Check out the peach bake-off, sample juicy peaches and cheer on the contestants in the New Jersey Peach Queen and Little Miss Peach contests. The 4-H Fair offers additional fun—carnival rides, livestock shows, baby parades and more! Stick around for the nightly barbecue dinners, featuring Jersey Fresh produce.
Honey Bee Family Festival (Morristown)
July 26, 11am-4pm
Head to the Morris Museum for this wonderful event featuring bee-themed games and activities for the whole family. Kids can design an antenna headband, plant a bee garden or create a hand-painted honeybee mural. "Dancin' with the Honey Bees" will also be performed in the Bickford Theatre at 1:30pm—don't miss this great show featuring storytelling, puppets, music, and dance.
Storybook Festival (Camden)
July 26 & 27, 1-4pm
Step inside a classic story at the beautiful Camden Children's Garden—tales such as The Three Little Pigs and Alice in Wonderland come to life in the aptly named Storybook Gardens. Kids can participate in special crafts and listen to readings of their favorite books. Be sure to visit the Giant's Garden, where children can plant magic beans to take home.
Asbury Park Blues & Brews Festival (Asbury Park)
July 18
All ages are invited to Bradley Park for this fun and family-friendly celebration featuring live music, craft vendors, children's activities and fabulous food. Alex and Ani will host a hospitality tent with arts & crafts projects and refreshments for the kids. The festival is only one block from the beach and easily accessible via NJ Transit trains.