Great Wolf Lodge Indoor Water Park--a Fun and Family-Friendly Weekend Trip for NJ Kids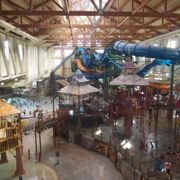 I do love a good water park, but if there's one thing I hate more than being cold, it's being wet and cold. Which is why I was so enamored of the Great Wolf Lodge Indoor Water Park in the Poconos. A balmy and constant 84 degrees, no matter what the weather outside--now this is my kind of water park. And with the mere hour and a half drive from Northern NJ, this is the ultimate in family weekend trips. Mentally put on your swimsuit, and read on for my family's "good times" at the Great Wolf Lodge.
There is nothing quite like that first sight of Great Wolf Lodge--a huge colorful village cascading with water, INSIDE. The kids were awestruck—and so were the parents. We spent ten minutes just looking at it, mouths open. The four-story fortress, Fort Mackenzie, is center-stage, spurting with waterfalls and spouting waterslides on every side. My 6-year old son immediately ran up the stairs and spent the next hour going up and sliding down, over and over and over again (I quickly designated Ford Mackenzie the best babysitter in the world).
The rest of the rides circle the Fort, and there's a wide range of thrill level. You can see the pictures, descriptions and age requirements for all the rides here, but I will tell you that everyone in our group had a different favorite. My husband and I love "scary", so we liked screaming down the Double Barrel Drop into a huge vortex of water; my daughter loved floating in an inner tube in Slap Tail Pond, a.k.a. the Wave Pool; my son, of course, loved the Whooping Hollow slides in Fort Mackenzie, and even our resident seniors, my husband's parents, found something to enjoy: North and South Hot Springs, better known as the hot tubs. Of course, they chose the 21 and older version and camped there happily for the entire day. To me, this was one of the best features of Great Wolf—fun stuff for all ages, and the ability to have fun together and fun separately, all in one confined, albeit huge, space.
We found the pricing to be very reasonable at Great Wolf—a basic Family Suite, sleeping up to six, starts at just $239 and that includes your all-day pass to the Water Park. Of course, that price is for weeknights and everything is more expensive on the weekends, but you can still manage to squeak in an entire weekend trip for under a thousand dollars with food. For those of us who travel with kids and know how costs add up, this is a darn good deal. Of course, there are a number of fancier suite options and quite a few add-ons if you really want to do it up. Great Wolf offers many alternate activities, which are great if you have the money and are feeling waterlogged. Our favorite was MagiQuest and the Northern Lights Arcade, and my kids enjoyed their "quiet" time in Cub Club, a fun activities/crafts room for younger kids. Find a full list of extra activities here. Ultimately, it's up to you how much or how little to do—trust me, the Water Park is plenty on its own, but it's nice to have the other options.
I'm happy to be able to give Great Wolf Lodge the Mommy Poppins seal of approval for its reasonably priced, fun for all ages venue. We would go back in a heartbeat.
Editor's Note: The Great Wolf Lodge Poconos gave us day passes to enjoy their facility. All opinions expressed are my own.