GIVEAWAY! Tickets for Easter Bunny Train and Egg Hunt in New Jersey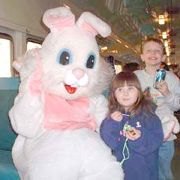 Seems like we were just talking about the Polar Express, and here it is already time for Easter Bunny trains rides! Times flies, and so does childhood, so we'd like to give your NJ kids a special treat: a free trip on the Easter Bunny Train and an Easter Egg Hunt with the family on a Delaware River Railroad Excursion out of Phillipsburg, NJ. Read on for how to enter this fun springtime contest.
Two families will ride on a train behind the only operating steam locomotive in the state of New Jersey and hang out with Mr. E. Bunny, a banjo-playing Hobo and a Juggler (now that's a threesome, huh?), courtesy of NJ Mommy Poppins and the New York Susquehanna & Western Technical and Historical Society*. Your ride will wind along the scenic Delaware River to Carpentersville, ending at the site of the historic Lime Kilns. In front of the 150-year old kilns is a beautiful little glade filled with Easter eggs where your child can collect eggs and take a picture with Mr. Bunny!
The Prize: One of two family four-packs of tickets to The Easter Bunny Train and Egg Hunt on the New York Susquehanna & Western Railway. Winners will choose from the dates of March 31, April 1 or April 7.
How to Enter: To enter the contest you must email us with the subject line "Easter Bunny Train" by midnight on Monday, March 19. By participating in this give-away, you will be automatically signed up to receive the free weekly Mommy Poppins New Jersey family events e-mail newsletter. Please include your full name and email address in the email. If you are already a subscriber to our newsletter, leave a comment below to enter the contest. A winner will be drawn at random and notified on Monday, March 26. If you do not respond to our email notification within 24 hours, another winner will be drawn. Email addresses of entrants will not be collected, sold, or otherwise abused.
The Delaware River Railroad Excursion's Easter Bunny Train will run March 31, April 1 and April 7 at 11am, 12:30pm, 2pm and 3:30pm. Tickets are $16/Adults, $8/Kids, $2/Lap sitters. Purchase tickets here.
* The New York Susquehanna & Western Technical & Historical Society is a non-profit educational society interested in the preservation of the rich railroad history of New Jersey, most specifically that of the New York Susquehanna & Western Railway. The Society has close to 500 members located in almost every state and many from around the world. The society is primarily funded by the many rail-excursion trips run every year and is partners in the Delaware River Railroad Excursions based out of Phillipsburg.