Things To Do With NJ Kids This Weekend March 17-18: St. Patrick's Day Fun, Honeybees, Cookie Party, Wizards & more!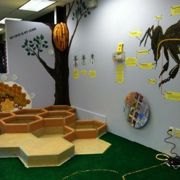 Although we've been celebrating St. Patty's for a few weeks, this weekend it's the REAL deal. So get your green on and enjoy the holiday at the NJ Children's Museum or Saddle River Valley Cultural Center. There are also some great outdoor activities at various Nature Centers and Honey Bees are buzzing at the Community Children's Museum. Read on for all of our picks and remember, you can always find a list of all NJ weekend activities for kids in our Event Calendar. Enjoy, NJ!
All Weekend
Celebrate St. Patrick's Day (Paramus, NJ)
Bring the whole family to the New Jersey Children's Museum from 10am – 6pm Saturday or Sunday for this kid-approved St. Patrick's day celebration. Make sure to wear your green and get ready to party. There will be St. Patrick's activities all day long! Free with museum admission. (201) 262-5151.
Signs of Spring Nature Walk (Howell, NJ)
Get out there and enjoy pre-spring with a naturalist from the Manasquan Reservoir Environmental Center. This FREE drop-in program at 11am on Saturday and Sunday will have you and your kids exploring for signs of spring and proof that this warm weather is here to stay! (732) 751-9453.
P.Nokio: A Hip Hop Musical (Newark, NJ)
This awesomely named musical at the NJ Performing Art Center this weekend is a modern day Pinocchio with a hip hop flair. In this version of the familiar story, G.Petto is computer game designer who discovers one day that  that his new character, P.Nokio, is able to escape from the computer. Delighted at the prospect of having a "son," and working with the help of the Graffiti Fairy, G.Petto sets out to teach P.Nokio how to become a real boy by attending the Old School and studying the art of rhyme. 2pm. $20-22 per ticket. 888-GO-NJPAC.
Saturday March 17th
Opening Day: Wonders of the Honey Bee Exhibit (Dover, NJ)
The Community Children's Museum will be abuzz with excitement over the opening of their new Honey Bee exhibit. There will be the big unveiling followed by kid activities throughout the day such as: honey tasting, making a beeswax candle, trying on a beekeeper's protective clothing and more. 11am – 4pm. $5 per person. Children under 6 months FREE. (973) 366-9060.
Workhorse Rides & Blacksmithing (Lambertville, NJ)
Kids will have a blast riding high at Howell Farm from 11am – 3pm when their three quarter ton workhorses that normally pull the plows and wagons on this 130-acre living history farm are put on "pony ride" duty. The program is intended to give children a taste of early 20th century farm life. So, in order to get a ride, children must first do their farm chores, which include shelling and grinding corn, pumping water, and making fence rails. The rides will be offered on a first-come, first-served basis and all riders must be between the ages of 5 and 12 years old, without exception. After chores and the horse ride there is also a optional children's craft program for $5. (609) 737-3299.
St. Patricks Day Celebration (Upper Saddle River, NJ)
Keep up the celebration post-parades at the Saddle River Valley Cultural Center at 1pm with award-winning young dancers from the McLoughlin School of Dance. They will be dressed in native costumes with live Irish music. After the show, you will have the opportunity to meet the Performers, learn a few Irish Steps, and pose for photos. $12 per ticket in advance, $15 day of show. (201) 825-3366.
Bubblemania (Jersey City, NJ)
Come on out to Liberty Science Center for this unique and popular show that combines science and art. BubbleMania is loaded with visual comedy, quick wit, big band swing music and the untamed, often unbelievable qualities and beauty of spherical liquids. Casey Carle's creations grow from intricate and imaginative bubble artforms to "trapping" people inside bubbles! Show times at 1pm and 2pm. $5 per ticket plus the cost of museum admission. (201)200-1000.
Studio Saturday Workshops (Maplewood, NJ)
Bring your kids ages 5-12 and some creativity to Express Yourself Studios from 11am – 3pm. Your children will enjoy a one hour guided art project exploring a specific art master and medium. Make sure to call (973) 763-5256 in advance to reserve your space.
Sunday March 18th  
Cookie Party with Frog and Toad (Manasquan, NJ)
Before each Sunday performance (March 18th & March 25th) of "A Year With Frog and Toad" at the Algonquin Arts Center in Manasquan there is a special Cookie Party event for children ages 4-10 and their parents. The finest milk & cookies available in all the forest will be served and children in attendance will get crafty to make a memento of the occasion. There will also be a story time with the characters reading the adventures with Frog & Toad. Photos and autographs are welcome! $25 per child which includes a child ticket to "A Year with Frog and Toad". Adults who have tickets to the performance are welcome to attend the party with the child. 1:30pm. (732) 528-9211.
Nature Storytime (Mountainside, NJ)
Drop in at Trailside Nature Center at 3pm for their weekly FREE (donations are appreciated) storytime program. Meet at the lower level of the Visitor Center and get ready to enjoy stories of the (almost) Spring season with one of their Naturalists. (908) 789-3670.
Witches, Wizards and Wonder (Madison, NJ)
Round up your wizards and witches and fly on over to the Museum of Early Trades and Crafts at 2pm for this spellbinding program filled with a variety of enchanting activities, games and crafts. Free with museum admission of $5 Adults, $3 Children 6+, Children 5 and under are free. (973) 377-2982.

Don't forget: We have additional activity listings in our Event Calendar. And if you are heading into NYC for the weekend make sure you visit the New York City Mommy Poppins events calendar to get the latest scoop on all the fun to be had, NYC-style.
Planning an event? Submit it to our calendar.
Did someone forward you this email? Subscribe to our free newsletters.