Fun First Birthday Party Ideas for Kids in New Jersey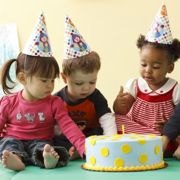 No one can blame the proud parents for wanting to really throw the ultimate bash at the end of year one, but it's also important to consider the honored guest. How do you throw a 1st birthday party that's special for mom & dad, but that your baby will actually enjoy, ensuring a few of those two-toothed, camera-ready grins? And while hosting a party right at home can be a great option, many parents find themselves with limited space - or absolutely no desire to spend an entire day cleaning up afterwards! So here's the lowdown on places in New Jersey that cater to families celebrating the big day. And for even more fab tips and ideas, check out our NJ Kids' Birthday Party Ideas Guide.
My Gym (Various locations in New Jersey and the tri-state area)
With 12 locations in New Jersey (and more in the surrounding tri-state area), My Gym is a winner if you're looking for a convenient party option that makes your baby the star. Kids and their parents (or caregivers) can start classes at these colorful, fun playspaces as early as six weeks old, so if you're already a My Gym member, party packages come at a discounted rate (but non-members can book parties here too). The "party" is usually a similar version of what your little one is used to in class, including a cheery circle time with clapping and songs (parents join in too!), and then free play around the gym with different activity stations set up, from a baby airplane zip line to slides to a bubble machine. Most locations allow you to either bring in your own food and cake or use one of the vendors they work with at a discounted price. And the best part: fully-trained My Gym staff members set up, entertain the kids and clean long after you've left for naptime! The only downside to these awesome parties is limited seating for adult family members and friends, so a small shindig back at home might be in order after gym time is over. Please visit My Gym's website for more info on their party packages or call your local franchise for specific scheduling and pricing information.
Gymboree (Various locations in New Jersey and the tri-state area)
Gymboree offers a similar type of party experience but they take it one step further and let parents choose a big day "theme" ranging from the classic 'First Birthday Party' to 'Farmyard Fun,' a 'Music Party' and even an 'Ocean' or 'Dinosaur Adventure.' Gymboree has all the necessary climbing and crawling equipment you'd expect in a kids gym such as slides and a ball pit with a big focus on music and instruments. This is a place where it's okay to be loud and you can bet the babies and toddlers invited to your celebration will be pretty darn happy shaking tambourines and playing the drums! Party packages (open to both members and non-members) include gym time with fully-trained staff, Gymboree invitations, paper goods for food & cake and even take home goodie bags for each guest. And as with My Gym, it might be tough for grandparents or older relatives to really engage in the baby floor-time fun, so cake and presents back at home or a nearby restaurant would be a thoughtful addition to the festivities. Please visit Gymboree's website for more info on their party packages or call one of the 12 New Jersey locations for specific scheduling and pricing information.
Turtle Back Zoo (West Orange)
Turtle Back Zoo is one of the most popular outings in ALL seasons for most suburban NJ families and it's easy to see why. This quaint zoo is a well-kept oasis for dozens of animals and is much less overwhelming for younger kids than most big-city animal attractions. The zoo holds all sorts of events in each season ranging from a nighttime Christmas light festival in December to a Sheep Shearing Day every May and we've heard from more than one mom that parties here are pretty great too. This one will appeal to babies, older kids and adults alike, so you really can't go wrong if you don't mind taking a gamble that it may be a little chilly/rainy/snowy on your big day. Turtle Back Zoo's party packages include a handful of both indoor and outdoor facilities on their grounds that you can rent out (ranging from a large gazebo to their new Endangered Species Carousel) depending on the time of day and how many guests you plan on hosting. You can choose to have your party fully catered and add on options such as face painting make for an exciting outing for all ages (even young at heart adults!)
Please visit Turtle Back Zoo's website for more info on their party packages or call the customer relations department at 973-731-5800, extention 221 or 223.
Liberty State Park (Jersey City)
Liberty State is certainly not the only park in New Jersey but it's definitely the one with the best view, offering breathtaking panoramas of the Statue of Liberty, lower Manhattan skyline and Ellis Island. For a more thrifty, do-it-yourself option, a park can be a great 1st birthday party location in spring, summer or even early fall. Parties at Liberty State Park are free for up to 50 people and include the use of a grill and 8 picnic tables. Saturday spots are already filling up for summertime so advance reservation is a must. Reserve a picnic spot right next to their enormous playground (suitable for every age from babies to big kids), bring a cooler with drinks, order a pizza and cake, throw in some family-friendly music and you've got yourself a casual party with built in entertainment for kids and beautiful views for the adults! Note that Liberty State Park does not allow balloons on their grounds, but other decorations such as streamers are fine. Please visit Liberty State Park's website or call 201-915-3402 for more information and to book a picnic area.
Kidz Village (Kenilworth and Woodbridge)
An indoor kids' playground normally wouldn't top a list for a 1st birthday party – after all, how many parents want rambunctious 6 year olds racing around their wobbly toddler-to-be as he learns to take his first steps? Kidz Village is unique because of its smart set up. The warm and friendly facility is sectioned off into "zones" such as a climbing area; pretend hair salon, grocery store and retro diner, video game room and a special area just for the pre-walkers with mats and shape sorter toys and balls. You and your baby won't feel overwhelmed in one of the small play rooms and if you're inviting guests (or even older siblings), they can climb and play arcade games to their hearts content in the big kid sections. Plenty of comfortable park-like benches line the interior, offering tired family members a relaxing spot to view the action. Kidz Village specializes in 1st birthday parties and the generous packages include invitations and thank you cards, 2 hours of playtime, food and refreshments and a private party space. Goodie bags, piñatas and party entertainers are all available add-ons. Please visit the Kidz Village website (where you can book your party online) or call 908-445-7220 for more information.
Need more help? Check out Parents Magazine's 1st birthday party survival tips or print out their handy checklist to get you started. 
Originally published 2012