4th of July in New Jersey: Small Town Celebrations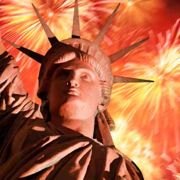 Sure, you can go big'n'splashy for the 4th, but why not try a celebration in a small NJ town? They may not have Macy's fireworks, but the charm, the history, the food and the Americana feel may more than make up for the loss of crowds, noise and, well, crowds. Check out some of these local celebrations in Southern NJ that come complete with parades, fun runs, antique car shows…. so much more than just fireworks! And for more summer awesomeness, check out our New Jersey Kids Summer Activities Guide!
Lebanon 4th of July Parade, Lebanon NJ
July 4, 2014. The 67th Annual Lebanon Borough 4th of July Parade is one of the oldest 4th of July parades in New Jersey. The celebration also features a baby and bike parade, a patriotic house decorating contest, antique car show with cars from the 1920′s to the 1970′s, boy/girl scout troops, floats, live music, fire trucks and rescue vehicles. The competition in Lebanon has to be quite fierce for the honor of holding one of the town trophies. The theme for the parade in 2014 is Lebanon Borough -- In the Heart of Hunterdon County.
Mercer County Freedom Festival, West Windsor NJ
June 28, 2014. Freedom Festival is one of the earliest Independence Day celebrations in the state every year. This large festival is held in Mercer County Park in West Windsor Township. It is an all-day event featuring a wide range of activities for the entire family--- water rides and inflatables for the kids, tethered hot air balloon rides, local food vendors, live entertainment, local crafts, a beer and wine garden, a mechanical bull and of course fireworks at 9:30. 
Mayor's 4th of July Celebration, Summit NJ
July 4, 2014.  Each year, Summit residents gather at Soldier's Memorial Field to take part in the day's festivities.  From the old-fashioned family fun events to the spectacular grand fireworks display, the 4th of July is always a memorable event.  The fun includes a bicycle parade, music, rides and amusements.  The event concludes with fireworks at 9:15 pm.  
Avalon All-American 4th of July Celebration
July 4, 2014.  The borough of Avalon will celebrate the nation's birthday with many activities including a world class symphony concert and the largest fireworks display in southern New Jersey.  There are many fun activities throughout the day beginning with field races at 9:30 am.  At 1:00 pm, Avalon hosts its famous 4th of July Boat Parade
Evesham Independence Day Celebration, Evesham NJ
July 4th, 2014. Evesham Township starts its 4th of July celebration early with a fun run and 5K race. Events during the day include a parade, a bike parade and a community celebration. The 1 Mile Fun Run and the 5K Marlton Mayor's Cup takes place at 8:30 AM between Main Street and Cooper Avenue in Marlton. The Bike Parade is a great activity for the kids. It features bike riders up to grade 5 and parents pushing babies in strollers and wagons. All participants are encouraged to be creative and decorate their cycles as best as they can. The July 4th parade starts at 11:00 AM along Main Street from Maple Avenue to Bettlewood Road. It features live music, community groups and military grand marshals and refreshments. The community celebration begins at 7:00 at Cherokee High School and features paratroopers and food and drinks from local vendors.  The fireworks cap off the day at 9:30.
Valenzano Winery Independence Day Fireworks Festival, Shamong NJ
July 3, 2014. Valenzano Winery will host their Fireworks Festival at their festival grounds on Old Indian Mills Road in Shamong. The event will feature live music featuring Bullzeye Band, entertainment for the kids, low altitude fireworks, a craft show, tons of food and Valenzano wines. Gates open at 5:00 pm. Admission is $10 for adults and $5 for anyone under 21. The festivities begin at 5 pm. Tickets can be purchased online or at the winery.  Special party tent rentals are available.
Wildwood 4th of July Fireworks Spectacular, Wildwood NJ
July 4, 2014. The Wildwoods have a full schedule of events planned to celebrate the 4th of July.  The day begins with a 4th of July beach and boardwalk patriotic run/walk.  Events also include an Independence Day Parade, Pooch Parade, craft show, and patriotic music show.  The day concludes with a Fireworks Spectacular at 10 pm.  
Bordentown Independence Day Celebration, Bordentown NJ
July 3, 2014.  Bordentown will stage a fireworks display and community celebration on July 3.  The celebration includes giveaways, a dunk tank, kids games, a moon bounce and live music.  The party starts at 4:30 and ends with a fireworks display at dusk.  The event is being held at the Joseph Lawrence Recreational Facility at Veterans Memorial Park.
Tuckerton Seaport Roots Festival and 4th of July Celebration, Tuckerton NJ
June 28-29 and July 4, 2014.  Tuckerton Seaport will host the Roots Music Festival on June 28 and 29.  Kick back for two great days of music, food, crafters, vendors, wine tasting and activities.  For the 4th of July, the Borough of Tuckerton will present their annual 4th of July Parade, followed by children's activities, baby parade and entertainment. A fireworks display will take place over the lake at dusk.