Enjoying High Tea in New Jersey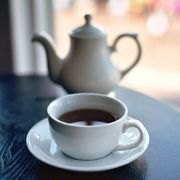 A warm, relaxing cup of tea and good conversation…what a wonderful way to enjoy an afternoon, especially if you're chatting with your favorite boy or girl. If you're looking for a unique bonding experience, New Jersey is home to many local tea rooms. From the fine china to the finger sandwiches to the tempting sweets, your little one will be enchanted during their special one-on-one mommy time.


High SocieTea (Wayne, NJ) features more than 25 loose leaf options, tea education classes, cultural events and private parties. Your little princess will savory the traditional tea fare, including the delicious scones, quiche and sweet breads.
"Girls come in all dressed up, and love the tea and treats. It's all about the experience for them," explains owner Barbara Healey. "It's most memorable with their mothers and their grandmothers."
High SocieTea's location in Wayne is a house listed with the Historical Society as the first official post office dating back to 1895. Reservations are not required; however are strongly encouraged. Please call (973) 696-8327.
AnaBeall's Tea Room (Westfield, NJ) is more than just a tea room, it is also a full restaurant with breakfast, lunch, supper and brunch menus. Ana Beall's high tea offering includes a cup of soup, scone, tea, sandwiches and chef's choice of delectable sweets and mini desserts.
This tea room, located in Westfield, offers a children's tea selection, as well as kid friendly menu options. Open for private parties, Ana Beall's also hosts Young Ladies Tea Parties. Girls, ages six to 12, will not only enjoy afternoon tea and crafts, but a little dress-up with boas and pearls.
 
Reservations are highly recommended. Please call (908) 264-4221 for additional details.
Nestled inside a restored Victorian house, Teaberry's Tea Room (Flemington, NJ) hosts a monthly American Girl Doll Tea Party. With tea bingo, crafts and savory treats, this is the perfect event, appropriate for ages six to 10, to introduce High Tea to your little ones.
If you can't make this monthly celebration, Teaberry's is open Tuesday through Sunday for lunch and afternoon tea, which includes a Princess and Prince option for the ladies and gentlemen under 12 years.
Many of Teaberry's visitors wear their fancy dresses and party hats. Management also accommodates their perfect company by providing high chairs for dolls. For reservations, please call (908) 788-1010.
Harmony Tea Room (Westwood, NJ) serves 23 varieties of loose tea, including a Juvinili-tea service -- a great option for young ladies and gentlemen. Mommy and Me, served every Thursday afternoon at 3:30pm at Harmony Tea Room is the perfect introduction to a tea service. This weekly event runs $27, which covers one adult and one child for tea, finger food sandwiches and dessert.
If you're not ready to venture out to a tea room, Harmony will bring the party to you. This company provides in-home tea parties, including dresses, make-up and jewelry, for the high class birthday gals. 
For an alternative experience, try the Mambo Tea House (Rutherford, NJ). Combining two distant cultural experiences, this eatery is half Cuban restaurant, half Asian tea lounge. Its cozy atmosphere and eclectic décor add to the overal experience.
With kid-friendly meal options, the dessert menu at Mambo Tea House is sure hit. The tres leche cake, along with a full potted tea service, makes for a casual tea sitting for the entire family. For questions, please call (201) 933-1262.