Easter Weekend Fun for NJ Kids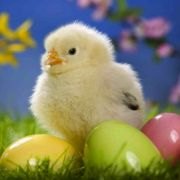 It's Easter Weekend, it's early, and it's cold enough to snow on the Parade, but there are a plethora of outdoor and indoor events for New Jersey families to enjoy, nonetheless. Egg Hunts abound, StarKid and Children of the Moon are beckoning from the Newark Museum, and there's even an "antidote to sugar" event, so get out and have fun! Read on for our top picks and remember, you can always find a listing of all NJ activities in our Event Calendar.
Saturday, March 30
Annual Easter Egg Hunt at Liberty Hall Museum (Union, NJ)
Children will explore the grounds of Liberty Hall searching for plastic eggs hidden through the landscape, filled with holiday treats. A surprise visit from the Easter Bunny caps off the events. Saturday, March 30 from 10 to 11:30am, or Noon to 1:30pm. Program Fee: $8/child and adult, $5/all additional children, $4/all additional adults. Reservations required, call 908-527-0400.
Allaire Village Easter Egg Hunt (Farmingdale, NJ)
Come for an historic "Egg Toss & Roll" game, face painting, and puppet show: "Can You Help Me Pick My Easter Eggs?" at 1:30pm and 3pm. Egg Hunt Start Times: Ages 1-3 at 10:30am, ages 4-6 at 10:45am, ages 7-8 at 11am, ages 9-10 at 11:15am. There will be also be a Bonnet Parade & Contest at Noon, so put on your finest! $5/person, under 6 years old free.
Easter Bunny Brunch & Egg Hunt at Camden Children's Garden (Camden, NJ)
Hop on over to the Garden for a buffet brunch with the Easter Bunny catered by Tortilla Press! Choose one of two seating's: 11am to 11:45am or 12 to 12:45pm. Easter Egg hunt will follow at 2:00PM. Reservations must be made in advance. $10.00/child; $12.00/adult. For reservations, call 856-365-9741.
Breakfast with the Easter Bunny & Friends (Paramus, NJ)
Meet the Easter Bunny (and some of his special friends), who will give your child an Easter goody bag. Follow it up with play time in the museum.  Pre-registration required. Seatings at 9am and 9:45am. $14.99/Adult $17.99/Child. 201-262-5151
19th Annual Chester Easter Egg Hunt (Chester, NJ)
This fun, family-oriented Spring holiday event (the largest hunt in Morris County) will feature over 5,000 eggs filled with candy and prizes, and includes a competitive Jelly-Bean Counting Contest, confectionery-themed raffles, and festive 'Bonus Eggs' for the parents. Attendees will enjoy live music and comedy from children's entertainer Ron Albanese, a.k.a.Polka Dot the Clown, along with a special visit from The Easter Bunny. The Gazebo in Municipal Field on Main Street at 10:30 am, Hunt starts at 11 sharp, bring your baskets and cameras! Free.
Starkid and Children of the Moon (Newark, NJ)
Join a Museum Educator for the exhibit African Cosmos: Stellar Arts, then create a heavenly artwork of stars, comets and constellations of your own. Activities begin at 1pm, 2pm and 3pm. Free with suggested museum admission. 973-596-6550.
Generation Fit: Sugar Buzz! (Newark, NJ)
If you're looking for an alternative to jelly bean collecting, this may be it. The Newark Museum exhibit explains why we feel hungry so soon after eating something sweet, and a following experiment shows how sugars are absorbed more quickly than more complex whole grains. Saturday, March 30 from 1pm to 4pm, free with suggested museum admission. 973-596-6550.
Sunday, March 31
Easter Bunny Breakfast at Imagine That! (Florham Park, NJ)
Join the staff at Imagine That! for bagels, juice & coffee, then take a photo with the giant bunny himself, then on to an Easter Parade and Egg Hunt! Sunday, March 31 at 10am, $13.99/Child $10.99/Adult. 973-966-8000
And don't forget: We have additional activity listings in our Event Calendar. And if you are heading into NYC for the weekend make sure you visit the New York City Mommy Poppins events calendar to get the latest on all the fun to be had NYC-style.
Planning an event? Submit it to our calendar.
Did someone forward you this email? Subscribe to our free newsletter.