Chinese New Year: Celebrating The Year of the Sheep in New Jersey and at Home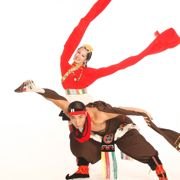 It's time to start anew and sweep out all the bad luck of 2014. Celebrating Chinese New Year with your family can be a blast, not to mention cleansing! Of course, New York City's celebrations are wonderful, but there is a ton of fun to be had in New Jersey as well. Bring in the Year of the Sheep the right way, with dance, family workshops, music or stay home for cleaning, food, crafts and more! 
Chinese New Year Spectacular (Princeton, NJ)
Sunday, February 15, 2015 at 7pm
Celebrate the Lunar New Year at the McCarter Theater. This production is a variety show mixing Chinese and Western Acts. Featuring Chinese folk dances, ballet, Kung Fu, acrobatics, comedy and music, the show provides on of the best opportunities for residents of New Jersey to learn and experience Chinese culture. For tickets contact the box office at 609-258-2787.
Chinese New Year Celebration at the Princeton Public Library (Princeton, NJ)
Saturday, February 14, 2015, 2pm to 4pm
This fun event is hosted by students from both Princeton High School's Chinese Club and Princeton Chinese Language School. Students and local experts will share many aspects of the Chinese culture as part of the celebration. Geared toward participants of all ages, activities will include story telling, dough sculpture and Chinese painting. There will also be traditional music, dance and games. 
Chinese New Year Celebration at the Garden State Discovery Museum (Cherry Hill, NJ)
Saturday and Sunday, February 21-22, 2015, 11am-3pm
The Garden State Discovery Museum welcomes the Year of the Sheep! Traditional music and dance will add to the festive weekend celebration! Create traditional works of art and participate in a martial arts demonstration. 
Chinese New Year Celebration (Hasbrouk Heights, NJ)
Sunday, February 15, 2015 at 2pm
Join the Hasbrouk Heights free public library for a fun afternoon celebrating the Lunar New Year. The event will feature traditional refreshments and entertainment, including a performance by Qing Yang Dance Studio.
Chinese New Year at Bergen County Zoo (Paramus, NJ)
Thursday, February 19, 2015, 12pm to 3pm
According to the Chinese Calendar, family and friends should look forward to a calm 12 months. The sheep is a symbol of peace and love. Learn more about this gentle animal and the Chinese culture at the Bergen County Zoo's Chinese New Year celebration. This event is best for children ages 2 and older. 
Chinese New Year Celebration at the Reeves-Reed Arboretum (Summit, NJ)
Thursday, February 19, 2015, 10am to 11am
Ring in the Chinese New Year at the Reeves-Reed Arboretum. Their celebration will include crafts and stories commemorating the Year of the Sheep. This event is for ages 3 and up with an adult. Registration is required, register here.
You don't have to go out to celebrate Chinese New Year. Here are some tips to celebrate the Year of the Sheep at home:
Clean your home. Yes, it sounds like a chore, but it is traditional to clean your home before the New Year to "sweep away the bad luck." Get the kids to help out! But, don't clean during the New Year – or you risk sweeping away all the good luck that will come in the new year.
Be a wok star! Making traditional foods is a big way to celebrate the New Year. A large New Year's Eve meal is the most important dinner of the year on the Chinese calendar. Try some recipes like Guotie Pot Stickers, Peking Duck or Green Tea Fortune Cookies here. Or try one of the recipes listed on the Epicurious Lunar New Year menu page.
Get crafty. Try some of these fantastic crafts to celebrate the New Year with the kids, including Chinese Lanterns, Dancing Dragons and Paper Bag Puppets here.