Black Friday: 5 Fun Things to do in NJ with Kids (no shopping required)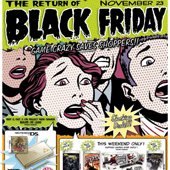 Dun-dun-dun! If the words 'Black Friday'—the term used to describe the day after Thanksgiving in which many stores have monster sales—send you into a tizzy, just relax. Here at MommyPoppins, we've got some good news for your November 29th. When you and the kiddies need to burn off those turkey calories, consider checking out these fun-for-the-whole-family Black Friday events. And keep checking our calendar, too; we're adding more events all the time!
Turtle Back Zoo Holiday Lights (West Orange)
From November 29 to December 1, experience Turtle Back Zoo in the wintertime! On Black Friday from 5-9 p.m., 100,000 bulbs and 40 lit displays will illuminate the zoo this holiday season. Even better—admission is free. The zoo is also "paying it forward;" Turtle Back Zoo will be collecting non-perishable food, winter coats, and unwrapped new toys for the needy each evening of holiday lights. Help the lights shine a little brighter this year with your generous donation. See the zoo in a whole new light!
Color Me Mine (Summit)
I know, you don't want to shop. But if your kids are going stir crazy, consider spending the afternoon at Color Me Mine, a paint-your-own-pottery studio for painters of all ages.  It's fun, and won't be as crowded as the mall, right? The Summit location will be open on Black Friday! Paint away…and enjoy the day. Walk-in painters welcomed!
Breakfast with Santa at Imagine That (Florham Park)
I know, I know, you just finished Thanksgiving, you're not ready for Christmas yet! Well, just so you know, Santa makes his first appearance at breakfast at the very fun children's museum, Imagine That located in Florham Park. Starting at 10:30 a.m. children can visit with Santa and his elves, enjoy a breakfast snack then stay and then play all day. Don't forget to bring your wish-list for him to see, and don't forget your camera phone! Price for child: $14.99 and adult: $12.99. Note: If you pay at the door, seats are not guaranteed, and pricing is $15.99 per child and $13.99 per adult. Try to RSVP in advance if you can: (973) 966-8000 or purchase tickets here. Breakfast with Santa will also be running on some weekends throughout the month of December; check site for details.
Madison Holiday Arts Festival (Madison)
Get cultured up at the Madison Holiday Arts Festival, a highly acclaimed Festival in Morristown that draws hundreds of residents, artists, musicians, dancers, singers and more to Madison's central business district for a creative and fun-filled day of live performances, art exhibits, and interactive events in non-traditional spaces such as some of Madison's most popular storefronts, restaurants, galleries and businesses. Ok, there may be a little shopping involved here, but it's certainly much quainter than the local mall! You can see the schedule of events on the official Facebook page.
Disney on Ice at the Izod Center (East Rutherford)
You know that we usually don't say much about the big-name, big-money events, but we just have to speak about Let's Celebrate!  How could you not love seeing all the Disney characters (including Mickey Mouse!) in one spot and all those shiny, glittery costumes? PLUS there are three shows on Friday. Hope you are lucky enough to snag some tickets to this ice extravaganza!